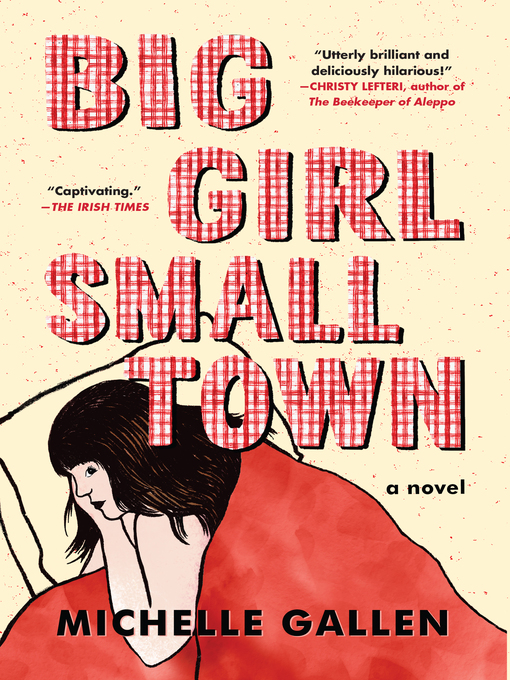 Big Girl, Small Town
Format:

Kindle Book

2020

Adobe EPUB ebook

OverDrive Read

Availability:

Unavailable

0 of 6 copies
24 people on waitlist
Summary
SHORTLISTED FOR THE COSTA FIRST NOVEL AWARD FINALIST FOR THE IRISH BOOK AWARD FOR NEWCOMER OF THE YEAR  FINALIST FOR THE COMEDY WOMEN IN PRINT PRIZE"An immensely lovable debut novel . . . It's the kind of magic you'll feel lucky to find." —Ron Charles, The Washington Post Meet Majella O'Neill, a heroine like no other, in this captivating Irish debut that has been called Milkman meets Derry Girls Majella is happiest out of the spotlight, away from her neighbors' stares and the gossips of the small town in Northern Ireland where she grew up just after the Troubles. She lives a quiet life caring for her alcoholic mother, working in the local chip shop, watching the regular customers come and go. She wears the same clothes each day (overalls, too small), has the same dinner each night (fish and chips, microwaved at home after her shift ends), and binge-watches old DVDs of the same show (Dallas, best show on TV) from the comfort of her bed.  But underneath Majella's seemingly ordinary life are the facts that she doesn't know where her father is and that every person in her town has been changed by the lingering divide between Protestants and Catholics. When Majella's predictable existence is upended by the death of her granny, she comes to realize there may be more to life than the gossips of Aghybogey, the pub, and the chip shop. In fact, there just may be a whole big world outside her small town.  Told in a highly original voice, with a captivating heroine readers will love and root for, Big Girl, Small Town will appeal to fans of Sally Rooney, Ottessa Moshfegh, and accessible literary fiction with an edge.

Published Reviews
Booklist Review:
"There isn't much to do in the Northern Irish border town of Aghybogey, but there's plenty to talk about. Twentysomething Majella overhears more than her fair share by working at A Salt and Battered!, handing sausage suppers, fried fish, and vinegar-soaked chips to a regular stream of locals. While it's not a glamorous job, the greasy chaos of the chip shop is a welcome distraction from Majella's bleak and frustrating home life. Her grandmother was the recent victim of a brutal murder, and her alcoholic mother has been increasingly unsteady since Majella's dad disappeared during the Troubles. As friends, neighbors, and acquaintances filter in and out of the chip shop, the complexities of life in Aghybogey are revealed. Gallen has crafted a darkly comic novel about an isolated young woman struggling to find her place in a town still deeply divided in a post-Troubles world. Majella is a nuanced and complicated heroine, reliant on routines and largely dismissive of change. Infused with local diction, inflection, and slang, her voice envelops readers in the sounds of small-town Ireland. Fans of Sara Baume's novels and the Irish TV series Derry Girls will adore this complex, clever, and deeply moving debut novel."
From Booklist, Copyright (c) American Library Association. Used with permission.
Publisher's Weekly Review:
"Gallen's sensational debut concerns Majella O'Neill, a 27-year-old on the autism spectrum who's learned how to mimic social cues. Majella lives with her irresponsible mother, Nuala, in the tiny fictional town of Aghybogey in Northern Ireland. Situated near the border, Aghybogey was once the site of clashes between the IRA and British soldiers, and the violence continues to haunt Majella's family in the present. Following the death of her IRA-affiliated uncle Bobby, Majella's once-doting dad, Gerard, starts to spend more time away from home. When the book opens, he's been missing for years, and everyone in town is talking about Majella's grandmother Maggie, who died after being beaten in her own home during a break-in. Majella's no stranger to having her family be the subject of gossip, as Nuala's destructive behavior and craving for attention are often exacerbated by her drinking and Majella often ends up playing the mom. Gallen does a great job of teasing out the details surrounding Maggie's death through Majella's conversations with family members and her customers at the fish and chips shop where she works. Gallen's also an expert at mixing moments of emotional intensity with mundane episodes. The plot unfolds in a series of vignettes that expand on a list of Majella's likes (eating, Dallas DVDs, sex) and dislikes (noise, jokes, fashion), which make her outlook irresistible. Gallen's effortless immersion into a gritty, endlessly bittersweet world packs a dizzying punch. (Dec.)"
(c) Copyright PWxyz, LLC. All rights reserved
Additional Information
Subjects
Literature
Fiction

Publisher

Algonquin Books2020



Language

English



ISBN
9781643751160