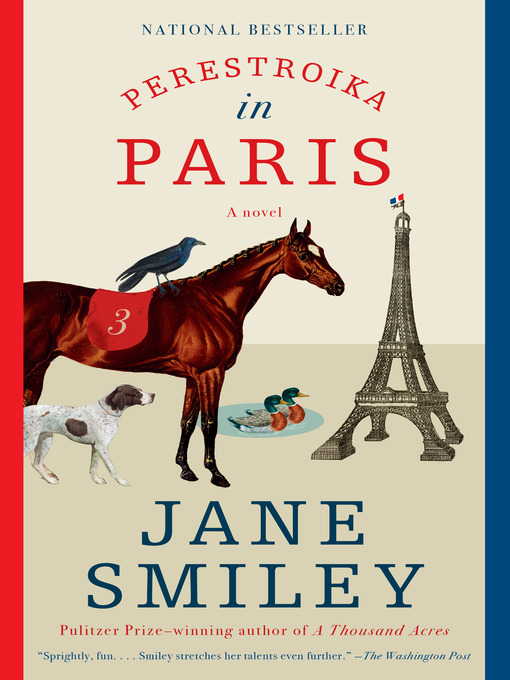 Perestroika in Paris
Format:

Kindle Book

2020

Adobe EPUB ebook

OverDrive Read

Availability:

Unavailable

0 of 8 copies
32 people on waitlist
Summary
INSTANT NATIONAL BEST SELLER"If you're looking for a feel-good escape, try this." —The New York TimesFrom the Pulitzer Prize-winning and best-selling author: a captivating, brilliantly imaginative story of three extraordinary animalsu2014and a young boyu2014whose lives intersect in Paris.Paras, short for "Perestroika," is a spirited racehorse at a racetrack west of Paris. One afternoon at dusk, she finds the door of her stall open andu2014she's a curious fillyu2014wanders all the way to the City of Light. She's dazzled and often mystified by the sights, sounds, and smells around her, but she isn't afraid. Soon she meets an elegant dog, a German shorthaired pointer named Frida, who knows how to get by without attracting the attention of suspicious Parisians. Paras and Frida coexist for a time in the city's lush green spaces, nourished by Frida's strategic trips to the vegetable market. They keep company with two irrepressible ducks and an opinionated raven. But then Paras meets a human boy, Etienne, and discovers a new, otherworldly part of Paris: the ivy-walled house where the boy and his nearly-one-hundred-year-old great-grandmother live in seclusion. As the cold weather nears, the unlikeliest of friendships bloom. But how long can a runaway horse stay undiscovered in Paris? How long can a boy keep her hidden and all to himself? Jane Smiley's beguiling new novel is itself an adventure that celebrates curiosity, ingenuity, and the desire of all creatures for true love and freedom.

Published Reviews
Booklist Review:
"Smiley, a longtime best-selling Pulitzer winner, follows a series of children's novels about kids and horses with this spellbinding, subtly shrewd fable. Perestroika is the name of a very curious, young French racehorse, called Paras for short, who one fine day pushes open the unlatched door of her stall, picks up her trainer's purse, and makes her way to Paris. She quickly attracts a guardian, Frida, a beautiful, streetwise hunting dog whose busker owner has died, and who has been fending for herself by taking full advantage of Parisians' adoration for well-mannered canines. Soon Paras and Frida befriend two mallards with the hilarious punk rock names of Sid and Nancy, and a haughty--or so he seems--raven, Sir Raoul Corvus Corax. They communicate easily, and each possesses a distinct and revealing perspective on the world and the art of survival. As careful as elegant Paras is, she can't help but be conspicuous, and soon attracts the awe of a very special little boy, Étienne, who lives with and takes care of his blind, hard of hearing, yet still quite keen great-grandmother in a deteriorating mansion, which is also home to a restless young black rat named Kurt. How boy, horse, dog, ducks, raven, and rat join forces and bring wonder and joy to lonely humans makes for a tenderly clever, charming, and spirit-nourishing tale of freedom and responsibility, acceptance and friendship, generosity and love.HIGH-DEMAND BACK STORY: Readers will flock to the first adult novel from Smiley in five years, especially since this smart and enchanting tale is a guaranteed antidote to stress."
From Booklist, Copyright (c) American Library Association. Used with permission.
Publisher's Weekly Review:
"Fans of Pulitzer winner Smiley (A Thousand Acres) won't be surprised to find a horse in her fanciful latest; this time out it's a talking racehorse named Perestroika. Paras, as the horse is known, wanders out of her stable and finds herself in Paris's Place du Trocadéro, where she meets Frida, a shorthaired German pointer who understands money and uses it to buy food for Paras and herself. There are no yellow vest protestors in Smiley's idyllic Paris, where shopkeepers know all their customers and happily make change for well-behaved Frida. Paras was happy at the track, but she's too curious to stay there (as Smiley indicates perhaps too often), and in her fable-like travels around Paris she encounters a wise raven who dispenses advice, an eight-year-old orphan who can hide a horse, and plenty of happy endings--not just for the animals, but for the people they encounter, especially if they, like Paras, are open to seeing the wonders of the world. As relationships deepen between animals and humans in their exploration of where to call home, Smiley steers them toward a satisfying feel-good ending. Relentlessly upbeat--there are no villains here, and even dogs and rats cooperate--this is the perfect book for those for whom the real world, wracked with pandemic and politics, has become something to avoid. (Dec.)"
(c) Copyright PWxyz, LLC. All rights reserved
Additional Information