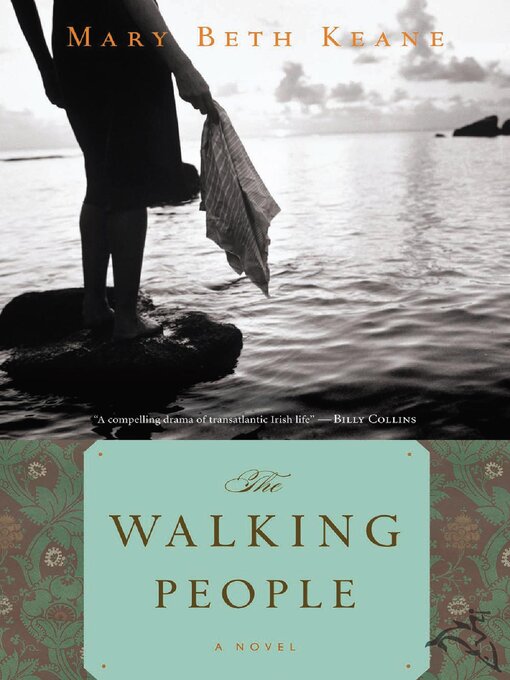 The Walking People
Format:

Kindle Book

2010

Adobe EPUB ebook

OverDrive Read

Availability:

Unavailable

0 of 2 copies
Summary
A "beautifully crafted" novel of two sisters' lives, spanning from 1950s Ireland to modern-day America (Colum McCann, author of Let the Great World Spin). Greta Cahill never believed she would leave her village in west Ireland. Yet one day she found herself on a ship bound for New York, along with her sister, Johanna, and a boy named Michael Ward, a son of itinerant tinkers. Back home, her family hadn't expressed much confidence in her abilities, but Greta discovers that in America she can fall in love, earn a living, and build a life. She longs to return and show her family what she has made of herself—but that could mean revealing a secret about her past to her children. So she carefully keeps her life in New York separate from the life she once loved in Ireland, torn from the people she is closest to. Decades later, she discovers that her children, with the best of intentions, have conspired to unite the worlds she has so painstakingly kept apart. And though the Ireland of her memory may bear little resemblance to that of present day, she fears it is still possible to lose all . . . "A compelling drama of transatlantic Irish life." —Billy Collins "Marries a deliciously old-fashioned style of storytelling with a fresh take on the immigrant experience . . . A warm, involving family drama." —Booklist

Published Reviews
Booklist Review:
"In her debut, Keane marries a deliciously old-fashioned style of storytelling with a fresh take on the immigrant experience. Awkward Greta Cahill struggles to be accepted in her rural village in the west of Ireland. Unlike Johanna, her gregarious, efficient sister, Greta has a hard time performing even the simplest tasks, but her tight-knit family loves her unconditionally and takes pains to ease her way. More and more of their neighbors desert their small village, immigrating to the cities and to America. Then Johanna meets Michael Ward, a gypsy who would like nothing better than to settle in one place, and the Cahill family suffers a terrible tragedy. The sisters, along with Michael, immigrate to New York City, where Johanna has difficulty adjusting, while Greta, surprisingly, finds work immediately and adapts to her new life. Tracking the family from 1956 to the present, Keane gives a heartfelt account of their pain and their joy while also minutely exploring varied settings and occupations. A warm, involving family drama that makes a triumph of Greta's transformation from misfit to capable wife and mother.--Wilkinson, Joanne Copyright 2009 Booklist"
From Booklist, Copyright (c) American Library Association. Used with permission.
Publisher's Weekly Review:
"Debut author Keane offers an extended meditation on leaving, finding and making home in a novel focused on the new Irish immigrant experience. Awkward, dreamy Greta Cahill was always in the shadow of her vivacious older sister, Johanna, as the two grew up on the far west coast of Ireland. Surrounded by houses left vacant by neighbors who emigrated, adventurous Johanna dreams of America, especially when, in the aftermath of a family tragedy, she befriends Michael Ward, the son of itinerant tinkers who wants nothing more than to stay in one place. When teenaged Johanna's dream comes true, Michael and Greta are dragged along to America in Johanna's impetuous wake. In New York City, however, Greta and Michael create their own home, happiness and success. The narrative, which extends from 1956 to the present, has the dusty feel of 19th-century literature, though Greta is an appealing character lacking in nostalgia. Her romance is also authentic and unsentimental, and despite the stodgy storytelling, her coming-of-age reflects a fresh take on the lives recent immigrants can create. (May) (c) Copyright PWxyz, LLC. All rights reserved"
(c) Copyright PWxyz, LLC. All rights reserved
Additional Information
Subjects
Literature
Fiction

Publisher

Houghton Mifflin Harcourt2010



Language

English



ISBN
9780547394367