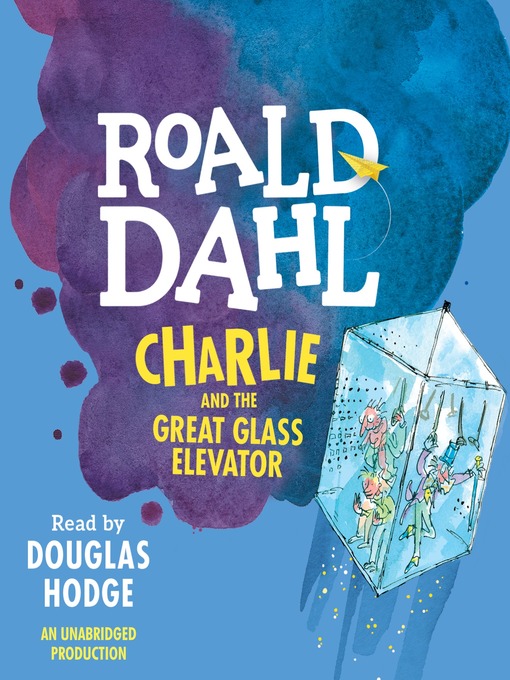 Charlie and the Great Glass Elevator
Format:

OverDrive MP3 Audiobook

2013

OverDrive Listen

Availability:

Unavailable

0 of 3 copies
2 people on waitlist
Summary
"Roald Dahl sometimes shared a tonal kinship with Ogden Nash, and he could demonstrate a verbal inventiveness nearly Seussian...[His] stories work better in audio than in print." –The New York TimesNow that he's won the chocolate factory, what's next for Charlie?Last seen flying through the sky in a giant elevator in Charlie and the Chocolate Factory, Charlie Bucket's back for another adventure. When the giant elevator picks up speed, Charlie, Willy Wonka, and the gang are sent hurtling through space and time. Visiting the world'' first space hotel, battling the dreaded Vermicious Knids, and saving the world are only a few stops along this remarkable, intergalactic joyride.From the Compact Disc edition.

Published Reviews
Booklist Review:
"Released eight years after the iconic original and one year following the film adaptation Dahl's madcap sequel picks up precisely where Charlie and the Chocolate Factory left off: a thousand feet up and cruising nicely. Yet the Buckets' joyride in the Great Glass Elevator quickly devolves from marvel into mayhem when Wonka launches the lift into outer space. The eight unlikely astronauts and their bed not only enter orbit, but into some serious skirmishes with everyone from the President of the United States, to Lancelot R. Gilligrass, to a legion of shape-shifting aliens, to the Vermicious Knids of planet Vermes. After our heroes rescue 136 souls from a cruel, Knid-related fate, the plot inevitably traipses back to the Chocolate Factory. There, Wonka takes his latest innovations, the youth-inducing Wonka-Vite and its counter, Vita-Wonk, for a whirl. As rollicking as it is ridiculous, Dahl's narrative, peppered with cautionary jingles (So now, before it is too late / Take heed of Goldie's dreadful fate), preposterous jargon (Bungo buni / dafu duni), outlandish recipes (Vita-Wonk's requires the back teeth of a 97-year old grimalkin), and unparalleled banter and bolstered by Blake's beloved pen-and-ink doodles is sidesplitting, strange, and boundlessly imaginative. Forgo the Wonka-Vite this one's ageless.--Shemroske, Briana Copyright 2016 Booklist"
From Booklist, Copyright (c) American Library Association. Used with permission.
Additional Information