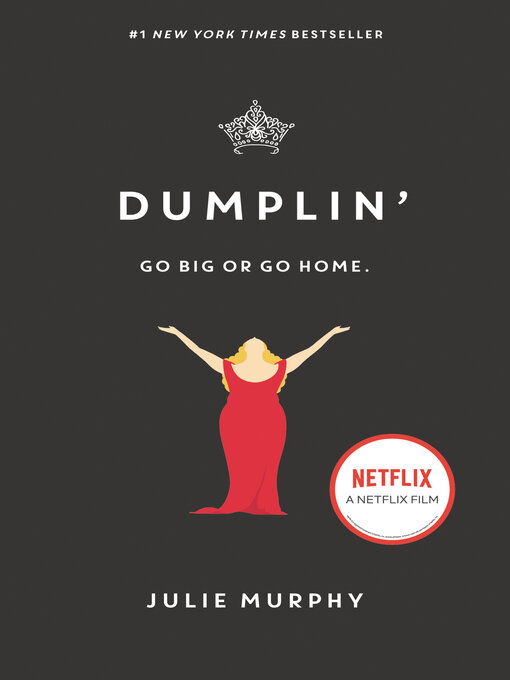 Dumplin'
Format:

Kindle Book

2015

Adobe EPUB ebook

OverDrive Read

Availability:

Available from OverDrive

1 of 2 copies
Summary
Soon to be a Netflix film—featuring Jennifer Aniston, Danielle Macdonald, and Dove Cameron, as well as a soundtrack from Dolly Parton!The #1 New York Times bestseller and feel-good YA of the year—about Willowdean Dixon, the fearless, funny, and totally unforgettable heroine who takes on her small town's beauty pageant.Self-proclaimed fat girl Willowdean Dickson (dubbed "Dumplin'" by her former beauty queen mom) has always been at home in her own skin. Her thoughts on having the ultimate bikini body? Put a bikini on your body.With her all-American beauty best friend, Ellen, by her side, things have always worked . . . until Will takes a job at Harpy's, the local fast-food joint. There she meets Private School Bo, a hot former jock. Will isn't surprised to find herself attracted to Bo. But she is surprised when he seems to like her back. Instead of finding new heights of self-assurance in her relationship with Bo, Will starts to doubt herself. So she sets out to take back her confidence by doing the most horrifying thing she can imagine: entering the Miss Clover City beauty pageant—along with several other unlikely candidates—to show the world that she deserves to be up there as much as any girl does.Along the way, she'll shock the hell out of Clover City—and maybe herself most of all.

Published Reviews
Booklist Review:
"*Starred Review* Willowdean Dickson, self-proclaimed fat girl and Dolly Parton enthusiast, has this to say: The word fat makes people uncomfortable. Will's mother (who calls her Dumplin') is a former winner of the local Miss Teen Blue Bonnet contest and now runs it, which makes pageant season an unwelcome constant in Will's life. To ignore it, she concentrates on her friendship with her bestie, Ellen, and her crush on fellow fast-food worker Bo, while trying to shake her grief over the death of her beloved 498-pound aunt. Knowing what it means to be fat, as well as what it means to her mother to be thin, Will decides to be happy being herself. Because why not? But when Bo kisses her behind the dumpster, and she and Ellen flameout, her life is turned inside out, and who she is becomes a question more than an answer. Murphy juggles a lot of plates here, and mostly keeps them admirably spinning. The story's set piece is the beauty contest, which Will and several other misfits decide to enter, ready to take the ridicule in trade for their right to the spotlight, but there are also splendid subplots involving friendships, the push-pull of the mother-daughter relationship, and the kindness of strangers, including an encouraging drag queen. Will's singular voice compels readers to think about all that goes into building and destroying self-esteem.--Cooper, Ilene Copyright 2015 Booklist"
From Booklist, Copyright (c) American Library Association. Used with permission.
Publisher's Weekly Review:
"About the only thing Clover City has going for it is its beauty pageant, the oldest in Texas. It's run by Willowdean Dickson's mother-a former winner-who has a hard time with the reality that Willowdean, a self-described "fat girl," will never be a beauty queen. Willowdean is okay with her size, mostly, but with 10th grade ending and her best friend considering having sex with her boyfriend, Willowdean feels like she is being left on the wrong side of the experience divide. An unexpected kiss with Bo, her handsome fast-food restaurant coworker, is thrilling, but she's also horrified at the idea of him touching her anywhere there is extra flesh. And that very reaction horrifies her, too; she thought she was at peace with herself. Murphy (Side Effects May Vary) successfully makes every piece of the story-Dolly Parton superfans, first love, best-friend problems, an unlikely group of pageant entrants, female solidarity, self-acceptance, and Willowdean's complicated relationship with the mother who nicknamed her "Dumplin' "-count, weaving them together to create a harmonious, humorous, and thought-provoking whole. Ages 13-up. Agent: Molly Jaffa, Folio Literary Management. (Sept.) © Copyright PWxyz, LLC. All rights reserved."
(c) Copyright PWxyz, LLC. All rights reserved
Additional Information