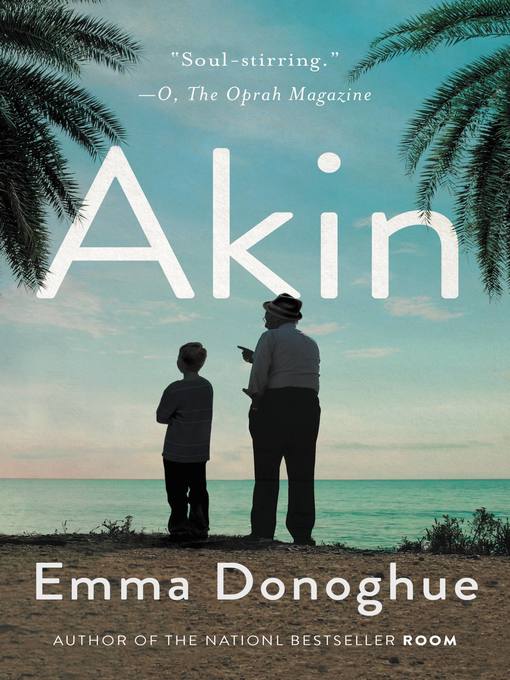 Akin
Format:

Kindle Book

2019

Adobe EPUB ebook

OverDrive Read

Availability:

Unavailable

0 of 5 copies
4 people on waitlist
Summary
The "soul stirring" novel by the New York Times bestselling author of Room (O Magazine) is one of the best books of the year (New York Post) Noah Selvaggio is a retired chemistry professor and widower living on the Upper West Side, but born in the South of France. He is days away from his first visit back to Nice since he was a child, bringing with him a handful of puzzling photos he's discovered from his mother's wartime years. But he receives a call from social services: Noah is the closest available relative of an eleven-year-old great-nephew he's never met, who urgently needs someone to look after him. Out of a feeling of obligation, Noah agrees to take Michael along on his trip. Much has changed in this famously charming seaside mecca, still haunted by memories of the Nazi occupation. The unlikely duo, suffering from jet lag and culture shock, bicker about everything from steak frites to screen time. But Noah gradually comes to appreciate the boy's truculent wit, and Michael's ease with tech and sharp eye help Noah unearth troubling details about their family's past. Both come to grasp the risks people in all eras have run for their loved ones, and find they are more akin than they knew.Written with all the tenderness and psychological intensity that made Room an international bestseller, Akin is a funny, heart-wrenching tale of an old man and a boy, born two generations apart, who unpick their painful story and start to write a new one together. "What begins as a larky story of unlikely male bonding turns into an off-center but far richer novel about the unheralded, imperfect heroism of two women." —New York Times

Published Reviews
Booklist Review:
"On the cusp of his eightieth birthday, widowed and retired professor Noah Selvaggio is preparing to visit his native Nice. Thinly disguised as a vacation, the trip is actually an opportunity for Noah to explore his roots. He wants to learn more about his mother: what role did she have in the Marcel network that rescued more than 500 children from the Nazis before leaving France for America? On the eve of his departure, however, Noah is saddled with a new responsibility, the care of his grand-nephew, 12-year-old Michael, whose father is dead and whose mother is serving time in prison. Understandably, Michael complicates Noah's mission. Setting the story against the compelling backdrop of the annual Carnaval de Nice, Donoghue (The Wonder, 2016) shines in her careful study of this slice of WWII history in France. As engaging and pleasing as this tale is, the two time frames don't quite cohere, and initially, Noah's relationship with Michael feels stilted; yet there is keen humor in how nearly all the boy does is crave Coca-Cola, curse, or convey assent by saying, kay. Donoghue builds unabashedly to a heartwarming conclusion.HIGH-DEMAND BACKSTORY: Internationally best-selling Donoghue will draw her steadfast readership, while fans of WWII fiction will also seek out this well-publicized novel.--Poornima Apte Copyright 2019 Booklist"
From Booklist, Copyright (c) American Library Association. Used with permission.
Publisher's Weekly Review:
"Donoghue's underwhelming latest features a troubled doppelgänger of the sweet naïf from her best-known novel, Room, a foul-mouthed 11-year-old named Michael, whose great-uncle Noah takes him to the French Riviera to save him from the foster care system after Michael's father dies of an apparent overdose and his mother, who is in prison, is unable to care for him. In the present day, Noah, having discovered some photographs taken by his mother during the two years she spent in Vichy France, and wishing to discover their significance, travels to Nice with Michael in tow. Dialogue between the two predominates as they wander about the city, constantly squabbling along predictably generational lines, searching for clues about whether Noah's mother was a Nazi collaborator or part of the Resistance. The reader is soon exasperated with Noah's own collaboration with the author, who won't let him solve the mystery without Michael's age-appropriate technological savvy. This work seems like a pale redux of Room, with its depiction of the wonder of a sheltered boy supplanted by the cynicism of a damaged one, whose voice doesn't always ring true. The gap between Michael's view of the world and the reader's feels less charged than it should be, though the book makes up for it to some degree with a very satisfying denouement. This is a minor work in Donoghue's astounding oeuvre. (Sept.)"
(c) Copyright PWxyz, LLC. All rights reserved
Additional Information