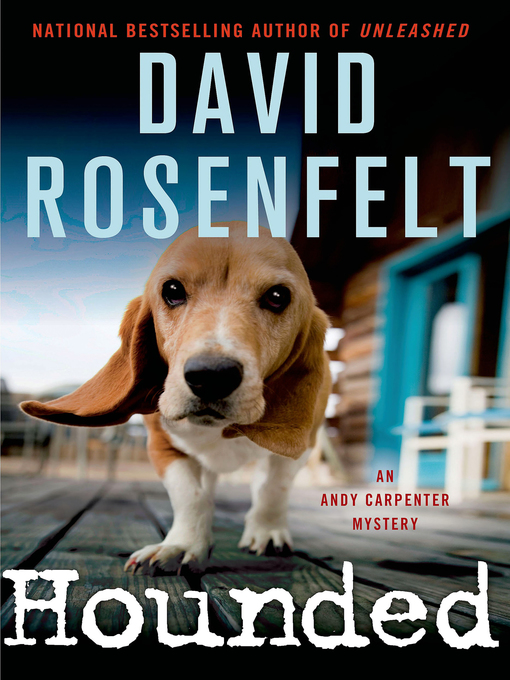 Hounded
Format:

Kindle Book

2014

Adobe EPUB ebook

OverDrive Read

Availability:

Available from OverDrive

1 of 1 copy
1 person on waitlist
Summary
Andy Carpenter isn't sure what to think when he gets a mysterious phone call from a good friend, policeman Pete Stanton, asking him to drop everything, drive to an unfamiliar address, and bring his girlfriend, Laurie Collins. He certainly isn't expecting to show up at a crime scene. But that's exactly where he arrives—at the house where Pete has just discovered the body of ex-convict Danny Balfour. Upstairs are Danny's now orphaned four-year-old son and basset hound. And that, Andy discovers, is why he and Laurie were called to the scene—Pete wants them to take care of the boy and the dog so they won't get thrown into the "system." This is already asking a lot, but soon Pete needs another big favor from Andy. Pete himself has come under suspicion for Danny's murder, and he needs defense attorney Andy to represent him...and to find out what really happened in Danny's house that day.David Rosenfelt has done it again. Told with his characteristic humor and wit, Hounded is at once a heartfelt story about family and a page-turning legal thriller.

Published Reviews
Booklist Review:
"Andy Carpenter, the frivolous-but-not-really lawyer who's fronted a dozen of Rosenfelt's agreeable novels, is asked to defend a cop accused of murdering a favored informant. The case seems airtight, but Andy and the reader know that's nonsense. Preparing the defense leads into the befuddling world of cell-phone satellites and GPS devices and then . . . dead end. Suddenly we're watching a chemist who has developed a pill that will let terminally ill animals die painlessly. But it's people who are dying. Is it all connected? You bet. Rosenfelt has assembled a huge cast to prove it, and that's the problem. Willy, Sam, Hike, Marcus, Pete, Laurie, Richard, Sharon, and squads of others move in and out of the narrative, with no reidentification, causing the reader to spend too much time keeping track of the players. When Andy is saved from death by a friend who appears out of nowhere, we shouldn't be wondering, Now, who is he? Still, the solution to the mystery, when it comes, is stunning, and Andy is as charming as always. Not the best in the series, but good enough to keep fans engaged.--Crinklaw, Don Copyright 2010 Booklist"
From Booklist, Copyright (c) American Library Association. Used with permission.
Additional Information