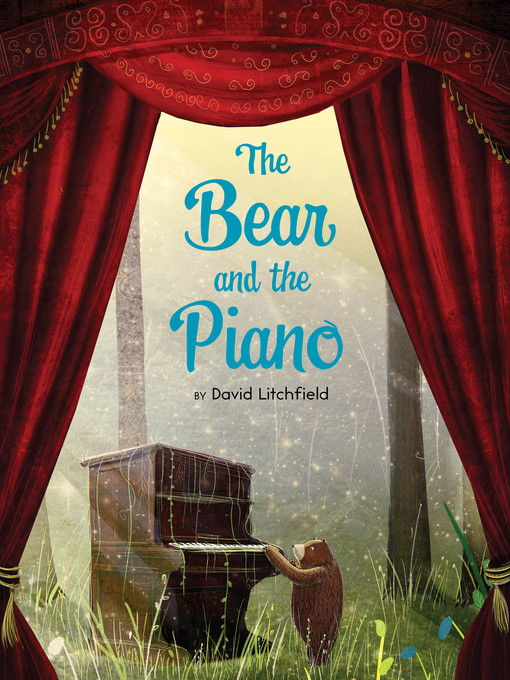 The Bear and the Piano
Format:

Kindle Book

2016

OverDrive Read

Availability:

Unavailable

0 of 1 copy
Summary
One day, a bear cub finds something strange and wonderful in the forest. When he touches the keys, they make a horrible noise. Yet he is drawn back again and again. Eventually, he learns to play beautiful sounds, delighting his woodland friends. Then the bear is invited to share his sounds with new friends in the city. He longs to explore the world beyond his home, and to play bigger and better than before. But he knows that if he leaves, the other bears will be very sad . . . This gorgeously illustrated tale of following one's dreams reminds us of the value of friendship, wherever we go.

Published Reviews
Booklist Review:
"One bright day, a young bear finds something strange in the middle of the forest: a piano. It makes a horrible sound when he touches it, but his curiosity is piqued. Day after day he returns, and as he grows, so does his skill at the instrument. All the other bears in the forest love to come hear him play, and eventually, a father and a daughter hiking in the woods overhear him and convince him to play in the big city. But no matter how much fame and acclaim he gets and the glorious two-page spread of him playing at a Broadway concert suggests a lot of it the bear still finds himself missing his friends. The story is a fairly standard tale of leaving and returning home, but the mixed-media illustrations are luminous. From the ivy-covered piano in a forest clearing to the stars winking over the city at night, the spreads are highly detailed and lovingly crafted. Young readers will find much to look at in city and forest scenes alike.--Reagan, Maggie Copyright 2016 Booklist"
From Booklist, Copyright (c) American Library Association. Used with permission.
Publisher's Weekly Review:
"After finding a piano in the woods, a brown bear teaches himself to play (even though he doesn't know what it is, exactly), going on to wow his fellow bears and, later, the world. Newcomer Litchfield explores the life of a musician from several angles: the necessity of practice (after "days and weeks and months of years" of playing, "the sounds that came from the strange thing were beautiful"), the allure of fame, and the loneliness of leaving home, even when one's name and face are plastered across Broadway. The bear achieves stratospheric success (platinum records, sold-out shows), and after he returns to his forest (still wearing a rumpled tuxedo), he discovers that his brethren have been proudly following his career, not resenting his absence. Litchfield's multilayered mixed-media illustrations gracefully portray dappled forest groves, the energy of a packed concert hall, and the simultaneous bustle and solitude of city life. The bear's emotions-contentment, pride, uncertainty, relief-are captured with equal skill in a tenderly moving story about embracing one's potential while remembering one's roots. Ages 4-7. Agent: Anne Moore Armstrong, Bright Group. (Apr.) © Copyright PWxyz, LLC. All rights reserved."
(c) Copyright PWxyz, LLC. All rights reserved
Additional Information