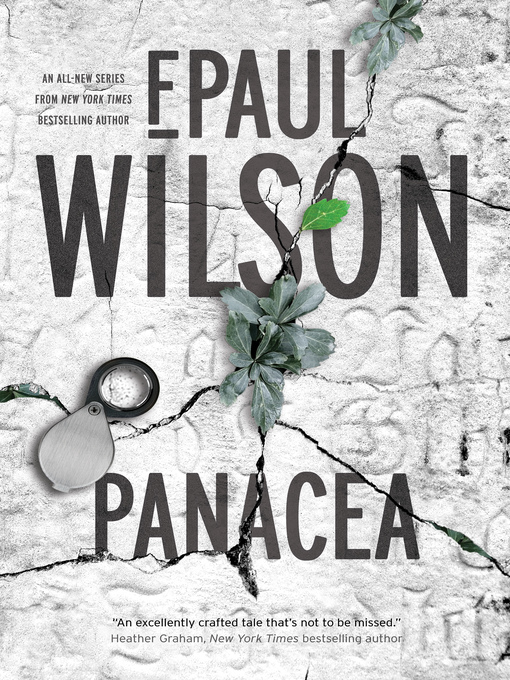 Panacea
Format:

Kindle Book

2016

Adobe EPUB ebook

OverDrive Read

Availability:

Unavailable

0 of 1 copy
Summary
Two secret societies vie for control of the ultimate medical miracle—Panacea—in the latest novel by New York Times bestselling author F. Paul Wilson, author of the Repairman Jack series.Finalist in RT Reviewer's Choice Best Book Awards for Best Thriller F. Paul Wilson is the winner of the Career Achievement in Thriller Fiction in the 2017 RT Reviewers' Choice Best Book Awards Medical examiner Laura Fanning has two charred corpses and no answers. Both bear a mysterious tattoo but exhibit no known cause of death. Their only connection to one another is a string of puzzling miracle cures. Her preliminary investigation points to a cult in the possession of the fabled panacea—the substance that can cure all ills—but that's impossible.Laura finds herself unknowingly enmeshed in an ancient conflict between the secretive keepers of the panacea and the equally secretive and far more deadly group known only as 536, a brotherhood that fervently believes God intended for humanity to suffer, not be cured. Laura doesn't believe in the panacea, but that doesn't prevent the agents of 536 from trying to kill her.A reclusive, terminally ill billionaire hires Laura to research the possibility of the panacea. The billionaire's own body guard, Rick Hayden, a mercenary who isn't who he pretends to be, has to keep her alive as they race to find the legendary panacea before the agents of 536 can destroy it.At the Publisher's request, this title is being sold without Digital Rights Management Software (DRM) applied.

Published Reviews
Booklist Review:
"Wilson, author of the Repairman Jack novels, begins a new series. Laura Hanning, a medical examiner in New York, autopsying the remains of a badly burned man, is surprised to discover that the man apparently died before his house burned down and that he was remarkably (almost impossibly) healthy. Soon she learns that, at the hospital where the dead man worked, people have been inexplicably restored to perfect health. Meanwhile, CIA agent Nelson Fife is hot on the trail of a secret group known as the panaceans, who, Fife believes, possess a miraculous cure to all diseases; also searching for the group is a wealthy man desperate to be cured of the illness that will soon kill him. Imaginative and well paced, with a good mixture of action and fantasy, this debut offers a welcome change from the Repairman Jack books, which had grown a little tired (though fans will be interested to know that the new series takes place in the same Secret History of the World cycle).--Pitt, David Copyright 2016 Booklist"
From Booklist, Copyright (c) American Library Association. Used with permission.
Additional Information