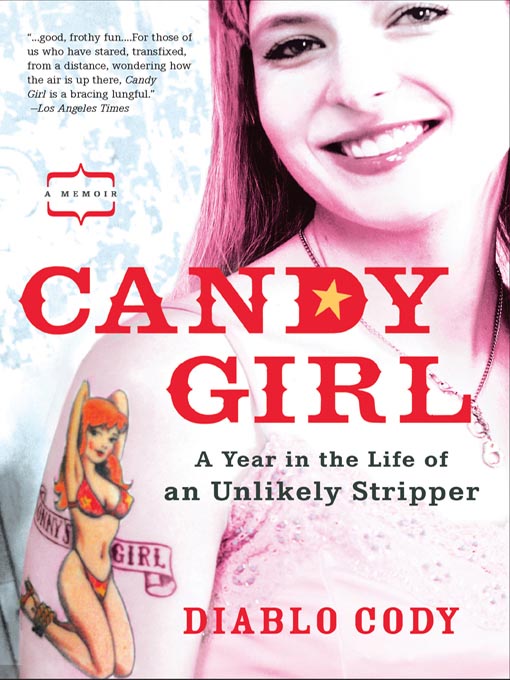 Candy Girl
Format:

Kindle Book

2005

Adobe EPUB ebook

OverDrive Read

Availability:

Available from OverDrive

1 of 1 copy
Summary
Decreed by David Letterman (tongue in cheek) on CBS TV's The Late Show to be the pick of "Dave's Book Club 2006," Candy Girl is the story of a young writer who dared to bare it all as a stripper. At the age of twenty-four, Diablo Cody decided there had to be more to life than typing copy at an ad agency. She soon managed to find inspiration from a most unlikely source— amateur night at the seedy Skyway Lounge. While she doesn't take home the prize that night, Diablo discovers to her surprise the act of stripping is an absolute thrill.This is Diablo's captivating fish-out-of-water story of her yearlong walk on the wild side, from quiet gentlemen's clubs to multilevel sex palaces and glassed-in peep shows. In witty prose she gives readers a behind-the-scenes look at this industry through a writer's keen eye, chronicling her descent into the skin trade and the effect it had on her self-image and her relationship with her now husband.

Published Reviews
Booklist Review:
"A copy typist by day in Minnesota, Cody was hardly a likely candidate for entering an amateur stripping contest. But her curiosity got the best of her and, encouraged by her boyfriend, enter she did. The contest left her with an increased curiosity about the profession, and Cody decided to take an evening job stripping at Schieks, a local club. There Cody learns the ins and outs of stripping--how to catch a client's attention, how much the house takes, how some nights are highly profitable and others leave a stripper in debt to the club. Eventually Cody outgrows Schieks and moves on to Deja Vu, a bigger club that's much faster paced. A promotion at her day job forces her to give up stripping temporarily, but before long she's back in the adult entertainment business, this time stripping behind glass in an emporium. Cody's lively romp through the adult entertainment business is bound to appeal to those wanting a peek inside the inner workings of the sex industry. --Kristine Huntley Copyright 2005 Booklist"
From Booklist, Copyright (c) American Library Association. Used with permission.
Publisher's Weekly Review:
"Why, you might ask, would a healthy, college-educated young woman start stripping for a living, when she could work in a nice, clean office? Cody, now an arts editor for Minneapolis's alternative weekly, had spent her whole life (all 24 years) "choking on normalcy, decency and Jif sandwiches with the crusts amputated." When she moved from Chicago to Minnesota to live with the new boyfriend she'd found on the "World Wide Waste of Time," she took a job at an ad agency-a setup with good "porn shui" (desk well angled for undetected online porn surfing) but not much else. Attracted by a local bar's amateur stripping contest, Cody soon moved from stage stripping to lap dancing, from tableside to bedside customer service and, finally, peep-show sex. Removing her clothes and dry-humping strangers in sex clubs had become her way of escaping premature respectability. Quite inexplicably, her boyfriend was completely cool with her new occupation, even joining her on occasional sex jaunts. When the inevitable burnout set in, Cody switched to phone sex, until that, too, got old, and the 9-to-5 straight world beckoned. Cody's so alarmingly entertaining, readers will wish the book were longer, though they'll be glad it ends before anything really ugly happens. Agent, Paula Balzer. (Jan.) (c) Copyright PWxyz, LLC. All rights reserved"
(c) Copyright PWxyz, LLC. All rights reserved
Additional Information