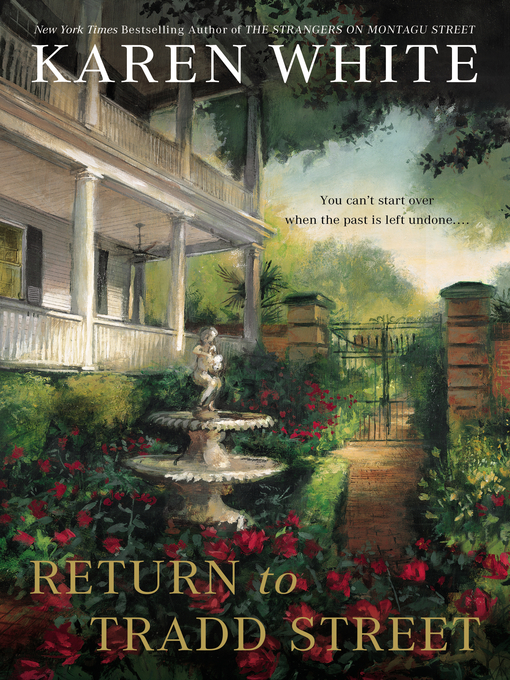 Return to Tradd Street
Format:

Kindle Book

2014

Adobe EPUB ebook

OverDrive Read

Availability:

Unavailable

0 of 2 copies
Summary
Facing her future as a single mother, psychic Realtor Melanie Middleton is determined to be strong and leave her past with writer Jack Trenholm behind her. But history has a tendency of catching up with Melanie, whether she likes it or not.... Melanie is only going through the motions of living since refusing Jack's marriage proposal. She misses him desperately, but her broken heart is the least of her problems. Despite an insistence that she can raise their child alone, Melanie is completely unprepared for motherhood, and she struggles to complete renovations on her house on Tradd Street before the baby arrives. When Melanie is roused one night by the sound of a ghostly infant crying, she chooses to ignore it. She simply does not have the energy to deal with one more crisis. That is, until the remains of a newborn buried in an old christening gown are found hidden in the foundation of her house. As the hauntings on Tradd Street slowly become more violent, Melanie decides to find out what caused the baby's untimely death, uncovering the love, loss, and betrayal that color the house's history—and threaten her claim of ownership. But can she seek Jack's help without risking her heart? For in revealing the secrets of the past, Melanie also awakens the malevolent presence that has tried to keep the truth hidden for decades....

Published Reviews
Booklist Review:
"Melanie Middleton is 40, single, and pregnant. She hates old houses, and she hates Jack Trenholm, the father of her baby. She doesn't fit into any of her clothes, and her housekeeper and Jack's teenage daughter, Nola, are conspiring to get her to eat more flax and fiber. The historic house she inherited in Charleston, South Carolina, is haunted, and now some distant relatives of the previous owner have come to contest her right to live there. Then she discovers a 100-year-old infant skeleton in her backyard and a crib in the attic that matches one in Charleston's history museum. Things get weirder from there, but Melanie is used to it; she and her mother have been communing with the dead for years. Madcap paranormal, historical mystery, and small-town romance complete with all the requisite quirky side characters collide in the latest and apparently final installment in White's Tradd Street series. To enjoy its ­southern charm and romantic angst to the fullest, readers will want to start at the beginning of the series, with The House on Tradd Street (2008).--Maguire, Susan Copyright 2010 Booklist"
From Booklist, Copyright (c) American Library Association. Used with permission.
Additional Information