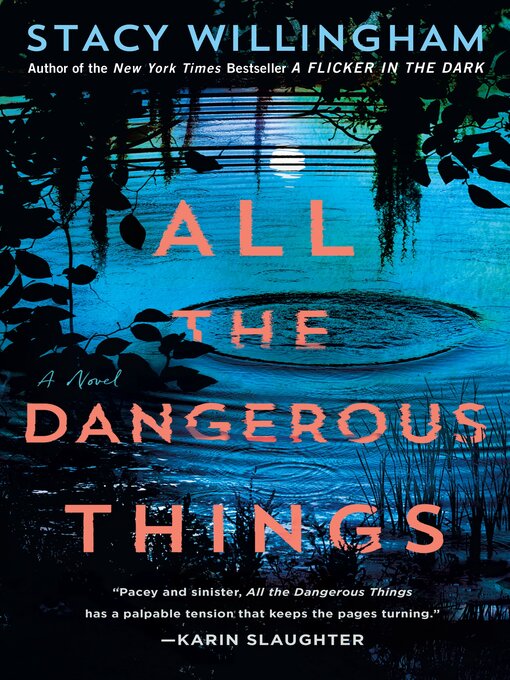 All the dangerous things
Format:

Kindle Book

2023

2023

Adobe EPUB ebook

OverDrive Read

Availability:

Unavailable

0 of 11 copies
131 people on waitlist
Summary
"Following up her instant New York Times bestseller, A Flicker in the Dark, Stacy Willingham delivers a totally gripping thriller about a desperate mother with a troubled past in All the Dangerous Things. One year ago, Isabelle Drake's life changed forever: her toddler son, Mason, was taken out of his crib in the middle of the night while she and her husband were asleep in the next room. With little evidence and few leads for the police to chase, the case quickly went cold. However, Isabelle cannot rest until Mason is returned to her-literally. Except for the occasional catnap or small blackout where she loses track of time, she hasn't slept in a year. Isabelle's entire existence now revolves around finding him, but she knows she can't go on this way forever. In hopes of jarring loose a new witness or buried clue, she agrees to be interviewed by a true-crime podcaster-but his interest in Isabelle's past makes her nervous. His incessant questioning paired with her severe insomnia has brought up uncomfortable memories from her own childhood, making Isabelle start to doubt her recollection of the night of Mason's disappearance, as well as second-guess who she can trust... including herself. But she is determined to figure out the truth no matter where it leads"--

Published Reviews
Booklist Review:
"Isabelle Drake desperately hopes to mobilize the true-crime community's armchair detectives to find her son, Mason, who was abducted from his bedroom a year earlier. Ignoring the protests of her estranged husband, Ben, and the case's lead detective, Isabelle speaks at CrimeCon, confiding her horror at finding Mason's crib empty the morning he disappeared. Online detectives label Isabelle as either pitiable or plain evil: How could someone have taken Mason from the house without the dog barking? Also, doesn't Mason's disappearance cast suspicion on the early deaths of Ben's first wife and Isabelle's younger sister? The doubters don't know that Isabelle, formerly a deep sleepwalker, has suffered untreatable insomnia since Mason vanished or that she's obsessively tending an evidence board on her dining-room wall. Podcast host Waylon Spencer, also a crime victim, offers to investigate Mason's disappearance, and Isabelle exposes herself even further. But Waylon has hidden motives, and when she catches him lying, Isabelle realizes that she's been in denial about Mason's disappearance all along. True crime's trending appeal and Willingham's mastery of the domestic mystery (A Flicker in the Dark, 2022) promise popularity for this one: fans of Lisa Gardner's Frankie Elkin series will be drawn to the risky amateur-detective elements, and those who crave resolution will appreciate that Willingham tucks the story's ends in tight."
From Booklist, Copyright (c) American Library Association. Used with permission.
Publisher's Weekly Review:
"Journalist Isabelle Drake, the narrator of this lyrical thriller from bestseller Willingham (A Flicker in the Dark), is struggling with overwhelming grief and guilt a year after her toddler son, Mason, disappeared one night from their Savannah, Ga., home. She's tried just about anything to find Mason, even addressing conventions of true crime addicts, but these emotionally draining efforts don't seem to be making any more headway than the stalled police investigation--which is why the usually guarded Isabelle agrees to cooperate with podcaster Waylon Spencer in hopes of persuading any listeners with possible leads to come forward. Answering Waylon's painfully probing questions, including ones delving into the childhood tragedy that ended her father's congressional career, could either provide the fresh perspective the podcaster promises--or prove one of her worst decisions ever. Though some of the climactic twists don't quite convince, Isabelle's vivid memories of a past she's coming to question nicely intersect with her increasingly dangerous drive for answers. This involving, thought-provoking page-turner raises disturbing questions about the nature of the stories people tell themselves to make sense of the world. Willingham remains a writer to watch. Agent: Dan Conaway, Writers House. (Jan.)"
(c) Copyright PWxyz, LLC. All rights reserved
Additional Information