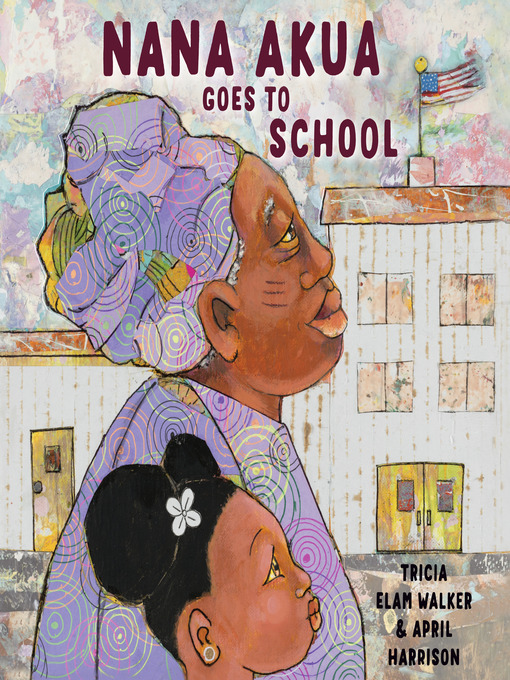 Nana Akua goes to school
Format:

Kindle Book

2020

2020

OverDrive Read

Availability:

Available from OverDrive

4 of 5 copies
Summary
Zura is worried about how her classmates will react to her Ghanaian Nana's tattoos on Grandparents Day, but Nana finds a way to show how special and meaningful they are.

Contents
Adinkra symbols and their meanings
Nana Akua goes to school
Glossary
Sources
Adinkra symbols and their meanings.
Published Reviews
Booklist Review:
"One day in Zura's classroom, the children's grandparents visit and share things that make them special. Zura worries that her classmates might laugh at her grandmother because of the traditional marks on her face, placed there in childhood to designate her tribal family in Ghana and to symbolize beauty and confidence. Nana Akua, Zura's grandmother and "favorite person in the whole universe," finds the perfect solution. On Grandparents Day, after explaining her facial marks and their meanings, Nana Akua invites everyone to choose one of the 50 traditional Adinkra symbols on Zura's quilt. Intrigued, the children and grandparents make their choices, and Nana Akua paints one on each person's face while Zura looks on proudly. Fine for reading aloud to groups, this large-format book provides ample space for the richly colorful mixed-media collages by Harrison, the 2020 John Steptoe New Talent Award winner for illustration. Her attractive depictions of 20 Adinkra symbols, accompanied by their meanings, appear on the endpapers. The book's well-constructed, graceful narrative, rooted in Ghanaian tradition, will engage the many children who can relate to Zura's worries, her grandmother's warmth and wisdom, and the story's reassuring ending. This beautiful picture book offers a helpful perspective on cultural differences within a heartening family story."
From Booklist, Copyright (c) American Library Association. Used with permission.
Publisher's Weekly Review:
"Zura's school is inviting grandparents to visit, and though her Ghanaian grandmother, Nana Akua, is "her favorite person in the whole universe," Zura is worried that her tribal facial markings will draw unwanted attention. "What if someone at school laughs at you or acts mean?" the child asks. Harrison (What Is Given from the Heart) shows Zura reaching across the table to take Nana Akua's big hand in her two small ones. Once in Zura's classroom, Nana Akua speaks with poise. "I'm sure you noticed the marks on my face.... These marks were a gift from my parents, who were happy and proud that I was born.... I am likewise proud to wear them." She paints Adinkra symbols on the faces of Zura's classmates (a chart listing their meanings is included) in a visit that delights the children and their grandparents. Striking artwork by Harrison gives the characters' faces classic sculptural contours, and the spreads' bold patterns and colors echo a quilt of symbols that Nana Akua made for Zura. Newcomer Walker writes convincingly about how difference can cause unease among children, and her story offers a compelling portrait of a grandmother whose pride and poise put that concern to rest. Ages 4--8. (June)"
(c) Copyright PWxyz, LLC. All rights reserved
Additional Information