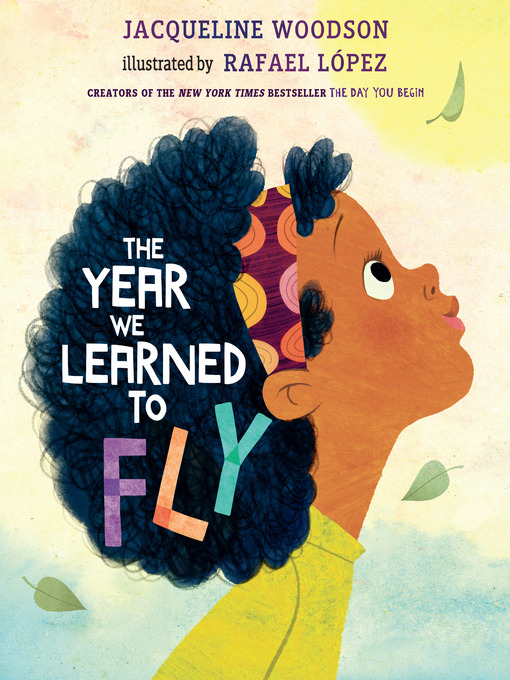 The year we learned to fly
Format:

Kindle Book

2022

2022

OverDrive Read

Availability:

Available from OverDrive

3 of 5 copies
Summary
"By heeding their wise grandmother's advice, a brother and sister discover the ability to lift themselves up and imagine a better world"--

Published Reviews
Booklist Review:
"A sister and brother live with their younger sister and grandmother. In the spring, the weather is stormy, and the children grow bored. Summer finds them bickering over chores. In the autumn, the rooms of the apartment feel "big and lonely." Then, in winter, they move, leaving their familiar street and friends behind. From this basic premise comes a narrative rich with literary and visual symbolism, simultaneously simple and profound. What has happened to the parents? Why do they relocate? No details are provided, so the framework could be applied to many situations. Each season, their grandmother acknowledges the children's feelings and encourages them to find strength within. She tells the children to lift their arms, close their eyes, and figure out a way to fly. When they do, they are able to see positive elements, like flowers in the spring, companionship in summer, freedom in the fall, and new friends in winter. Fantasy elements in the illustrations include the girl's hair filling with butterflies, flowers, and then ships at sea that suggest the Middle Passage. Faces of ancestors appear in the leaves of plants. These images, as well as the children flying, are integrated into an otherwise recognizable world. With this book (simultaneously released in Spanish), Woodson and Lopez create a path that children may follow as they gain confidence and imagine a way forward no matter what challenges arise."
From Booklist, Copyright (c) American Library Association. Used with permission.
Publisher's Weekly Review:
"Two Black siblings use their imaginations to escape their immediate surroundings throughout the seasons in this picture book by previous collaborators Woodson and López (The Day You Begin). During "the spring when the rain seemed like it/ would never stop," the children's grandmother--who wears butterfly wings as earrings--encourages the bored duo to "Lift your arms,/ close your eyes,/ take a deep breath,/ and believe in a thing." They do, "flying over the city we'd known/ our whole lives," and from then on, nothing can keep them down--neither anger in summer, nor loneliness in autumn, nor unfriendly kids in a new neighborhood during winter. Learning to soar "from the people who came before," the children are told both that their feelings have been experienced by others, and that "nobody can ever cuff/ your brilliant and beautiful mind," a lesson they pass on in turn. Energetic layered multimedia illustrations accompany the poetically repeating lines, vividly depicting winged escapes over images of a slave ship and contemporary real-world high-rises. An author's note acknowledges the work of Virginia Hamilton in this book's origins. Ages 5--8. Author's agent: Dorian Karchmar, William Morris Endeavor. Illustrator's agent: Stefanie Sanchez Von Borstel and Adriana Dominguez, Full Circle Literary. (Jan.)"
(c) Copyright PWxyz, LLC. All rights reserved
Additional Information