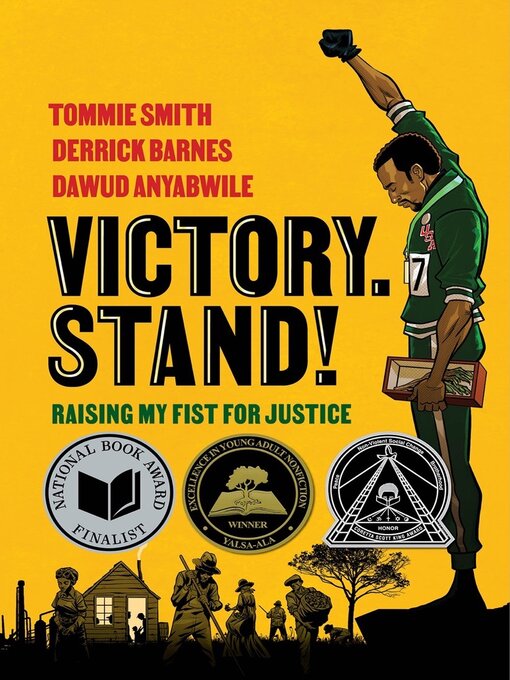 Victory. Stand! raising my fist for justice
Format:

Kindle Book

2022

2022

OverDrive Read

Availability:

Available from OverDrive

3 of 5 copies
Summary
"A groundbreaking and timely graphic memoir from one of the most iconic figures in American sports-and a tribute to his fight for civil rights. On October 16, 1968, during the medal ceremony at the Mexico City Olympics, Tommie Smith, the gold medal winnerin the 200-meter sprint, and John Carlos, the bronze medal winner, stood on the podium in black socks and raised their black-gloved fists to protest racial injustice inflicted upon African Americans. Both men were forced to leave the Olympics, received death threats, and faced ostracism and continuing economic hardships. In his first-ever memoir for young readers, Tommie Smith looks back on his childhood growing up in rural Texas through to his stellar athletic career, culminating in his historic victoryand Olympic podium protest. Cowritten with Newbery Honor and Coretta Scott King Author Honor recipient Derrick Barnes and illustrated with bold and muscular artwork from Emmy Award-winning illustrator Dawud Anyabwile, Victory. Stand! paints a stirring portrait of an iconic moment in Olympic history that still resonates today"--

Published Reviews
Booklist Review:
"In this powerful graphic memoir, track-and-field gold medalist Smith has teamed up with talented creators Anyabwile and Barnes to present a gripping story about the path that led him to courageously raise his fist in protest for racial justice on the podium at the 1968 Olympic Games. The trio does an excellent job at presenting the horrors of racism (images and language representing that racism appear in the book) and its harmful effects on Smith's life during childhood and young adulthood. From his experiences growing up in a sharecropping family to his adolescent years attending schools that were being desegregated to his time at the predominantly white college, it's clear how systematic racism propelled Smith toward a life as a one of the most prominent Olympic activist athletes. Although the text is centered on Smith's journey toward this prominence, readers will learn much about one of the most trying and tumultuous times in U.S. history, as well as the role many athletes played in the fight for racial justice both on and off athletic fields. With vivid black-and-white artwork that emphasizes Smith's athleticism and powerful messages about allyship, conviction, family, and resistance, this is a compelling and engaging account of an iconic moment and an important period in U.S. history."
From Booklist, Copyright (c) American Library Association. Used with permission.
Publisher's Weekly Review:
"With collaborators Barnes (I Am Every Good Thing) and Anyabwile (Becoming Muhammad Ali), Smith details his childhood leading up to his historic Olympic protest--and its aftermath--in this compelling graphic memoir. Before Smith, who is Black, was an Olympic gold medalist, he and his family of 14 lived in a house with "no running water. No central air-conditioning or heating." When he was seven, they relocated from Texas to California, where he faced racism from white classmates and school administrators before his white PE teacher Mr. Focht, described as a "good man," encouraged him to run track. Smith was eventually recruited by San José State University in 1963. Even as his career flourished, however, he couldn't ignore the racial violence surrounding him. Realizing he "had an obligation--not just to carry the banner of San José State" but "to carry an even larger banner for my people," Smith raised a fist while on the podium at the 1968 Mexico Olympics. Anyabwile's grayscale art features kinetically illustrated athletic competition, tense racial dynamics, and a large, intricately detailed Black family. Smith's timely story, whose nonlinear timeline highlights both prominent events during the civil rights movement and Smith's interpersonal struggles, is a powerful celebration of resistance. Ages 13--up. (Sept.)"
(c) Copyright PWxyz, LLC. All rights reserved
Additional Information
Subjects
Smith, Tommie, 1944- Juvenile literature
Smith, Tommie, 1944- Comic books, strips, etc
Smith, Tommie, 1944- Cartoons and comics
Track and field athletes United States Biography Juvenile literature
Track and field athletes United States Biography Comic books, strips, etc
African American athletes Biography. Juvenile literature
African American athletes Biography Comic books, strips, etc
Track and field athletes Cartoons and comics
African American athletes Cartoons and comics
African Americans Biography Cartoons and comics
Graphic novels
Biography & Autobiography
Sociology
Young Adult Nonfiction
Sports & Recreations
Autobiographies.
Graphic novels.
1944-

Publisher

[Place of publication not identified] :Norton Young Readers,2022




Norton Young Readers2022



Edition
First edition.
Contributors
Barnes, Derrick, author.
Anyabwile, Dawud, 1965- artist.
OverDrive, Inc.

Audience

Ages: 13-18



Language

English



System Details

Mode of access: World Wide Web.




Format: Kindle Book




Format: OverDrive Read




Requires Amazon Kindle



Description

1 online resource



ISBN
9781324003915
132400391X

Other
Classic View