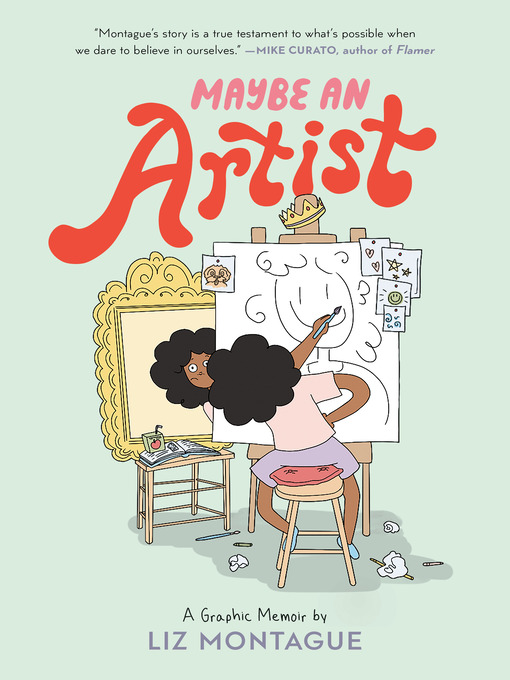 Maybe an artist a graphic memoir
Format:

Kindle Book

2022

2022

OverDrive Read

Availability:

Available from OverDrive

3 of 5 copies
Summary
"A heartfelt and funny graphic novel memoir by one of the first Black female cartoonists to be published in the New Yorker, at the age of 22"--

Published Reviews
Booklist Review:
"Beginning in first grade, when she was one of only two Black kids in her school, and spanning the years leading up to having her first cartoon accepted by the New Yorker, Montague describes her experiences as a child growing up in the rural suburbs of New Jersey, becoming socially conscious, and learning that she thinks and communicates best through art. Combining the messages, "the only way out is through" and "it gets better," Montague shows how she stayed true to herself while fulfilling the goals others had for her. The art is deceptively simple and flat, with eye rolls doing much of the expressing (in the same family as Mo Willems' infamous pigeon), which works beautifully with the tone of the book. Like a friend telling the reader a story, the tone is kept personal and conversational, laced with much humor and an awareness of herself that comes only from hindsight. Different from most graphic memoirs aimed at teens, this will speak to many readers who feel like they aren't being heard."
From Booklist, Copyright (c) American Library Association. Used with permission.
Publisher's Weekly Review:
"While struggling to "create something from nothing," Montague wonders as an adult, "Why do I do this?" She answers that question in this sincere graphic memoir debut by doing what comes naturally: drawing it out, and examining the motivations she discovered in her childhood leading up to her publication as one of the first Black female cartoonists to be featured in the New Yorker. Growing up post-9/11 as one of the few Black girls in Marlton, N.J., Montague struggled to see herself in visiting career day professionals (when a classmate asks which one she'd grow up to be, Montague replies, "None of them--they don't have the right hair"). She uses art to overcome obstacles such as dyslexia and her classmates' casual racism, as well as to contextualize the world around her. Embracing a sense of entrepreneurial spirit after first being paid for her art, she determinedly pursues art as a career. Told with a classic comic strip flair and divided into chapters that recount each life stage, Montague's illustrations, rendered in a flat pastel color palette and paired with deadpan humor and insightful social commentary, crafts an inspiring journey of self-discovery, self-expression, and self-love. Ages 12--up. Agent: Wendi Gu, GreenbergerKids. (Oct.)"
(c) Copyright PWxyz, LLC. All rights reserved
Additional Information