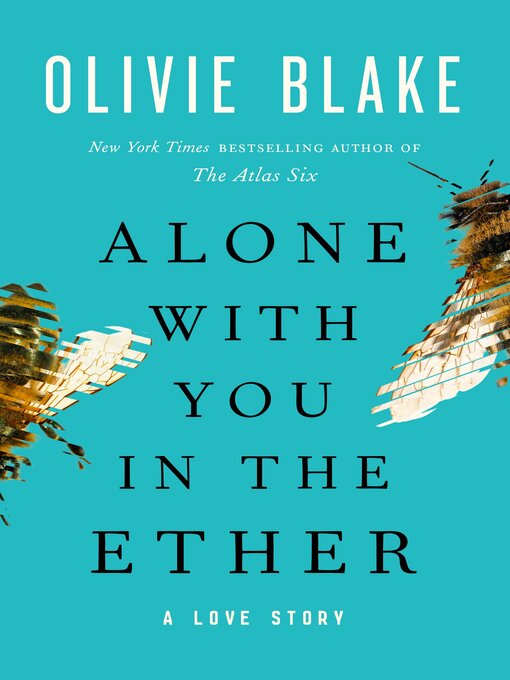 Alone with you in the ether a love story
Format:

Kindle Book

2022

2022

Adobe EPUB ebook

OverDrive Read

Availability:

Unavailable

0 of 5 copies
52 people on waitlist
Summary
"From the New York Times bestselling author of The Atlas Six comes an intimate and contemporary study of time, space, and the nature of love. Alone with You in the Ether explores what it means to be unwell, and how to face the fractures of yourself and still love as if you're not broken. CHICAGO, SOMETIME-- Two people meet in the armory of the Art Institute by chance. Prior to their encounter, he is a doctoral student who manages his destructive thoughts with compulsive calculations about time travel; she is a bipolar counterfeit artist undergoing court-ordered psychotherapy. By the end of the story, these things will still be true. But this is not a story about endings. For Regan, life is a finish line of mutually assured disappointment. Her method of coping with the dreariness of existence is to project herself into imagined multipotency, spinning new threads of destiny with every impulsive decision she makes. For Aldo, life is a plague of constancy--a structure of rules and formulas that keep him going, without which the entire frame of his existence would collapse. For both of them, life is a matter of resigning themselves to the blueprints of inevitability, until six conversations with a stranger form the variable that glitches the entire simulation"--

Published Reviews
Booklist Review:
"Regan is a docent at the Art Institute of Chicago when she meets mathematician Aldo, who occupies his sometimes destructive mind with solving the impossible problem of time travel. They agree to six conversations to get to know each other, but after several weeks, it is not enough, and Regan offers to give Aldo keys to who she is. Instead of asking for sex, as she assumed he would because of the tension crackling between them, he demands to see her art. But Regan is no artist; instead, she is a former forger who sees a court-appointed psychiatrist to keep her bipolar disorder under control. She decides to stop taking her pills in order to feel things more clearly. Nothing is simple in Blake's (The Atlas Six, 2022) surprising love story. There is a lot of conversation and a lot of stream-of-consciousness narration from Regan and Aldo's deep points of view. But the pages fly by as the two figure each other out in this character-driven novel that is intimate, complicated, and utterly romantic."
From Booklist, Copyright (c) American Library Association. Used with permission.
Publisher's Weekly Review:
"An artist with bipolar disorder and an obsessive mathematician embark on an unconventional romance in this cerebral love story from Blake (The Atlas Six). When Art Institute of Chicago docent Charlotte Regan, who's in court-ordered psychotherapy following a scheme to counterfeit foreign currency, meets Aldo Damiani, a prickly University of Chicago grad student, their connection is immediate. Aldo urges Regan to agree to six conversations, over the course of which he intends to understand her. With the bemused tolerance of Regan's boyfriend, the pair grow closer--so close that Regan offers Aldo "one part of me for your consumption." She expects him to go for sex, but instead he asks for her art, which she hasn't worked on in years. Spurred on, Regan takes up painting, dumps her boyfriend, quits her medication, and launches a volatile, passionate relationship with Aldo. Blake's prose is silky and as eccentric as her characters, with an assortment of third-party narrators interrupting the action in "voice-over." ("THE NARRATOR, A STUDENT WHO HAS JUST ARRIVED: You can never prepare for weathering anything in Chicago.") The message of finding a richer life off mood stabilizers won't sit well with all readers, but there's no denying the characters make for fascinating and complicated studies. This is a book to savor. (Nov.)"
(c) Copyright PWxyz, LLC. All rights reserved
Additional Information