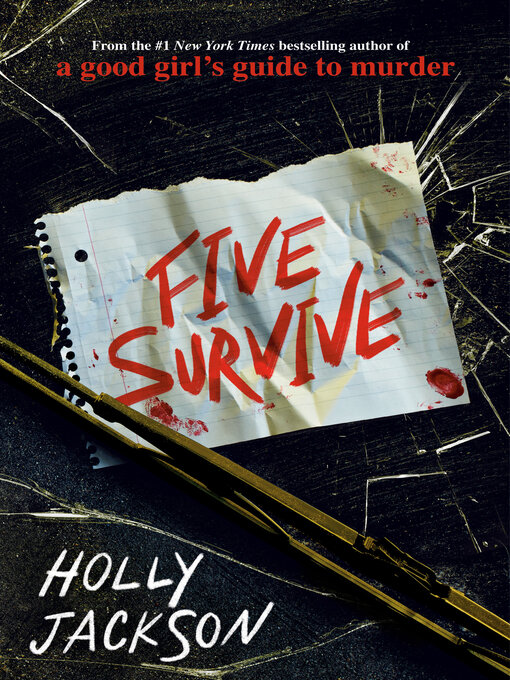 Five survive
Format:

Kindle Book

2022

2022

Adobe EPUB ebook

OverDrive Read

Availability:

Unavailable

0 of 7 copies
39 people on waitlist
Summary
"Red Kenny is on a road trip for spring break with five friends: Her best friend - the older brother - his perfect girlfriend - a secret crush - a classmate - and a killer. When their RV breaks down in the middle of nowhere with no cell service, they soon realize this is no accident. They have been trapped by someone out there in the dark, someone who clearly wants one of them dead. With eight hours until dawn, the six friends must escape, or figure out which of them is the target. But is there a liar among them? Buried secrets will be forced to light and tensions inside the RV will reach deadly levels. Not all of them will survive the night"--

Published Reviews
Booklist Review:
"Five high-school students road trip in an RV to meet their classmates at a spring break location. A few wrong turns and popped tires later, they are trapped in the RV in the middle of the woods, where an unknown sniper holds them hostage. One of them has information that the sniper wants, and personal, political, and generational secrets are spilled as the group tries to plan an escape without going full Lord of the Flies. Red, the shy and traumatized girl at the center of the story, offers a mysterious and at times hard-to-follow narration. The prose tightens up as the action begins, and Jackson (A Good Girl's Guide to Murder, 2020) takes readers through a series of slightly predictable but fun twists and turns; the frustration of being trapped with people who want to handle the situation differently than you do is also well drawn. Recommended for fans of the author and fans of teen thrillers."
From Booklist, Copyright (c) American Library Association. Used with permission.
Publisher's Weekly Review:
"Six Philadelphia teenagers' spring break road trip turns deadly after they get lost in South Carolina in this nail-biting thriller from Jackson (the Good Girls' Guide to Murder series). Redford "Red" Kenny and her friends--siblings Oliver and Maddie Lavoy, Oliver's girlfriend Reyna Flores-Serrano, Arthur Moore, and Simon Yoo--borrow Simon's uncle's RV to road-trip down to Gulf Shores for spring break. The journey is pleasant, if cramped, and the teens pass the time playing card games and drinking. While navigating without cell service to an isolated rural rest stop, they make a wrong turn onto McNair Cemetery Road, where one of their tires blows out. The group is then taken hostage by an unseen sniper, who shoots out the rest of the tires, the gas tank, and a window. Via a walkie-talkie left behind by the perpetrator, the shooter claims that one of them has a secret he wants revealed and warns that "if you try to run, I will shoot." Hints of romance and a hopeful resolution help buoy unrelenting violent action, a tense atmosphere, and a melancholic tone. Reyna is Mexican; Simon's father is Korean; the rest of the cast present as white. Ages 14--up. Agent: Sam Copeland, RCW Literary. (Nov.)"
(c) Copyright PWxyz, LLC. All rights reserved
Additional Information