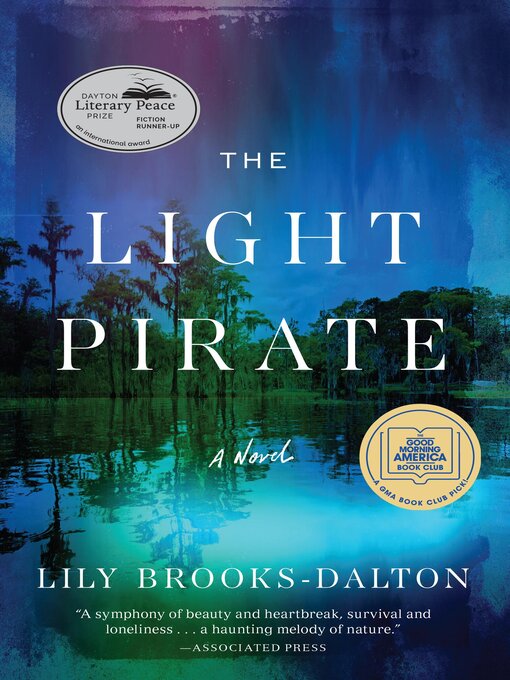 The light pirate
Format:

Kindle Book

2022

2022

Adobe EPUB ebook

OverDrive Read

Availability:

Unavailable

0 of 8 copies
60 people on waitlist
Summary
"From the author of Good Morning, Midnight comes a hopeful, sweeping story of survival and resilience spanning one extraordinary woman's lifetime as she navigates the uncertainty, brutality, and arresting beauty of a rapidly changing world. Florida as we know it is slipping away. As devastating weather patterns and rising sea levels wreak gradual havoc on the state's infrastructure, a powerful hurricane approaches a small town on the southeastern coast. Kirby Lowe, an electrical line worker for the local utility municipality, his pregnant wife, Frida, and their two sons, Flip and Lucas, prepare for the worst. When the boys go missing just before the hurricane hits, Kirby heads out into the high winds in search of his children. Left alone, Frida goes into premature labor and gives birth to an unusual child, Wanda, whom she names after the catastrophic storm that ushers her into a society closer to collapse than ever before. As Florida continues to unravel, Wanda grows. Moving from childhood to adulthood, adapting not only to the changing landscape, but also to the people who stayed behind in a place abandoned by civilization, Wanda loses family, gains community, and ultimately, seeks adventure, love, and purpose in a place remade by nature. Told in four parts-power, water, light, and time-The Light Pirate mirrors the rhythms of the elements and the sometimes quick, sometimes slow dissolution of the world as we know it. It is a meditation on the changes we would rather not see, the future we would rather not greet, and a call back to the beauty and violence of an untamable wilderness"--

Published Reviews
Booklist Review:
"Hurricanes are eating away at Rudder, Florida. With coastlines eroding all over the world, it seems impossible that the town will survive. The Lowe family clings to their home, bracing for each storm that rolls through. Frida, eight months pregnant, wants to evacuate, but spouse Kirby doesn't. He's a lineman, and the town depends on him for power. Frida is left with her stepsons, but as Kirby works in the sheeting rain, they disappear into the fray too. Ten years later, Frida's daughter, Wanda, has formed her own relationship with Rudder. Named after the storm she was born in, she's a pariah in the deteriorating town. But Wanda bonds with her neighbor Phyllis, a survivalist who plans to stay there no matter what. Wanda also finds that she has the special ability to create light along the surface of water. As the town erodes, Wanda uses her power to hang on. With disaster haunting every moment, the true ensemble cast narrates, switching points of view when necessary. Wanda doesn't appear on the page for some time, yet her presence permeates the text. Brooks-Dalton (Good Morning, Midnight, 2016) paints a luminous and wrenching portrait of a frighteningly possible future."
From Booklist, Copyright (c) American Library Association. Used with permission.
Publisher's Weekly Review:
"Brooks-Dalton (Good Morning, Midnight) tells the gripping if underdeveloped story of a Florida family devastated by a hurricane, with hints of magic and a transformed landscape as the timeline stretches into the near future. Kirby Lowe, a divorced electrical lineman on call to make storm damage repairs, shares custody of his two unruly sons, Lucas, 12, and Flip, eight, while his pregnant second wife, Frida, has a premonition about Wanda, the coming hurricane. During the storm, Frida gives birth, names their daughter after the hurricane, then dies shortly after Kirby returns. Flip also perished in the storm, and a neighbor, a retired teacher named Phyllis, takes baby Wanda under her wing. Later, after Wanda starts school and learns biology from Phyllis, she discovers a magical ability: when she touches the ocean's water, she attracts bioluminescence. Meanwhile, Lucas joins Kirby on line duty as they make repairs after lesser storms and wait for the next big one. Murmurs abound on the compromised Hoover Dike, which, if damaged by another major storm, could unleash catastrophic flooding from Lake Okeechobee. By the end, Brooks-Dalton's vision for what might be includes a radically changed state of Florida. Though the magical elements are unexplained and extraneous, the author sustains a steady pace from one storm to the next. Climate fiction aficionados will eat this up. (Dec.)"
(c) Copyright PWxyz, LLC. All rights reserved
Additional Information