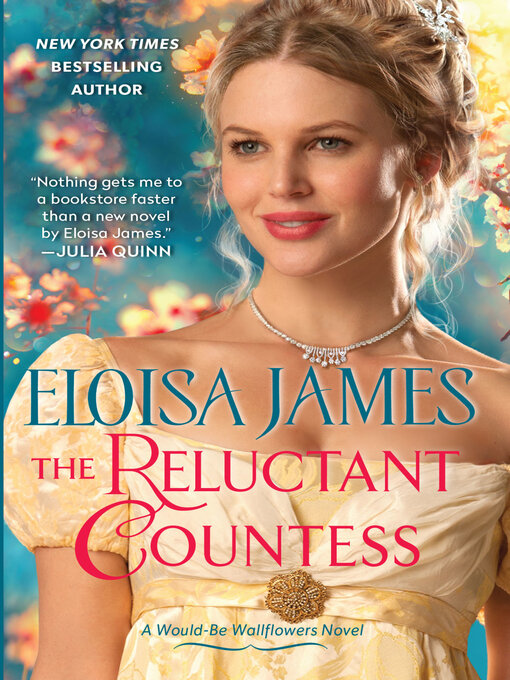 The reluctant countess a would-be wallflowers novel
Format:

Kindle Book

2022

2022

Adobe EPUB ebook

OverDrive Read

Availability:

Unavailable

0 of 6 copies
36 people on waitlist
Summary
Giles Renwick, Earl of Lilford, has never made a fool of himself over a woman, until he meets Lady Yasmin Regnier. Yasmin is ineligible for his attentions in every way: not as a wife, certainly not as a mistress (she is a lady!), nor even as a friend, since they vehemently dislike each other. Her gowns are too low, and her skirts are dampened to cling to admittedly lovely thighs. She loves to gossip and giggle. She isn't dignified, or polite, or even truly British, given that her father's French ancestry clearly predominated. Not to mention the fact that her mother had been one of Napoleon's mistresses, a fact she makes no effort to hide. So, what in heaven's name possesses him to propose? And what will he do if she says yes?

Published Reviews
Booklist Review:
"Yasmin Régnier knows a thing or two about what gossip can do to a lady's reputation. Which is why she tries to offer her hard-earned knowledge to Giles Renwick, earl of Lilford, whose younger sister, Lydia, is in danger of ruining her reputation. The last person on earth Giles would ever accept advice from is Yasmin, a woman who encourages her scandalous reputation with her outré sense of fashion and flirtatious ways. Yet each time Giles actually interacts with Yasmin, he discovers beneath her public façade a genuine woman with whom he might actually enjoy spending time. Yasmin is equally surprised to discover that the all-too-proper Giles could be the one man who can get her to believe in love again. With its enchanting, relatably vulnerable heroine and seemingly starchy yet actually irresistibly sexy hero, not to mention graceful writing kissed with a stellar sense of wit, best-selling James' (How to Be a Wallflower, 2022) latest splendidly sensual addition to her Would-Be-Wallflowers series is pure reading bliss."
From Booklist, Copyright (c) American Library Association. Used with permission.
Publisher's Weekly Review:
"Scandalous family secrets aren't enough to animate the flimsy second Would-be Wallflowers Regency romance from bestseller James (after How to Be a Wallflower). French Lady Yasmin Régnier, 25, is often the subject of gossip: her mother was Napoleon's mistress and, at 16, she herself was duped into a fake marriage to a fortune hunter. Society cannot completely shun her, however, as her grandfather was a duke. Giles Renwick, British Earl of Lilford, is similarly whispered about, as his mother's promiscuity throws the paternity of Giles and his sister, Lydia, into question. Still, like his peers, Giles keeps Yasmin at a distance--but for him, it's more out of fear of his intense attraction to her than disdain for her checkered past. No longer able to resist, he proposes marriage, taking Yasmin, who's long believed him to hate her, quite by surprise. As Giles works to prove his love, impetuous Lydia works to sabotage the couple. Lydia's strenuous objections to the match feel entirely hypocritical--her own actions are just as likely to bring scandal as an association with Yasmin would--and her mean-spirited antics distract from the romance. The couple has chemistry to spare, making the weak obstacles to their happiness all the more frustrating. This misses the mark. Agent: Kim Witherspoon, InkWell Management. (Nov.)"
(c) Copyright PWxyz, LLC. All rights reserved
Additional Information