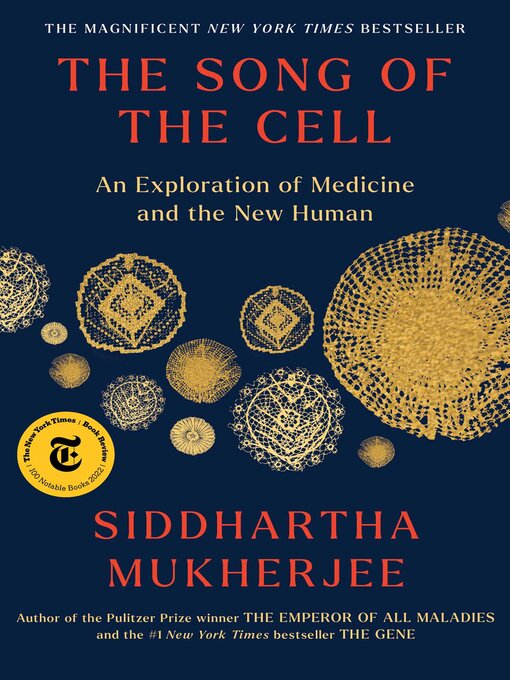 The Song of the Cell An Exploration of Medicine and the New Human.
Format:

Kindle Book

2022

2022

Adobe EPUB ebook

OverDrive Read

Availability:

Unavailable

0 of 7 copies
59 people on waitlist
Summary
From the author of The Emperor of All Maladies , winner of the Pulitzer Prize, and The Gene , a #1 New York Times bestseller, comes his most spectacular book yet, an exploration of medicine and our radical new ability to manipulate cells. Rich with Mukherjee's revelatory and exhilarating stories of scientists, doctors, and the patients whose lives may be saved by their work, The Song of the Cell is the third book in this extraordinary writer's exploration of what it means to be human. Mukherjee begins this magnificent story in the late 1600s, when a distinguished English polymath, Robert Hooke, and an eccentric Dutch cloth-merchant, Antonie van Leeuwenhoek looked down their handmade microscopes. What they saw introduced a radical concept that swept through biology and medicine, touching virtually every aspect of the two sciences, and altering both forever. It was the fact that complex living organisms are assemblages of tiny, self-contained, self-regulating units. Our organs, our physiology, our selves—hearts, blood, brains—are built from these compartments. Hooke christened them " cells ". The discovery of cells—and the reframing of the human body as a cellular ecosystem—announced the birth of a new kind of medicine based on the therapeutic manipulations of cells. A hip fracture, a cardiac arrest, Alzheimer's dementia, AIDS, pneumonia, lung cancer, kidney failure, arthritis, COVID pneumonia—all could be reconceived as the results of cells, or systems of cells, functioning abnormally. And all could be perceived as loci of cellular therapies. In The Song of the Cell , Mukherjee tells the story of how scientists discovered cells, began to understand them, and are now using that knowledge to create new humans. He seduces you with writing so vivid, lucid, and suspenseful that complex science becomes thrilling. Told in six parts, laced with Mukherjee's own experience as a researcher, a doctor, and a prolific reader, The Song of the Cell is both panoramic and intimate—a masterpiece.

Published Reviews
Booklist Review:
"Physician-writer Mukherjee (The Gene: An Intimate History, 2016) pays homage to the basic units of all living things, cells. He draws on scientific breakthroughs and medical history, bountiful cellular biology, and current clinical therapies for cancer. Mukherjee's main message emphasizes discovery and opportunities. Cells can be reengineered or repurposed, resulting in transformative medical treatments. He portrays various patients, including a girl whose T cells are manipulated to attack her childhood leukemia, and presents an excellent recounting of the "birth" of in vitro fertilization (IVF), a kind of cell therapy. Mukherjee's coverage of early efforts at bone marrow transplantation is heart-tugging. A discussion of stem cells is first-rate. Certain cells do the darnedest things. For example, microglia cells in the nervous system are assigned the task of "pruning" neural synapses (connections between neurons). Mukherjee allows bits of his personal life to trickle into the discourse, such as how he was "overwhelmed by the most profound wave of depression." In all, this is a distinctive ode to cells--their structure and function, commonalities, diversities, interconnectedness, and limitless possibilities--infused with a sense of wonder and humanity.HIGH-DEMAND BACKSTORY: Pulitzer Prize-winner Mukherjee is a top medical writer with a surefire readership."
From Booklist, Copyright (c) American Library Association. Used with permission.
Publisher's Weekly Review:
"A better understanding of the cell holds immense power for medicine according to this eye-opening account from Pulitzer winner Mukherjee (The Emperor of All Maladies). He begins with the ground-breaking realization from two 19th-century scientists that every bit of plant and animal tissue in the world is made up of microscopic cells. Since then, Mukherjee writes, there has been "a revolution in the making, and a history (and future) that had been unwritten: of cells, of our capacity to manipulate cells." An extraordinarily gifted storyteller, Mukherjee offers an expansive chronology of discovery in cell therapies (such as IVF) and setbacks, such as the use of thalidomide for pregnancies in the 1960s. He also includes stories of what he calls "new humans"--Mukherjee clarifies that the term isn't a sci-fi-inspired "vision of the future," but rather everyday folks whose health has been restored by advances in cellular manipulation and engineering, such as a patient who recovered from leukemia with cell therapy. The author's ideas about the near future of medicine (one in which medicine will "perhaps even create synthetic versions of cells, and parts of humans") are both convincing and inspiring, and woven throughout his narrative are accessible explanations of cell biology and immunology. This is another winner from Mukherjee. (Oct.)"
(c) Copyright PWxyz, LLC. All rights reserved
Additional Information