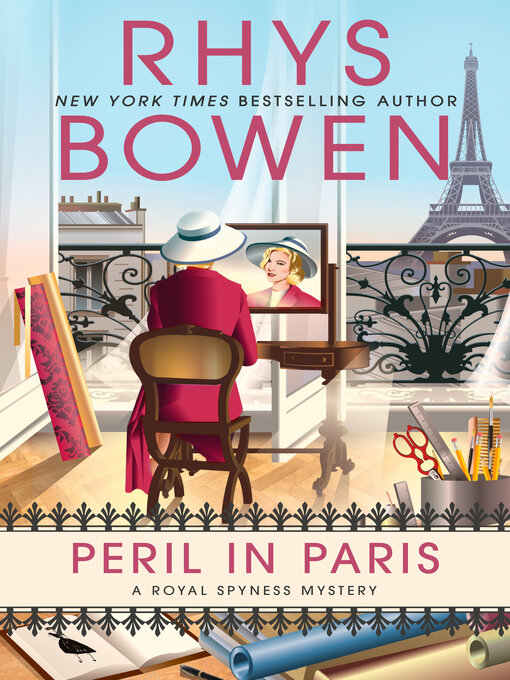 Peril in Paris
Format:

Kindle Book

2022

2022

Adobe EPUB ebook

OverDrive Read

Availability:

Unavailable

0 of 5 copies
35 people on waitlist
Summary
"Lady Georgiana Rannoch and her dashing husband, Darcy, are awaiting a bundle of joy, but an unexpected trip to Paris will thrust them straight into a tangled web of international intrigue in this all-new mystery in the New York Times bestselling Royal Spyness series from Rhys Bowen. What a delight it is to finally be able to enjoy a simple meal again! I have been in the throes of morning sickness for the last few months as Darcy and I prepare to welcome a brand-new addition to our little family. Now that I am feeling better, I have realized I am dreadfully bored! It seems that all my nearest and dearest are off leading their own busy lives while I sit at home and attempt to train our two adorably naughty puppies. Fun as it may be, it is hard not to long for a little adventure, a change of pace, before my true confinement begins when the baby comes. Happily, it seems that Darcy has read my mind. When I receive a letter from my glamorous best friend, Belinda, Darcy suggests we take a trip to Paris to visit her. It seems he also has a spot of business of which to take care, so I will be staying in Belinda's flat as she works feverishly on Coco Chanel's fall collection. I happen to know Coco from a disastrous encounter in Nice years ago, and I am hoping this visit will go much more smoothly. But I soon learn that nothing about my time in Paris is going to be simple . . . or safe for that matter. Darcy has asked me to take on a small chore as a part of his latest assignment. I am to covertly retrieve something from an attendee of Coco's show. It seems easy enough, but I discover that this little errand could have terrifying consequences for a world on the brink of war. When things go horribly wrong, I am left to find a killer all while trying to fend off a French policeman who is certain that I am a criminal mastermind. But I have no plans to deliver my darling little one in a prison cell, and so I will muster every ounce of my courage to save the day . . . and, quite possibly, the world!"--

Published Reviews
Booklist Review:
"It is 1936. Lady Georgiana Rannoch, thirty-fifth in the line of royal succession, is married to her beloved Darcy, and they are expecting their first child. When Darcy invites Georgie to accompany him on a business trip to Paris--she isn't quite sure what his business is, but thinks he might be a spy--she's delighted at the opportunity to see her best friend, Belinda, who works in Coco Chanel's atelier. The visit starts well, with Georgie meeting Gertrude Stein, Ernest Hemingway, and a host of beguiling Parisians. Then Darcy asks her to help him retrieve microfilm from a German scientist, whose wife will bring it to Chanel's fashion show where Georgie will model a Chanel creation. But things go awry: during the show, the scientist's wife disappears, a woman is murdered, and Georgie becomes the prime suspect. Plenty of suspense (with a full serving of herrings) and a satisfying conclusion make this a fine addition to Bowen's Her Royal Spyness series and will delight those who enjoy visiting Paris vicariously."
From Booklist, Copyright (c) American Library Association. Used with permission.
Publisher's Weekly Review:
"Set in 1936, Bowen's middling 16th Royal Spyness mystery (after 2021's God Rest Ye, Royal Gentlemen) demands even more suspension of disbelief than usual. Though Lady Georgiana "Georgie" Ranoch O'Mara is expecting her first child, she's still roped into a dangerous assignment by her husband, Darcy, who works for a shadowy branch of the British government. Georgie's best friend from school, Belinda, has invited her to Paris, where Belinda is assisting fashion designer Coco Chanel. The scheduled arrival in that city of Gerda Goldberg, a Jewish friend of Nazi leader Hermann Göring's wife, could enable Darcy to get his hands on some valuable microfilm; Gerda's scientist husband has developed a poison gas detector and has agreed to pass the formula to the British. Georgie, who will attend the same fashion show as Gerda, is to get the microfilm from her and convey it to Darcy. That pregnant Georgie would agree to such a risky assignment will strike many as improbable, as will her suspicions that Darcy might actually be working for Hitler. Sadly absent is the laugh-out-loud humor of the series' best entries. This one's for diehard fans only. Agent: Meg Ruley, Jane Rotrosen Agency. (Nov.)"
(c) Copyright PWxyz, LLC. All rights reserved
Additional Information