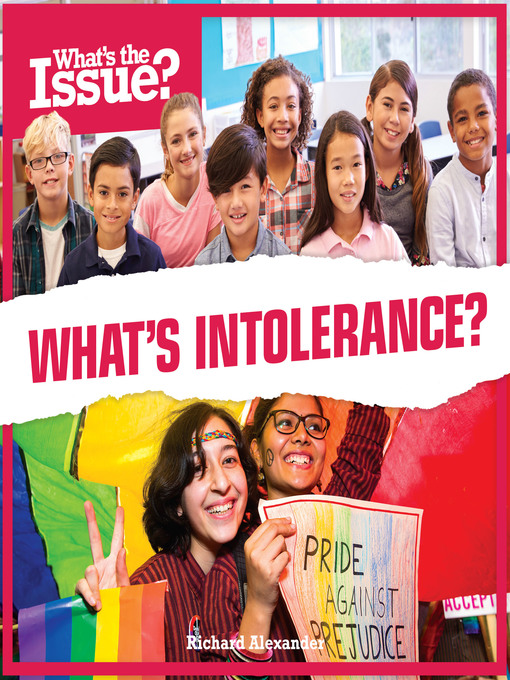 What's intolerance?
Format:

OverDrive Read

2017

2017

Availability:

Available from OverDrive

7 of 7 copies
Summary
Intolerance is a complex issue, but readers are introduced to it in a way that leaves them feeling enlightened and not overwhelmed. Informative, accessible text presents a basic definition of intolerance as well as relatable examples that readers could see in their daily lives and on the news. The main text is enhanced by the use of fact boxes, graphic organizers, and eye-catching photographs. These engaging elements come together to give readers a clear picture of what intolerance is, who it affects, and how they can fight against it.

Contents
Differences all around us
The roots of intolerance
What are stereotypes?
Intolerance toward immigrants
Religious intolerance
Political problems
Other examples of intolerance
Words and actions
Building a more tolerant world
Glossary
For more information
Index.
Published Reviews
Booklist Review:
"These important new books in the What's the Issue? series introduce big issues without talking down to the audience of elementary-age readers. The writing seems dense at first glance, but the material is gripping. Young readers may appreciate that the texts, although informative, treat them as serious thinkers capable of comprehending and being part of the debate on and solution to tough issues. Though the books take a lightly progressive point of view, they are strongly rooted in facts and present multiple sides fairly, when appropriate. What's Intolerance?, Alexander consistently treats intolerance of others as wrong, writing It's important to fight against intolerance to make everyone feel welcome and accepted. In today's world especially, these books are a valuable resource for nurturing informed citizens who can engage productively with a variety of social and political issues.--Aronin, Miriam Copyright 2018 Booklist"
From Booklist, Copyright (c) American Library Association. Used with permission.
Additional Information