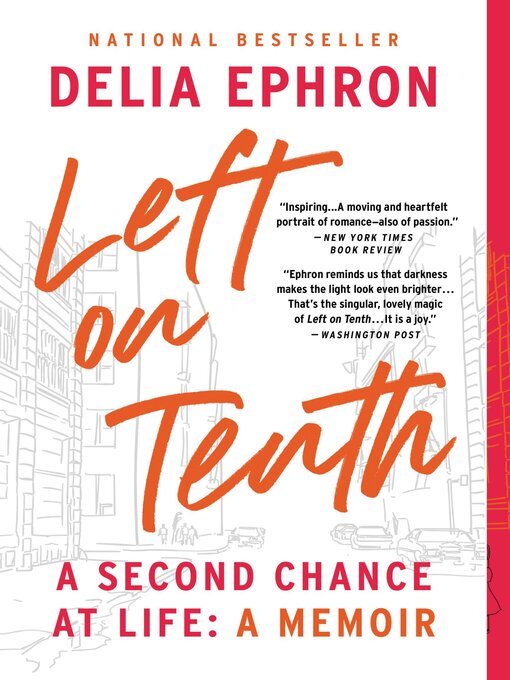 Left on Tenth a second chance at life
Format:

Kindle Book

2022

2022

Adobe EPUB ebook

OverDrive Read

Availability:

Unavailable

0 of 6 copies
35 people on waitlist
Summary
The bestselling, beloved writer of romantic comedies like You've Got Mail tells her own late-in-life love story in her "resplendent memoir," complete with a tragic second act and joyous resolution (Adriana Trigiani, bestselling author of The Good Left Undone ). Delia Ephron had struggled through several years of heartbreak. She{u2019}d lost her sister, Nora, and then her husband, Jerry, both to cancer. Several months after Jerry{u2019}s death, she decided to make one small change in her life{u2014}she shut down his landline, which crashed her internet. She ended up in Verizon hell. She channeled her grief the best way she knew: by writing a New York Times op-ed. The piece caught the attention of Peter, a Bay Area psychiatrist, who emailed her to commiserate. Recently widowed himself, he reminded her that they had shared a few dates fifty-four years before, set up by Nora. Delia did not remember him, but after several weeks of exchanging emails and sixties folk songs, he flew east to see her. They were crazy, utterly, in love. But this was not a rom-com: four months later she was diagnosed with AML, a fierce leukemia. In Left on Tenth , Delia Ephron enchants as she seesaws us between tears and laughter, navigating the suicidal lows of enduring cutting-edge treatment and the giddy highs of a second chance at love. With Peter and her close girlfriends by her side, with startling clarity, warmth, and honesty about facing death, Ephron invites us to join her team of warriors and become believers ourselves. A "Most Anticipated Book of 2022" by TIME , Bustle , Parade , Publishers Weekly , Boston.com A "Best Memoir of 2022" by Marie Claire A "Best Memoir of April" by Vanity Fair

Published Reviews
Booklist Review:
"Ephron should be called the Queen of Second Chances, and long may she reign. First there was the one-two punch of losing her cherished husband after a prolonged struggle with prostate cancer, and then there was the loss of her beloved-by-billions sister Nora to leukemia. No spring chicken when these events occurred, Ephron learned to adjust to her life as a widow while she accepted the possibility that she, too, might one day receive her own dire medical diagnosis. Which she does. But first, the good news. A caustic op-ed about the indignities of widowhood attracts the attention of a man from her college years, and in typical Sister Nora rom-com fashion, a long-distance relationship ensues. Peter's love and support is just what the doctor ordered, especially when said doctor is an oncologist who does indeed give Ephron the news that she, like Nora, also has leukemia. Ephron's harrowing account of coping with multiple, agonizing courses of treatment rivals that of any against-all-odds, true-adventure memoir. Her endurance is nothing short of mind boggling, her survival to tell the tale even more miraculous. Simultaneously spiritually uplifting and emotionally draining, Ephron's account of triumphing over life's greatest challenges is itself a tour de force."
From Booklist, Copyright (c) American Library Association. Used with permission.
Publisher's Weekly Review:
"Playwright and novelist Ephron (Siracusa) balances profound sorrow with unconditional love in this radiant account of the "many left turns, some perilous, some wondrous" that her life took following her husband's death. After a year of grieving the loss of her husband, Jerry--who died of cancer in their West Village apartment in 2015--Ephron reconnected with a long-lost acquaintance, a Jungian analyst named Peter, and was swept up in a whirlwind romance. But their honeymoon phase was unceremoniously ended when she was diagnosed with leukemia, the same cancer that her sister, filmmaker Nora Ephron, died of in 2012 ("'You are not your sister'," became a common refrain from the doctor, Ephron writes, "willing me to believe that I can have a different outcome"). Like a scene out of one of Nora's movies, Ephron ("officially a cancer patient") and Peter had an intimate hospital wedding. While moments of tenderness like these lend hope to her narrative, Ephron holds nothing back when recounting her harrowing episodes (even sharing a doctor's note that recorded her "saying she wanted to die"), a rocky road that, after a brief remission, included traumatic stays in the ICU, toxic metabolic syndrome, and an excruciating bone marrow transplant that saved her life. Readers will be swept away by this triumphant story. (Apr.)"
(c) Copyright PWxyz, LLC. All rights reserved
Additional Information