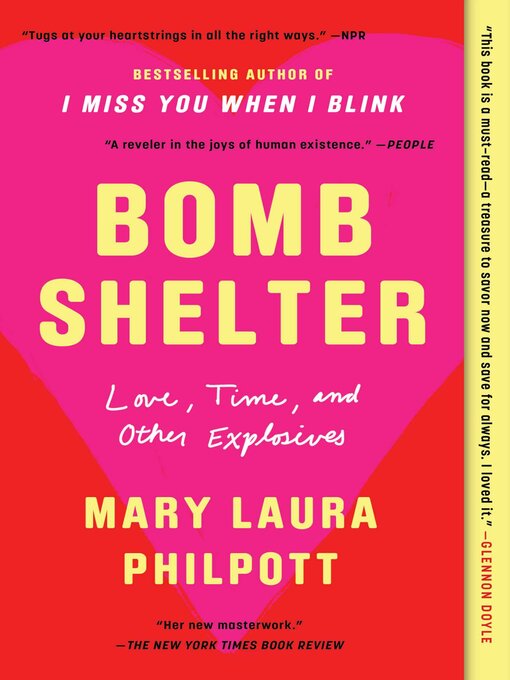 Bomb shelter love, time, and other explosives
Format:

Kindle Book

2022

2022

Adobe EPUB ebook

OverDrive Read

Availability:

Unavailable

0 of 5 copies
28 people on waitlist
Summary
"A poignant and powerful new memoir-in-essays that tackles the big questions of life, death, and existential fear with humor and hope"--

Contents
Shadows
Hello from upside down
Hurry, hurry
Firestarter
Pinwheel
Turtles, turtles, turtles
One might wonder
Everybody has something
Do you hear the people sing?
Calm yourself
Seriously
To the woman screaming on the quad
The six stages of finding out you have high cholesterol
The swing
Fragments
Bomb shelter
Tough girl
Worst-case scenario
Rescue practice
Homesick and spinning
The great fortune of ordinary sadness
Close calls
The opposite of a daydream
Home again, home again
Spatchcock this
Investment pieces
Face hunger
In memory of turtles lost
I would like to report an attack upon my soul
Another box, another Christmas
Stay.
Published Reviews
Booklist Review:
""All I want to do is take care of everyone I love," laments Philpott in a moment of profound crisis. Stuck in an airport during a blizzard, desperate to return to her husband and children for Christmas, shell-shocked after her father's emergency triple-bypass surgery, and reeling from her teenage son's recent epilepsy diagnosis, all illusions of safety and control slip away. "Nobody," she concludes, "can ever get everyone they love under their wing." Like her critically acclaimed I Miss You When I Blink (2019), Philpott's latest is a memoir of beautifully written, loosely linked essays in which she frankly and often humorously details the pitfalls of her anxiety. The fragility of life overwhelms her, but she pushes back on those who ridicule overprotective parents and compulsive worriers, pointing out that nobody survives without some amount of care and protection. She asks, "Did someone, somewhere, at least for a little while, worry about you too?" Philpott's eloquent investigation of parenting and family offers pleasure and comfort to anyone who has ever worried about someone they love."
From Booklist, Copyright (c) American Library Association. Used with permission.
Publisher's Weekly Review:
"Philpott (I Miss You When I Blink) explores life's pleasures and uncertainties in this wry if meandering collection of essays. She searches for meaning in the noteworthy and the mundane, sleekly juxtaposing lamentations about her herniated discs (an injury caused by "too many years hunched over a laptop") with deeply affecting reflections on such life-altering experiences as her son's first seizure. She also humorously investigates her own contradictory nature, as a person who's both immensely anxious and overly cheerful: "Am I here to tell you we're all going to die? Yes. Am I here to give you a pep talk along the way? Also yes!" Occasionally, though, she wanders down a winding path of tangential thoughts and unrelated asides; for instance, the surprising news that her dad worked at Raven Rock, a secret underground military bunker, zigzags her to the moment when she learned, after two decades of living with her husband, that he could juggle. While the scattershot narration can distract, Philpott draws readers back in with her philosophical and witty musings--from wondering about her place in the universe to remembering a family dog that would only eat to the music of Kanye West. Rambling tendencies aside, this quirky work has a lot of heart. (Apr.)"
(c) Copyright PWxyz, LLC. All rights reserved
Additional Information