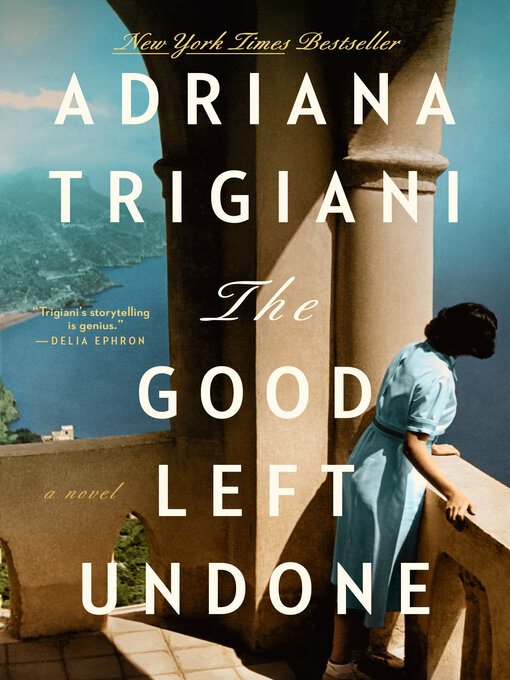 The good left undone a novel
Format:

Kindle Book

2022

2022

Adobe EPUB ebook

OverDrive Read

Availability:

Unavailable

0 of 14 copies
99 people on waitlist
Summary
"Matelda, the Cabrelli family's matriarch, has always been brusque and opinionated. Now, as she faces the end of her life, she is determined to share a long-held secret with her family about her own mother's great love story: with her childhood friend, Silvio, and with dashing Scottish sea captain John Lawrie McVicars, the father Matelda never knew. . . . In the halcyon past, Domenica Cabrelli thrives in the coastal town of Viareggio until her beloved home becomes unsafe when Italy teeters on the brink of World War II. Her journey takes her from the rocky shores of Marseille to the mystical beauty of Scotland to the dangers of wartime Liverpool{u2014}where Italian Scots are imprisoned without cause{u2014}as Domenica experiences love, loss, and grief while she longs for home. A hundred years later, her daughter, Matelda, and her granddaughter, Anina, face the same big questions about life and their family's legacy, while Matelda contemplates what is worth fighting for. But Matelda is running out of time, and the two timelines intersect and weave together in unexpected and heartbreaking ways that lead the family to shocking revelations and, ultimately, redemption." --book jacket

Published Reviews
Booklist Review:
"Matelda Roffo has a weak heart, and as her granddaughter, Anina, fusses over her, she contemplates the past and the lives of generations before her. Domenica Cabrelli, Matelda's mother, is the outspoken daughter of a jewel cutter and best friend to outcast Silvio Birtolini who grows up to be a nurse. When, in the 1930s, she offers family planning advice to one of her patients, she is sent from seaside Viareggio, Italy, to Marseille, then Glasgow. After losing her husband, she eventually makes it back to Viareggio, and to Silvio. Meanwhile, Anina isn't sure if she's ready to marry the lackadaisical Paolo, and she finds new purpose taking care of Matelda. Trigiani's latest, after Tony's Wife (2018), is an immersive multigenerational saga that centers around the women in one family in a seaside town. But along the way there are detours to a convent, a shipwreck, and WWII prison camps. As Matelda weakens, the two time lines intersect in unexpected ways, leading to an emotional conclusion that will have readers reaching for the tissues. A must for women's fiction collections."
From Booklist, Copyright (c) American Library Association. Used with permission.
Publisher's Weekly Review:
"This sweeping epic from Trigiani (Tony's Wife) follows three generations of the Tuscan Cabrelli clan as they deal with war, heartbreak, and family secrets. Octogenarian Matelda Roffo, knowing her days are numbered, reveals to her children and grandchildren the truth about her mother Domenica's seldom-discussed first marriage to the Scottish sea captain John Lawrie McVicars. Flashback to 1939 when Domenica, while practicing as a nurse, recommends birth control to a patient, angering a local priest who forces her to leave her hometown. She ends up working at a hospital in France, where she meets McVicars while treating his neck wounds. The looming war takes McVicars away, but the two run into each other in Glasgow, Scotland, a year later and decide to marry. Tragedy strikes and Domenica returns to Tuscany to make a life for herself and her newborn Matelda. In the present, Matelda's revelations send ripples across the family and change the trajectory of her granddaughter's life. Some of the many subplots about minor characters distract from the emotional core of the story, but Trigiani's lush descriptions and trademark acute attention to family dynamics more than compensate. This saga of family and legacy is one to savor. Suzanne Gluck, William Morris Endeavor. (Apr.)"
(c) Copyright PWxyz, LLC. All rights reserved
Additional Information