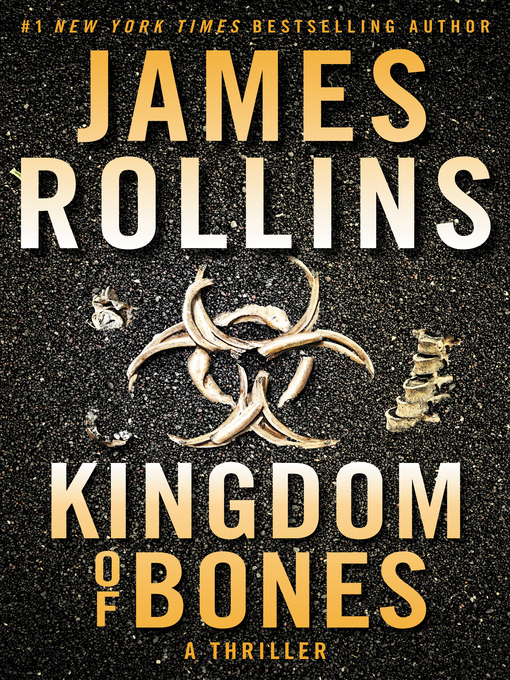 Kingdom of bones
Format:

Kindle Book

2022

2022

Adobe EPUB ebook

OverDrive Read

Availability:

Unavailable

0 of 5 copies
29 people on waitlist
Summary
From #1 New York Times bestselling author James Rollins, the latest riveting, deeply imaginative thriller in the Sigma Force series, told with his trademark blend of cutting-edge science, historical mystery, and pulse-pounding action. It begins in Africa . . . A United Nations relief team in a small village in the Congo makes an alarming discovery. An unknown force is leveling the evolutionary playing field. Men, women, and children have been reduced to a dull, catatonic state. The environment surrounding them—plants and animals—has grown more cunning and predatory, evolving at an exponential pace. The insidious phenomenon is spreading from a cursed site in the jungle — known to locals as the Kingdom of Bones —and sweeping across Africa, threatening the rest of the world. What has made the biosphere run amok? Is it a natural event? Or more terrifyingly, did someone engineer it? Commander Gray Pierce and Sigma Force are prepared for the extraordinary and have kept the world safe, vigilance for which they have paid a tragic personal price. Yet, even these brilliant and seasoned scientific warriors do not understand what is behind this frightening development—or know how to stop it. As they race to find answers, the members of Sigma quickly realize they have become the prey. To head off global catastrophe, Sigma Force must risk their lives to uncover the shattering secret at the heart of the African continent—a truth that will illuminate who we are as a species and where we may be headed . . . sooner than we know. Mother Nature—red in tooth and claw—is turning against humankind, propelling the entire world into the Kingdom of Bones.

Published Reviews
Booklist Review:
"In the new Sigma Force thriller, Commander Gray Pierce and his team of globetrotting problem-solvers run up against something they aren't sure how to handle. In a part of the Congo, the environment seems to have been altered. Flora and fauna are apparently undergoing some sort of accelerated evolution; at the same time, the people there seem to have taken several steps backwards on the evolutionary ladder, making them unresponsive and virtually immobile. Is it possible someone has intentionally caused these catastrophic events? And, if so, why? As usual, the answer lies deep in the past, and Sigma Force is running out of time to solve the ancient mystery. The Sigma Force novels (this is the sixteenth) are muscular, dynamic action-adventures. But this doesn't mean they skimp on character: Rollins knows just when to slow things down and let us get to know the players. He's very good at this sort of thing, and his fans will surely be lining up for this one."
From Booklist, Copyright (c) American Library Association. Used with permission.
Publisher's Weekly Review:
"Bestseller Rollins's exhilarating 16th Sigma Force novel (after 2020's The Last Odyssey) takes a Sigma Force team, including former Army Ranger Tucker Wayne, to a UN refugee camp in the Democratic Republic of Congo, which has been overwhelmed by a simultaneous invasion of unusually violent insects and animals and an outbreak of a mysterious and devastating sickness. Their mission, which is to identify and combat what officials fear could be another worldwide pandemic, becomes a literal rescue as the camp is attacked by corrupt Congolese forces at the behest of an industrial-mining billionaire with a sinister agenda. Wayne and the other Sigma team members must travel deep into the primeval jungle in search of the Kingdom of Bones, a fabled ancient Shangri-La that might provide the cure to the disease, if they can survive the deadly mutating flora and fauna. Rollins, a former veterinarian, excels in description of animal taxonomy, both real and of his own invention. Fans of Clive Cussler and Michael Crichton won't want to miss this one. Agents: Russ Galen, Scovil Galen Ghosh Literary Agency; and Danny Baror, Baror International. (Apr.)"
(c) Copyright PWxyz, LLC. All rights reserved
Additional Information