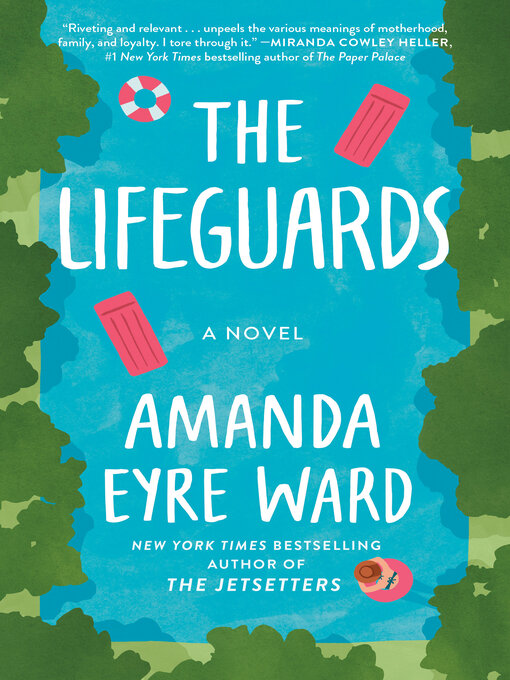 The lifeguards a novel
Format:

Kindle Book

2022

2022

Adobe EPUB ebook

OverDrive Read

Availability:

Unavailable

0 of 6 copies
40 people on waitlist
Summary
"The bonds between three picture-perfect, viciously protective mothers are tested when their sons uncover a horrible crime in this provocative novel from the New York Times bestselling author of The Jetsetters. In Austin's Zilker Park, vigilance and money are enough to keep one insulated from the world's problems and inconveniences. Here, three mothers-Whitney, Annette, and Liza-have grown thick as thieves, and so have their fifteen-year-old sons. While each of them has their own set of values and backgrounds, they share the belief that they can shelter their boys from an increasingly dangerous world. They've raised their families together, and their three sons are about to begin a carefree summer as lifeguards. Their friendship is unbreakable--as safe as the neighborhood where they've raised their sweet little boys. Until the body is found. One night, the three women have been chatting away, drinking wine, when their boys come back with a harrowing story about finding a young woman dead beside a swimming hole in the Greenbelt, a swath of hiking trails and dim wilderness areas that runs through their neighborhood. They swear they haven't done anything. They agree not to call the police-because who would want to cause a scene, to topple their fragile images and arouse suspicion? What choice do mothers have but to believe their sons? All families harbor secrets. Privately, none of them is sure that the boys are telling the truth. And with each woman questioning her son-and her friends' sons-each wonders how many lies they've told each other. The Lifeguards is a riveting, high-stakes novel about the secrets we tell to protect the ones we love-and how sometimes your closest neighbor and ally can become your most dangerous foe"--

Published Reviews
Booklist Review:
"For struggling single mom Liza, high-powered real estate agent Whitney, and new American citizen and wife to an oil heir Annette, their 15-year-old sons are the center of their perfect worlds, best friends like their moms are best friends. So when Charlie, Xavier, and Bobcat come back from the green belt claiming they found a woman's body, they close ranks to protect their own. Austin Police detective Salvatore Revello, a recent widower with two kids of his own, is under pressure to solve the case. The green belt is home to Austin's popular swimming holes, though some areas are known more for drug deals and shady paths that lead nowhere. As the dead woman's identity is uncovered, so is a surprising connection she has to one of the boys. Ward (The Jetsetters, 2020) balances a police procedural with domestic suspense, and by alternating narrators among the women, their sons, and Salvatore, she keeps the focus on the emotional toll the crime takes on everyone, while a chorus of Austin mommies add humorous commentary. Touching on issues like class, gentrification, and opioid abuse, The Lifeguards is a rich piece of relationship fiction and a summer thriller in one."
From Booklist, Copyright (c) American Library Association. Used with permission.
Publisher's Weekly Review:
"Ward (The Jetsetters) delivers an arresting story of three Austin, Tex., mothers whose teenage sons find a dead woman on the first night of summer. Liza Bailey, single mom to Charlie, has found safety in the "rich mom circle" even though she's scraping by to live in wealthy Barton Hills as she contends with her comparatively more humble origins and Charlie searches for his father. Annette Fontenot, who was born in Mexico and educated at UT Austin, works toward passing her citizenship test as she attempts to placate her white husband's masculine expectations of their son, Robert, and find some genuine happiness. Whitney Brownson appears to have the perfect life with beautiful twins, Xavier and Roma, and a thriving real estate business, but she, too, has cracks in her own foundation. Something seems off about the boys' story of finding the body, and as the police investigate and the moms lawyer up, each woman must decide between friendship and family. Ward does a good job exploring her characters and keeping the reader guessing, though some of the twists and coincidences border on forced. Still, like a cool lake on a hot day, this story hits the spot. Agent: Michelle Tessler, Tessler Literary. (Apr.)"
(c) Copyright PWxyz, LLC. All rights reserved
Additional Information