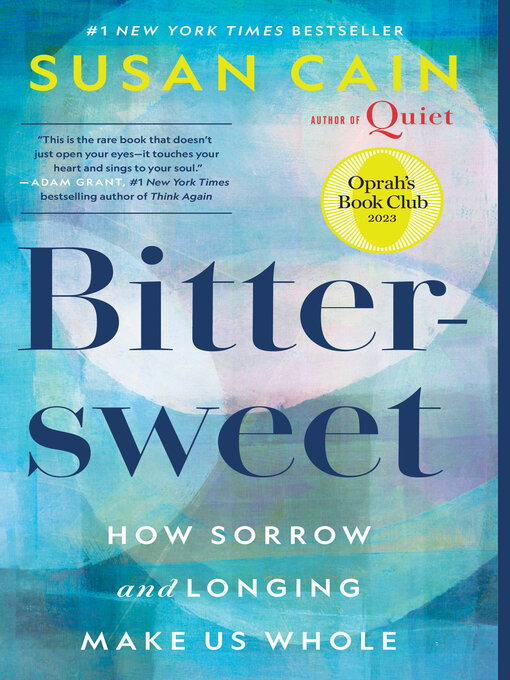 Bittersweet how sorrow and longing make us whole
Format:

Kindle Book

2022

2022

Adobe EPUB ebook

OverDrive Read

Availability:

Unavailable

0 of 7 copies
36 people on waitlist
Summary
"With her mega-bestseller Quiet, Susan Cain urged our society to cultivate space for the undervalued, indispensable introverts among us, thereby revealing an untapped power hidden in plain sight. Now, she employs the same mix of research, storytelling, and memoir to explore why we experience sorrow and longing, and the surprising lessons these states of mind teach us about creativity, compassion, leadership, spirituality, mortality and love. Bittersweetness is a tendency to states of longing, poignancy, and sorrow; an acute awareness of passing time; and a curiously piercing joy when beholding beauty. It recognizes that light and dark, birth and death-bitter and sweet-are forever paired. A song in a minor key, an elegiac poem, or even a touching television commercial all can bring us to this sublime, even holy, state of mind-and, ultimately, to greater kinship with our fellow humans. But bittersweetness is not, as we tend to think, just a momentary feeling or event. It's also a way of being, a storied heritage. Our artistic and spiritual traditions--amplified by recent scientific and management research--teach us its power. Cain shows how a bittersweet state of mind is the quiet force that helps us transcend our personal and collective pain. If we don't acknowledge our own sorrows and longings, she says, we can end up inflicting them on others via abuse, domination, or neglect. But if we realize that all humans know--or will know--loss and suffering, we can turn toward each other. And we can learn to transform our own pain into creativity, transcendence, and connection. At a time of profound discord and personal anxiety, Bittersweet brings us together in deep and unexpected ways."--

Contents
Sorrow and longing: How can we transform pain into creativity, transcendence, and love?
What is sadness good for?
Why do we long for "perfect" and unconditional love? (And what does this have to do with our love of sad songs, rainy days, and even the divine?)
Is creativity associated with sorrow, longing-and transcendence?
How should we cope with lost love?
Winners and losers : How can we live and work authentically in a "tyranny of positivity"?
How di a nation founded on so much heartache turn into a culture of normative smiles?
How can we transcend enforced positivity in the workplace, and beyond?
Mortality, impermanence, and grief: How should we live, knowing that we and everyone we love will die?
Should we try to live forever?
Should we try to "get over" grief and impermanence?
Do we inherit the pain of our parents and ancestors? And, if so, can we transform it generations later?
Published Reviews
Publisher's Weekly Review:
"Business consultant Cain (Quiet) returns with an eye-opening take on the underestimated virtues of melancholy. She suggests that bittersweetness--"a tendency to states of longing, poignancy, and sorrow; an acute awareness of passing time; and a curiously piercing joy at the beauty of the world"--affords the opportunity to channel "pain into creativity, transcendence, and love," as exemplified by musicians and other artists. Cain handily traverses fields as diverse as neuroscience, popular music, religion, and business management to find instances of the transformation of pain and longing into fulfillment: the music of Leonard Cohen, for example, is "a transcendence delivery system," and in Michigan, a hospital billing department's culture of caring for distressed or bereaved employees resulted in collecting bills faster. Though Cain's panoramic scope covers some familiar ground (U.S. culture's "tyranny of positivity" has been critiqued before), this ambitious work impresses in its dexterous integration of disparate thought traditions into a cohesive, moving, and insightful whole. Like a more intuitive Malcolm Gladwell, Cain delivers a deeply felt study of the profound uses of sorrow and melancholy, a perfect manual for coping with tough times. Agent: Richard Pine, InkWell Management (Apr.)"
(c) Copyright PWxyz, LLC. All rights reserved
Additional Information
Subjects
Grief
Desire
Self-Improvement
Psychology
Nonfiction
Electronic books.
Self-help publications.

Publisher

[Place of publication not identified] :Crown,2022




Crown2022



Edition
First edition.
Contributors
OverDrive, Inc.

Audience

Adult




Adult



Language

English



System Details

Mode of access: World Wide Web.




Format: Adobe EPUB eBook




Format: Kindle Book




Format: OverDrive Read




Requires Adobe Digital Editions or Amazon Kindle



Description

1 online resource



Bibliography Notes

Includes bibliographical references (pages 255-293) and index.



ISBN
9780451499806
9780451499806

Other
Classic View