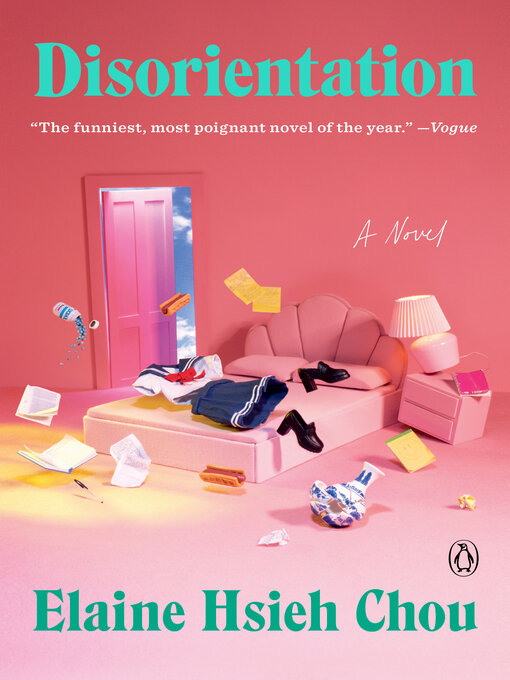 Disorientation
Format:

Kindle Book

2022

2022

Adobe EPUB ebook

OverDrive Read

Availability:

Available from OverDrive

1 of 5 copies
10 people on waitlist
Summary
"A struggling PhD student makes a shocking discovery about a famous Chinese American poet that sets into motion a series of escalating events, both humorous and fraught, that culminates in an incendiary reckoning of her relationships, beliefs, and identity"--

Contents
The curious note
A benign coincidence
Yellow peril 2.0
The most common name in the English-speaking world
The versatility of tampons
Japan is an inherently interesting country
Hollywood
Chinatown blues
Special occasion role-plays
Traitor!
Chaos in the East Asian Studies Department
Good old-fashioned American freedom
Exhibiting all the usual signs
The ultimate Asian woman
Serial killers want to be caught
All hail emperor Bartholomew
Total immersion
Fever dream
A priori, a posteriori
Be a good girl.
Published Reviews
Booklist Review:
"Writing a dissertation is daunting enough without having your faith in institutions and your own personal world crumble around you. That's what happens to Ingrid Yang, the Taiwanese American protagonist in Chou's engaging, humorous, and biting debut novel of academia, cancel culture, and Asian representation. Ingrid finds herself going down a rabbit hole while researching a Chinese American poet forced upon her by her white adviser, and discovering that neither man is who he seems to be. This causes her to question her white fiancé's intentions as a translator of Japanese works. When a campus kerfuffle erupts over a play's racially insensitive casting, Ingrid finds herself involved with the POC caucus and dismantling her own internalized racism and challenging the same assumptions in others. Chou's distinct, self-effacing voice makes for a fun ride into a highly charged realm, with a plot that naturally escalates as she looks into various claims about truth in art, who appropriates whom, the limits of allyship, and how we gaslight ourselves in order to accept everyday racial horrors. The narration includes news articles, research excerpts, ransom notes, and even one highly comical courtroom-transcript version of Ingrid's inner monologue. Overall, Chou reflects a world that's complex and entertaining, one that will leave readers with a renewed perspective."
From Booklist, Copyright (c) American Library Association. Used with permission.
Publisher's Weekly Review:
"Chou debuts with a zany if uneven romp through American academia and cultural assimilation. PhD student Ingrid Yang is desperate to write a dissertation that will impress her committee and earn her a postdoc fellowship that will put off her student loan payments. Her subject, the late canonical Chinese American poet Xiao-Wen Chou, once taught at her school, the mid-range Barnes University in Massachusetts, and Chou's legacy is a crucial source of Barnes's prestige. As Ingrid doggedly investigates a mysterious note found in Chou's archives, she wrestles with estrangement from her ancestral Chinese culture, anxiety over the male gaze--she wonders if her white fiancé merely has a fetish for Asian women--and frets about her own attraction to white men. There's also her friend Eunice Kim, a hyper-gorgeous Korean girl; Eunice's younger brother, Alex, Eunice's tough yet insecure male counterpart; and Michael Bartholomew, the orientalizing professor in Barnes's primarily white East Asian Studies department. Sometimes the portraits feel a bit too cartoonish--there is a moment, for instance, when Eunice is described as "impeccable, ready to guest star in a music video"--but overall Chou effectively skewers a world that takes itself all too seriously, particularly after Ingrid makes an explosive discovery about Chou that could compromise Barnes. This will charm a wide set of readers, not just those pursuing PhDs. Agent: Ellen Levine, Trident Media Group. (Mar.)"
(c) Copyright PWxyz, LLC. All rights reserved
Additional Information