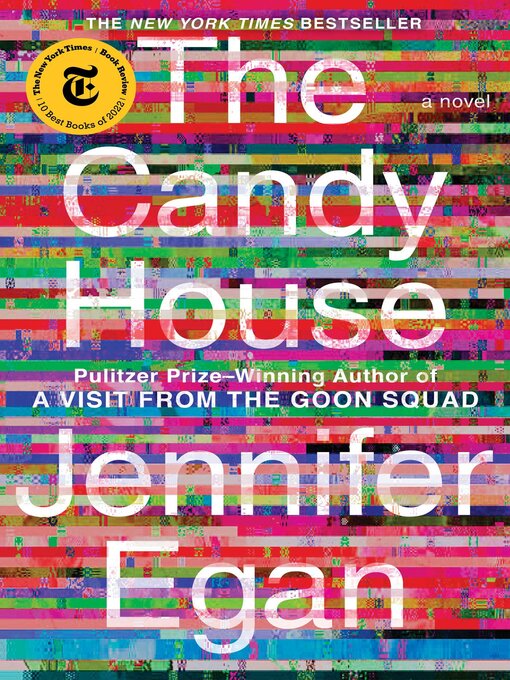 The candy house a novel
Format:

Kindle Book

2022

2022

Adobe EPUB ebook

OverDrive Read

Availability:

Unavailable

0 of 28 copies
187 people on waitlist
Summary
"The Candy House opens with the staggeringly brilliant Bix Bouton, whose company, Mandala, is so successful that he is "one of those tech demi-gods with whom we're all on a first name basis." Bix is 40, with four kids, restless, desperate for a new idea, when he stumbles into a conversation group, mostly Columbia professors, one of whom is experimenting with downloading or "externalizing" memory. It's 2010. Within a decade, Bix's new technology, "Own Your Unconscious"-that allows you access to every memory you've ever had, and to share every memory in exchange for access to the memories of others-has seduced multitudes. But not everyone. In spellbinding interlocking narratives, Egan spins out the consequences of Own Your Unconscious through the lives of multiple characters whose paths intersect over several decades. Intellectually dazzling, The Candy House is also extraordinarily moving, a testament to the tenacity and transcendence of human longing for real connection, love, family, privacy and redemption. In the world of Egan's spectacular imagination, there are "counters" who track and exploit desires and there are "eluders," those who understand the price of taking a bite of the Candy House. Egan introduces these characters in an astonishing array of narrative styles-from omniscient to first person plural to a duet of voices, an epistolary chapter and a chapter of tweets. If Goon Squad was organized like a concept album, The Candy House incorporates Electronic Dance Music's more disjunctive approach. The parts are titled: Build, Break, Drop. With an emphasis on gaming, portals, and alternate worlds, its structure also suggests the experience of moving among dimensions in a role-playing game. The Candy House is a bold, brilliant imagining of a world that is moments away. Egan takes to stunning new heights her "deeply intuitive forays into the darker aspects of our technology-driven, image-saturated culture" (Vogue). The Candy House delivers an absolutely extraordinary combination of fierce, exhilarating intelligence and heart"--

Published Reviews
Booklist Review:
"At the center of this sibling novel to Egan's multi-award winning, genre-bending A Visit from the Goon Squad (2010) is Bix Bouton, a minor character in the previous tale, now a tech guru who has developed Own Your Unconscious, a platform that allows people to access all of their memories and those of others. While many welcome this opportunity, some "eluders" seek to escape the unrelenting surveillance of every aspect of their lives. Drifting from the mid-1960s to the mid-2030s, this novel is a portrait of where we have been, where we are, and where we could be going. Its many-worlds, portal-like structure is influenced by video games, and as in Goon Squad, Egan experiments with many different forms, perspectives, and styles; one chapter consists of tweets, while another contains overlapping emails. Each presents us with characters who desire permanence in an unstable world, and many are on nebulous quests for authentic experience. Similar to Dave Eggers' The Circle (2013) and The Every (2021), this novel excoriates the desire of tech companies to quantify everything and warns about unthinkingly taking a bite from the seemingly free "candy house" offered by such companies. Haunting and often hilarious, this is a wondrous, riotously inventive work of speculative fiction that celebrates the power of the imagination in the face of technology that threatens to do our thinking for us.HIGH-DEMAND BACKSTORY: The latest by Egan, winner of the Pulitzer Prize and the Carnegie Medal, is a top spring title with magnetic pull for Visit from the Goon Squad admirers and fans of smart, literary speculative fiction."
From Booklist, Copyright (c) American Library Association. Used with permission.
Publisher's Weekly Review:
"Egan returns to the fertile territory and characters of A Visit from the Goon Squad with an electrifying and shape-shifting story that one-ups its Pulitzer-winning predecessor. I'll see your PowerPoint chapter, Egan seems to say, and raise you a chapter in tweets, and another in emails and texts. In the near future, a platform called Own Your Unconscious allows memories to be uploaded to the cloud and accessed by anyone. "Counters" seek to ferret out "proxies" that help hide "eluders" who resist merging their "gray grabs" to the collective in order to leave their online personae behind. Not everyone sees this as panacea, and a countermovement called Mondrian arises. Appearances from music producer Bennie Salazar, his mentor Lou Kline, and their lovers and children provide sharp pleasures for Goon Squad fans, and Egan cleverly echoes the ambitious, savvy marketing schemes of real-world tech barons with Own Your Unconscious. It casts its spell on Bennie, whose punk rock days with the Flaming Dildos are long past: "Tongue-in-cheek nostalgia is merely the portal, the candy house, if you will, through which we hope to lure in a new generation and bewitch them," he writes in an email. Twisting through myriad points of view, narrative styles, and divergent voices, Egan proves herself as perceptive an interpreter of the necessity of human connection as ever, and her vision is as irresistible as the tech she describes. This is Egan's best yet. Agent: Binky Urban, ICM Partners. (Apr.)"
(c) Copyright PWxyz, LLC. All rights reserved
Additional Information