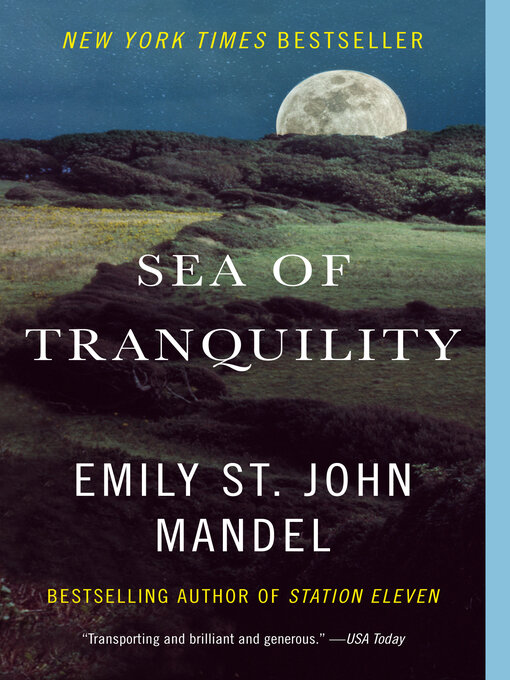 Sea of Tranquility a novel
Format:

Kindle Book

2022

2022

Adobe EPUB ebook

OverDrive Read

Availability:

Unavailable

0 of 49 copies
328 people on waitlist
Summary
"The award-winning, best-selling author of Station Eleven and The Glass Hotel returns with a novel of art, time, love, and plague that takes the reader from an island off Vancouver in 1912 to a dark colony of the moon three hundred years later, unfurling a story of humanity across centuries and planets"--

Published Reviews
Booklist Review:
"In 1912, Edwin, the third son of a wealthy British family who is sent into exile for his progressive views, has a transcendent experience in the remote Canadian woods when he is momentarily transported to a futuristic airship terminal and hears a violinist playing. Nearly a hundred years later, Vincent Smith (the heroine in Mandel's previous novel, The Glass Hotel, 2020) has a similar experience as a teen. And several centuries into the future, a resident of a colony on the moon named Gaspery Roberts is sent back through time to investigate these incidents, and discover how and why they happened. Connecting characters across the centuries--including several others from The Glass Hotel, plus a writer, who, not unlike Mandel herself, has written an eerily prescient hit novel about a fictional pandemic just before the onset of a real one--Mandel spins a gripping and beautiful narrative that speaks to how we are all interconnected in great and small ways. With more than a few discoveries related to her previous novels, this will be a delight for longtime Mandel readers; but those new to her work won't find themselves lost by any means, except in the sense that all readers will be subsumed by this gorgeously rendered, deeply intimate, conceptually rich, and affecting tale. HIGH-DEMAND BACKSTORY: Mandel continues to reign as a cutting-edge, best-selling novelist, and the themes of this deeply involving tale promise even more attention and acclaim."
From Booklist, Copyright (c) American Library Association. Used with permission.
Publisher's Weekly Review:
"In Mandel's stunning latest, people find themselves inhabiting different places and times, from early 20th-century Canada to a 23rd-century moon colony. Edwin St. Andrew's wealthy British family banishes him to Canada after his unpatriotic opinions disrupt a dinner party. Walking in the dense forest near tiny Caiette, B.C., in 1912, he suddenly hears haunting violin music and a human bustle. In 2020 Brooklyn, avant-garde composer Paul James Smith shapes a composition around a fragmentary video shot by his late half sister Vincent (both characters appeared in Mandel's The Glass Hotel). Its footage of the forest outside Caiette, where Vincent was raised, is abruptly interrupted by a black screen and a collage of sounds including violin notes, a "dim cacophony" reminiscent of a train station, and "a strange kind of whoosh." Author Olive Llewellyn leaves her home on the moon's second colony in 2203 to promote her bestselling "pandemic novel" on Earth. As a new virus spreads through Australia, she fields questions about a scene in the book, based on personal experience, in which a character listening to violin music in an Oklahoma City airship terminal feels briefly transported to a forest. In 2401, the secretive, powerful Time Institute is concerned by the glitch that Edwin, Vincent, and Olive have all experienced. When they send investigator Gaspery-Jacques Roberts back in time to discover more, the novel's narratives crystallize flawlessly. Brilliantly combining imagery from science fiction and the current pandemic, Mandel grounds her rich metaphysical speculation in small, beautifully observed human moments. By turns playful, tragic, and tender, this should not be missed. Agent: Katherine Fausset, Curtis Brown. (Apr.)"
(c) Copyright PWxyz, LLC. All rights reserved
Additional Information