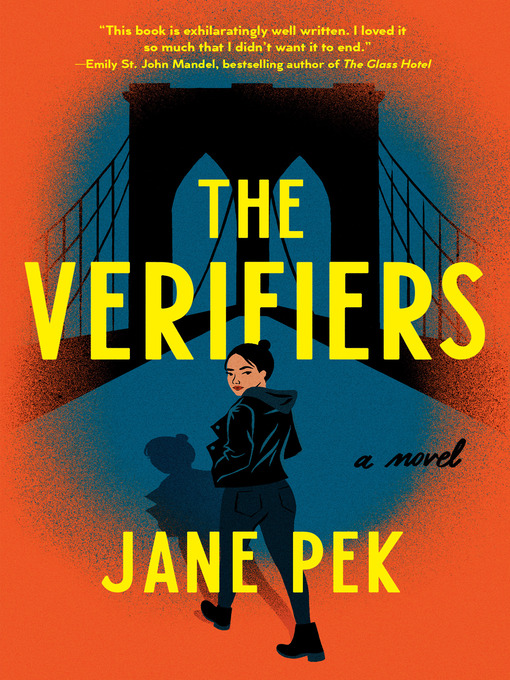 The verifiers a novel
Format:

Kindle Book

2022

2022

Adobe EPUB ebook

OverDrive Read

Availability:

Available from OverDrive

1 of 5 copies
9 people on waitlist
Summary
"Claudia Lin is looking at a cliched post-college future as a chronically underemployed English major--much to the consternation of her mother, who wants her to settle down and start dating a nice Chinese boy already; her brother, who pushes her to follow in his model-minority footsteps; and her sister, who can't get over Claudia's privileged place in their mother's affections. But Claudia is used to keeping secrets from her family. Such as the fact that she prefers girls--and that she's embarking on an unsuitable but supremely fun career. Veracity, a two-and-a-half-person detective agency that operates out of a Manhattan townhouse and verifies people's online dating personas, has recruited Claudia via an online murder mystery game. A lifelong reader of mystery novels, Claudia takes to her new job sniffing out cheaters and catfishers like a latter-day lovechild of Elizabeth Bennet and Sherlock Holmes. But when one of her very first clients turns up dead, Claudia breaks with Veracity's protocols to investigate what happened, unconvinced by the story everyone else believes. The deeper she digs, the more she discovers that nothing--her client, the death, the dating platforms that claim to know us better than we know ourselves, Veracity, even her own family--may be as it seems. Part literary mystery, part family story, The Verifiers is a witty and incisive examination of how technology shapes our choices, and what role romantic love plays in the digital age."--

Published Reviews
Booklist Review:
"Her boss calls Veracity "a personal investments advisory firm," but to Claudia Lin, "a month into the job, it's obvious to me that our clients think of us as a detective agency." What she's hired to do is verify details for clients who don't quite trust (over)statements made on dating app profiles by potential partners. And then Iris Lettriste walks in, requesting verification for a match she hasn't yet even met in person, and ends up not only dead but someone else. So much for reliable data. She's actually Iris' sister, Sarah Reeves, a drop-out journalist who allegedly overdosed. Literary Claudia, with her obsession for Inspector Yuan thrillers, isn't convinced it was suicide. She's determined to solve this labyrinthine mystery of Gordian knot twists, tracking cheaters, rivals, synths, and bots. Meanwhile, she's trying to live her life as the favored youngest of three raised by a judgmental Taiwanese immigrant mother, overshadowed by her financial genius brother and can't-turn-away-gorgeous marketing professional sister. Despite clever writing and headline-grabbing narrative spins, Singapore-born New York City lawyer Pek's debut disappointingly devolves into unwieldy sprawl."
From Booklist, Copyright (c) American Library Association. Used with permission.
Publisher's Weekly Review:
"Set in New York "circa early twenty-first century," Pek's thoughtful, well-constructed debut introduces irrepressible Claudia Lin, who has recently been hired by Veracity, a low-profile, referrals-only company that checks information for mistrustful clients who want to know whether the people they meet on online dating sites are telling the truth. As Claudia notes, "Matching only fully succeeds if the dating platforms have access to accurate, complete information about the people on them. Problem is, people lie. All the time, especially on the Internet, and extra especially where anything with the potential for romance is concerned." One client, Iris Lettriste, is different. She "sits down and tells us about the guy she wants us to verify like she's ordering her first coffee of an arduous morning and it's vital the that the barista gets it right." Ten days later, Iris is found dead, apparently having killed herself. Claudia, who's an avid mystery reader, decides to investigate and is pulled into a conspiracy, all the while dealing with her complicated, dysfunctional family. Claudia's entertaining references to Inspector Yuan, the hero of her "comfort-read murder mystery series," cleverly elucidate her views on literary structure as well as provide investigative tips. This nuanced novel will leave readers eagerly awaiting Pek's next book. Agent: Julie Barer, Book Group. (Feb.)"
(c) Copyright PWxyz, LLC. All rights reserved
Additional Information