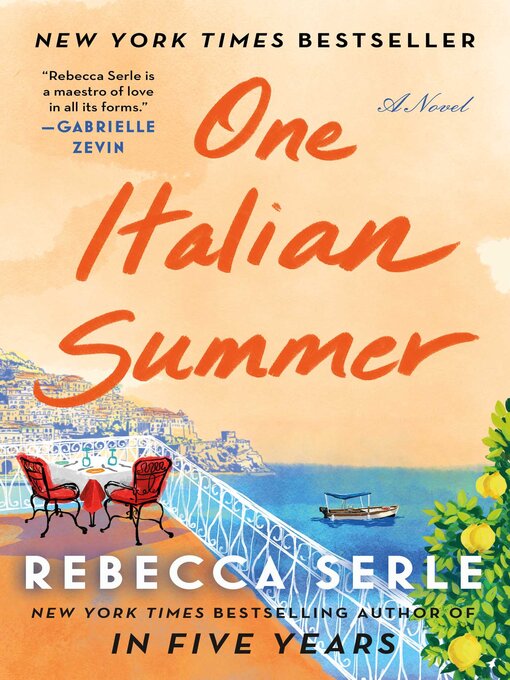 One Italian summer a novel
Format:

Kindle Book

2022

2022

Adobe EPUB ebook

OverDrive Read

Availability:

Unavailable

0 of 47 copies
329 people on waitlist
Summary
"The New York Times bestselling author of the modern classic In Five Years returns with a moving and unforgettable exploration of the powerful bond between mother and daughter set on the breathtaking Amalfi Coast. "When Katy's mother dies, she is left reeling. Carol wasn't just Katy's mom, but her best friend and first phone call. To make matters worse, the mother-daughter trip of a lifetime looms: two weeks in Positano. Katy has been waiting years for Carol to take her, and now she is faced with embarking on the adventure alone. But as soon as she steps foot on the beautiful Amalfi Coast, Katy begins to feel her mother's spirit. And then Carol appears for real-in the flesh, healthy and sun-tanned... and thirty years old. Katy doesn't understand what is happening, or how. But over the course of her time in Italy, Katy gets to know Carol in this new form, and soon she must reconcile the mother who knew everything with the young woman who does not yet have a clue. One Italian Summer is Rebecca Serle's next great love story, a transcendent novel about how we move on after loss, and how the people we love never truly leave us"--

Published Reviews
Booklist Review:
"Serle (In Five Years, 2020) returns with a novel touted as a great love story between a mother and a daughter. Katy Silver is grieving for her mother, Carol, who has recently died of cancer. Unsure and adrift without her anchor, she questions her relationship with her husband, Eric, and the normal world they live in. She and Carol were set to take a trip to Positano, Italy, so Katy decides to go there to find herself. There, she meets up with another Carol--a young woman, only thirty years old. Katy realizes immediately that she has met her own mother, and she must learn how to heal from her grief while also learning to understand her mother's past decisions. Despite vague time travel mechanics, the novel is poignant and ultimately uplifting. The mouth-watering descriptions of Katy's food and the lush Italian coast bring a strong, atmospheric sense of place. Recommend to fans of Helen Fisher's Faye, Faraway (2021) and those who enjoy being transported to other countries through fiction."
From Booklist, Copyright (c) American Library Association. Used with permission.
Publisher's Weekly Review:
"Serle (In Five Years) sets up another time-warp conceit with a touching story about a woman grieving her mother. Katy Silver, 30, was planning a trip with her mother, Carol, to Positano, Italy, before Carol died from cancer. Katy decides to go alone, and while she's abroad she reconsiders her unsatisfying marriage. She also somehow meets her 30-year-old mother, along with the beguiling Adam Westbrooke, a single man in the hotel acquisition business, who offers a bit more adventure than her predictable husband. As Katy explores the Amalfi coast and eats fabulous local food, she comes to understand different aspects of her mother, a woman who, as an art gallery assistant, dreamed of her own design business and came to Italy to rejuvenate her sense of self. As Katy and Carol's friendship deepens, they have a pivotal dispute that threatens their relationship. Serle's fans may be forgiving regarding the trick she deploys to make it possible for Katy and Carol to meet across time, though for most it will strain credulity. Still, the mother-daughter bond is made palpable through Katy's grief and desire for connection. Once again, Serle gets the job done just fine. Agent: Erin Malone, WME. (Mar.)"
(c) Copyright PWxyz, LLC. All rights reserved
Additional Information