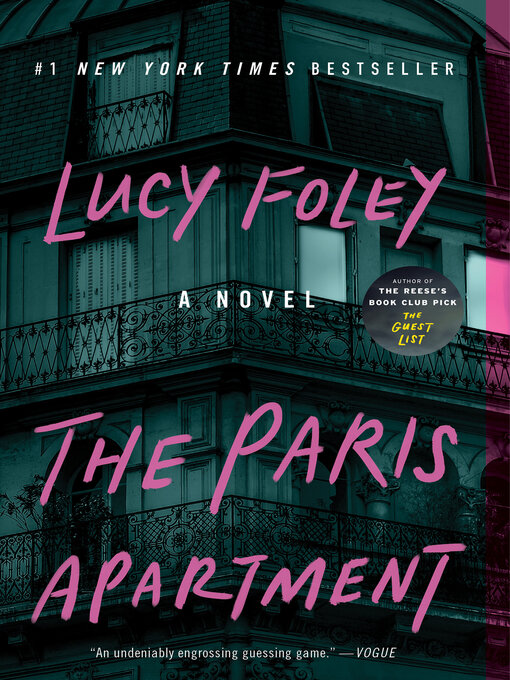 The paris apartment a novel
Format:

Kindle Book

2022

2022

Adobe EPUB ebook

OverDrive Read

Availability:

Unavailable

0 of 142 copies
884 people on waitlist
Summary
"Jess needs a fresh start. She{u2019}s broke and alone, and she{u2019}s just left her job under less than ideal circumstances. Her half-brother Ben didn{u2019}t sound thrilled when she asked if she could crash with him for a bit, but he didn{u2019}t say no, and surely everything will look better from Paris. Only when she shows up {u2013} to find a very nice apartment, could Ben really have afforded this? {u2013} he{u2019}s not there. The longer Ben stays missing, the more Jess starts to dig into her brother{u2019}s situation, and the more questions she has. Ben{u2019}s neighbors are an eclectic bunch, and not particularly friendly. Jess may have come to Paris to escape her past, but it{u2019}s starting to look like it{u2019}s Ben{u2019}s future that{u2019}s in question. The socialite {u2013} The nice guy {u2013} The alcoholic {u2013} The girl on the verge {u2013} The concierge. Everyone's a neighbor. Everyone's a suspect. And everyone knows something they{u2019}re not telling."--publisher's website

Published Reviews
Booklist Review:
"From the author of The Hunting Party (2019) and The Guest List (2020) comes this exceedingly clever new novel. Jess arrives at her brother Ben's apartment in Paris to find that Ben seems to have disappeared. She talks to the other residents of the small apartment building, but no one seems to know what might have happened to him, although we know, from chapters written from the residents' points of view, that something is not quite right. What's especially interesting about the novel, apart from the deft characterizations and the overall feeling of dread, is the way Foley is cagey about exactly what kind of story this is. Could it be a riff on the Agatha Christie abundance-of-suspects theme? Could it be a twist on the traditional locked-room mystery? Could it be a psychological thriller? Could we be dealing with an unreliable-narrator? Who, exactly, is Ben? What kind of man is he? What is he capable of? The author keeps Jess and the reader guessing right up to the end. A fine suspenser from a writer who consistently delivers the goods."
From Booklist, Copyright (c) American Library Association. Used with permission.
Publisher's Weekly Review:
"Jess Hadley, the gutsy heroine of this well-paced mystery from bestseller Foley (The Guest List), arrives at the swanky Paris apartment building of her aspiring journalist half brother, Ben Daniels, after fleeing her latest unpleasant job in England. But Ben is not there and doesn't show up the next morning. When Jess asks the other tenants about her brother, all of them--including imperious penthouse dweller Sophie Meunier, a blackmail victim; timid 19-year-old Mimi, who's infatuated with Ben; and aggressive drunk Antoine, who suspects Ben has seduced his wife--deflect her questions. In her search for Ben, Jess learns the building's tenants are members of a single family with secrets to hide. After an editor Ben worked for takes Jess's worries about his disappearance seriously, the details of those secrets start to emerge, along with a credible portrait of a deeply damaged family. Amid plenty of red herrings and distinctive characters, each shifty in their own way, the relentlessly bleak plot builds to an uplifting twist ending that feels neither pat nor overly rosy. Foley reliably entertains. Agent: Alexandra Machinist, ICM Partners. (Feb.)"
(c) Copyright PWxyz, LLC. All rights reserved
Additional Information