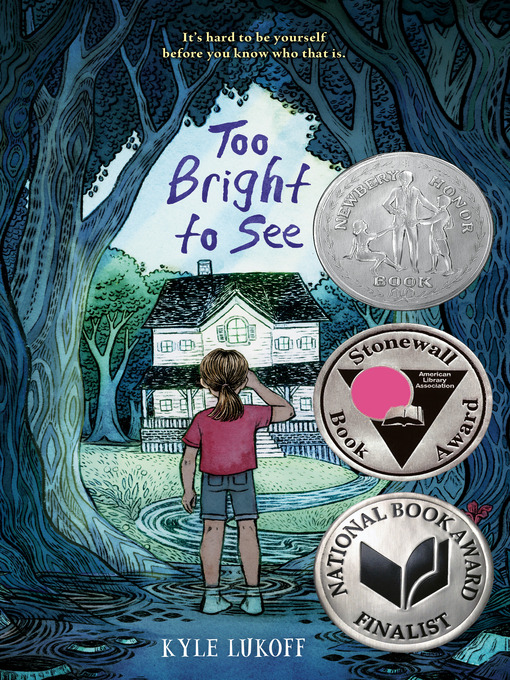 Too bright to see
Format:

Kindle Book

2021

2021

Adobe EPUB ebook

OverDrive Read

Availability:

Unavailable

0 of 3 copies
1 person on waitlist
Summary
A haunting ghost story about navigating grief, growing up, and growing into a new gender identityIt's the summer before middle school and eleven-year-old Bug's best friend Moira has decided the two of them need to use the next few months to prepare. For Moira, this means figuring out the right clothes to wear, learning how to put on makeup, and deciding which boys are cuter in their yearbook photos than in real life. But none of this is all that appealing to Bug, who doesn't particularly want to spend more time trying to understand how to be a girl. Besides, there's something more important to worry about: A ghost is haunting Bug's eerie old house in rural Vermont...and maybe haunting Bug in particular. As Bug begins to untangle the mystery of who this ghost is and what they're trying to say, an altogether different truth comes to light--Bug is transgender.

Published Reviews
Booklist Review:
"Bug's best friend Moira is spending the summer before middle school learning all about makeup and fashion and deciding which boys will be cute enough to flirt with. But Bug is not interested in any of those things. Bug is far too distracted by a death in the family, the fact that their old house in rural Vermont is haunted, and the confusion and discomfort they feel over the thought of being a girl. When a particular ghostly presence starts to target Bug, Bug needs to figure out who or what it might be and what they want. In his middle-grade debut, Lukoff (When Aidan Became a Brother, 2019) crafts a sensitive, haunting exploration of a white transgender child's journey to self-discovery, capturing all the vulnerability, discomfort, humor, and complicated emotions along the way. Equal parts unsettling, heartwarming, and satisfying, Too Bright to See is a nuanced and compelling exploration of gender, friendship, and family seen through the eyes of a courageous young protagonist."
From Booklist, Copyright (c) American Library Association. Used with permission.
Publisher's Weekly Review:
"In this gently paced debut novel by Lukoff (When Aidan Became a Brother), 11-year-old Bug, a transgender boy, is having a difficult summer. His beloved uncle Roderick, a former drag queen who lived with Bug and his single mother for years, has just died after a long illness, and Bug's remote Vermont house, which has always been haunted, has gained a new ghostly resident--one that seems intent on sending Bug a message. As Bug's mother struggles to pay bills and hold onto the white family's home, Bug's best and only friend, Moira, grows intent on giving Bug a feminine makeover before middle school starts, something that Bug grows increasingly uncomfortable with. As he investigates the ghost, he grows closer to the truth of his own identity. Lukoff makes smart and thought-provoking use of the ghost story framework to reflect narrator Bug's experiences as a trans boy, using genuinely creepy horror elements to portray dysphoria and societally enforced femininity. Through Bug's journey to self-realization and self-acceptance, and the wonderfully nuanced understanding of gender he comes to, Lukoff provides a tender rumination on grief, love, and identity. Ages 10--up. Agent: Saba Sulaiman, Talcott Notch Literary. (Apr.)"
(c) Copyright PWxyz, LLC. All rights reserved
Additional Information