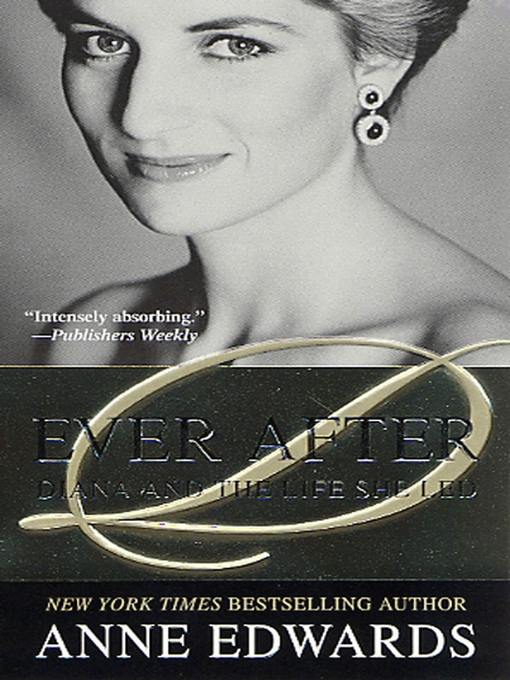 Ever after Diana and the life she led
Format:

Kindle Book

2017

2017

Adobe EPUB ebook

OverDrive Read

Availability:

Available from OverDrive

1 of 1 copy
Summary
Drawing upon intensive research and interviews, Anne Edwards uncovers new details of Diana's life and her search for love; of her family background; and of a betrayal, historic in its outcome.

Published Reviews
Booklist Review:
"There have been so many books written about Princess Diana, it is hard to believe the world needs another. But, unlike most of the titles on the Diana shelf, especially Sally Bedell Smith's recent Diana in Search of Herself [BKL Jl 99], which made the case for the princess as a "borderline personality," this one doesn't sink into armchair pyschology nor does it take sides. Edwards, a well-known biographer whose subjects have included a host of women from Margaret Mitchell to Barbra Streisand, offers a competent, compact life story that gives all the details without wallowing in them. After several chapters of Spencer family history, Edwards goes on to describe how the insecure 19-year-old Lady Diana Spencer became positioned to become Prince Charles' wife--long before either of them really knew what they were getting into. Charles thought young Diana would be a compliant wife who would give him sons and ignore his long-standing relationship with Camilla Parker-Bowles. She gave him sons, but Diana was always looking for the fairy-tale romance she felt she had been promised. The book goes on to chronicle how things cascaded downhill from there. Although a little light on source notes, this is an engaging, well-written biography and a good antidote for the more sensationalized Diana books. --Ilene Cooper"
From Booklist, Copyright (c) American Library Association. Used with permission.
Publisher's Weekly Review:
"A prominent writer of celebrity bios (Katherine Hepburn, Judy Garland, etc.), Edwards takes on the storied life of Princess Diana. This intensely absorbing account nevertheless fails to reveal any major new information about the famous princess. Drawing on archival as well as published materials about Diana and her family--as well as hundreds of interviews, including one with Andrew Morton, author of Diana: Her True Story--Edwards recounts the familiar story of Diana's unhappy childhood, spent with divorced parents, and of her essentially loveless marriage to Prince Charles. Her early life was so troubled, according to Edwards, that Diana's poor performance in school was probably related to emotional distress rather than inability. Although Diana's well-publicized eating disorders began before her marriage, Edwards describes how evidence of Charles's continued affection for his former mistress, Camilla Parker-Bowles, triggered Diana's continued attacks of bulimia during her honeymoon and while she was pregnant with William. After the birth of her second child, Harry, Diana's intimate life with Charles virtually ended, and he spent his free time with Camilla. Although Edwards acknowledges Diana's emotional problems, this account is far more sympathetic to the unhappy princess than Sally Bedell Smith's Diana in Search of Herself. The author even credits Diana, in death, with changing the Windsors' attitudes toward their subjects, because the queen was forced, by public pressure, to share in the national outpouring of grief. Diana's many fans are sure to be delighted by Edwards's intimate prose and detailed descriptions. Author tour. (May) (c) Copyright PWxyz, LLC. All rights reserved"
(c) Copyright PWxyz, LLC. All rights reserved
Additional Information