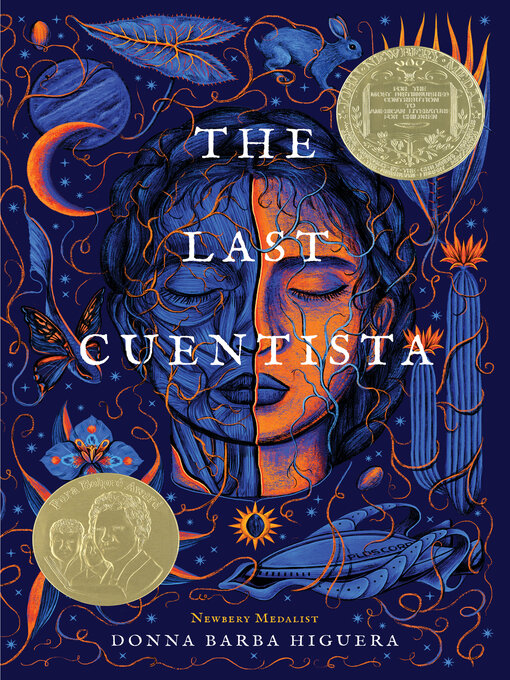 The last cuentista
Format:

Kindle Book

2021

2021

Adobe EPUB ebook

OverDrive Read

Availability:

Unavailable

0 of 5 copies
2 people on waitlist
Summary
"A girl named Petra Pena, who wanted nothing more than to be a storyteller, like her abuelita. But Petra's world is ending. Earth has been destroyed by a comet, and only a few hundred scientists and their children - among them Petra and her family - have been chosen to journey to a new planet. They are the ones who must carry on the human race. Hundreds of years later, Petra wakes to this new planet - and the discovery that she is the only person who remembers Earth. A sinister Collective has taken over the ship during its journey, bent on erasing the sins of humanity's past. They have systematically purged the memories of all aboard - or purged them altogether. Petra alone now carries the stories of our past, and with them, any hope for our future. Can she make them live again? " --

Published Reviews
Booklist Review:
"In 2061, with Halley's Comet making a deadly and unstoppable journey toward Earth, a small group of scientists and their children prepare to begin civilization anew on new planet Sagan, more than 300 years away. Among them is Petra Peña, almost 13, who, while she sleeps through the next several lifetimes, will download the biology knowledge of an expert. But Petra's true love is the cuentos--the stories--that her grandmother, who stayed behind, told her, and she's downloading folklore and mythology, hoping to bring all the stories of the world they're losing. But on the journey, something goes wrong: Petra wakes to discover that in the last few centuries, the small group of people living on the ship as caretakers have become the Collective, a unit singlemindedly focused on redirecting humanity by erasing everyone's memories of Earth--and even purging entire people, including Petra's family, altogether. Petra alone retains her memories, and her yearning for a community pushes her to seek out the first ship of Sagan settlers and to try to reach her fellow shipmates through the cuentos she still remembers. In a measured voice that weighs enormous loss against dazzling moments of hope and connection, Higuera braids Mexican folklore with science fiction to craft a tale that remembers storytelling as the beating heart of a people. Easy to sink into and harder to leave, this gorgeously sad, keenly contemplative novel embraces what it means to truly survive."
From Booklist, Copyright (c) American Library Association. Used with permission.
Publisher's Weekly Review:
"An aspiring young storyteller with retinitis pigmentosa discovers that she's the only one who remembers life on Earth after waking up 380 years in the future in this suspenseful speculative novel. In the year 2061, a solar flare has altered the course of Halley's Comet, putting Earth and its inhabitants right in its trajectory. Twelve-year-old Petra Peña, a resourceful Mexican American preteen who longs to follow in her cuentista grandmother's footsteps and tell stories for a living, successfully boards one of the last ships off-world--as do members of a dangerous, cultlike group called The Collective. When Petra awakens centuries later at the ship's destination, she quickly realizes that The Collective has wiped the memories--or lives--of her fellow passengers, and she must use her wits and Mexican folklore to protect the remaining humans and avoid the same fate. Through Petra's gut-wrenching, tenderly crafted narrative arc, author Higuera (Lupe Wong Won't Dance) explores how story can awaken empathy, hope, and even resistance in an audience. This is the work of a true cuentista: gripping, euphonious ("The wind carried it off far away into the stars"), and full of storytelling magic. Ages 10--14. Agent: Allison Remcheck, Stimola Literary Studio. (Aug.)"
(c) Copyright PWxyz, LLC. All rights reserved
Additional Information