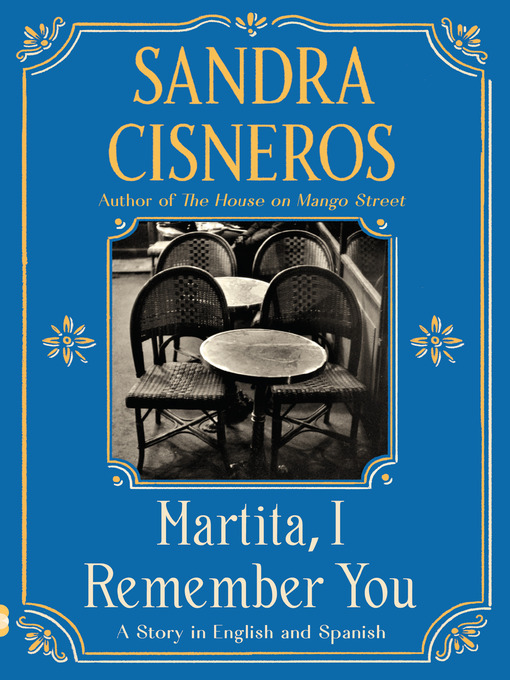 Martita, I remember you = Martita, te recuerdo
Language:

English

Spanish

Spanish; Castilian

Format:

Kindle Book

2021

2021

Adobe EPUB ebook

OverDrive Read

Availability:

Unavailable

0 of 1 copy
1 person on waitlist
Summary
"An enchanting story about a writer remembering her short time in Paris and her reflections on friendships, relationships, and her younger self in a beautiful dual-language edition. Paris has long been romanticized as the city of light. A city with a vibrant literary and artistic expatriate community. Corina--nicknamed Puffina--is a young writer hoping to find that idealized community, but when her money runs out sooner than expected, she finds a network of artists simply trying to find work, make rent, and make Paris home. Years later, when a letter from her friend Martita resurfaces, Corina finds herself older and with enough distance to articulate her time in Paris. While Paris did not bring her the affirmation she was looking for as a writer, Corina finds an emotional connection to her friend that transcends space and time and demonstrates that we are most honest in our writing. Told with intimacy and tenderness, Martita, I Remember You is Sandra Cisneros at her best"--

Published Reviews
Booklist Review:
"Concentration is an art form for Cisneros. Every word is a skipped stone creating ripples in its wake, every image vibrates with implication. In this welcome and vital return to fiction, Cisneros, beloved by readers and the recipient of numerous prestigious awards, portrays three adventurous young women seeking their fortunes in Paris. Memories of this interlude in her life surface as Corina scrapes "a hundred and six years of varnish like layers of honey-drenched phyllo" from a dining room hutch in a Chicago three-flat. She is prompted to retrieve and open a box of letters from those long-ago allies who befriended her on her quest to become a writer, and soon Martita of Buenos Aires and Paola of northern Italy come to life as they navigate family pressure, poverty, and unwanted sexual advances in pursuit of independence and fulfillment. Mexican American Corina's reflections on her harrowing experiences, including living with two busking puppeteers and the racism of Parisians, alternate with missives from Martita and Paola charting the meandering paths of their lives after Corina left Paris. Every heart-revving scene is sensuously and incisively rendered, cohering into a vivid, tender, funny, bittersweet, and haunting episodic tale of peril, courage, concession, selfhood, and friendship. Cisneros' intricately multidimensional and beautifully enveloping novella is presented in both English and Spanish.HIGH-DEMAND BACKSTORY: A new book from Cisneros is guaranteed to generate impassioned interest, and this vibrant novella will be much discussed."
From Booklist, Copyright (c) American Library Association. Used with permission.
Publisher's Weekly Review:
"In this bilingual edition (written originally in English and translated into Spanish by Liliana Valenzuela) of Cisneros's exquisite story (after Puro Amor), a woman relives her time in Paris two decades earlier via a cache of discovered letters. At 20, Corina aspires to become a writer and escape her poor Mexican Chicago family, prompting her to travel to Paris. She meets Marta, from Chile, and Paola, from Italy, and mingles with artists, dancers, and performers. She stretches her money to stay longer, realizing, "I can't go home yet. Because home is bus stops and drugstore windows, elastic bandages and hairpins, plastic ballpoints, felt bunion pads, tweezers, rat poison, cold sore ointment, mothballs, drain cleaners, deodorant." Back in Chicago, she holds onto a photo of herself with Marta and Paola, but swiftly loses touch with them. Decades later, she discovers a letter from Marta sent shortly after she'd left, suggesting they meet in Spain, "in case you're still traveling." Corina speaks to Marta in her thoughts and gives the rundown of her life: divorced, remarried, two daughters. Cisneros's language and rhythm of her prose reverberate with Corina's longing for her youth and unfulfilled promise. The author's fans will treasure this. Agent: Susan Bergholz, Susan Bergholz Literary. (Sept.)Correction: An earlier version of this review incorrectly stated this book was translated from the Spanish into English."
(c) Copyright PWxyz, LLC. All rights reserved
Additional Information