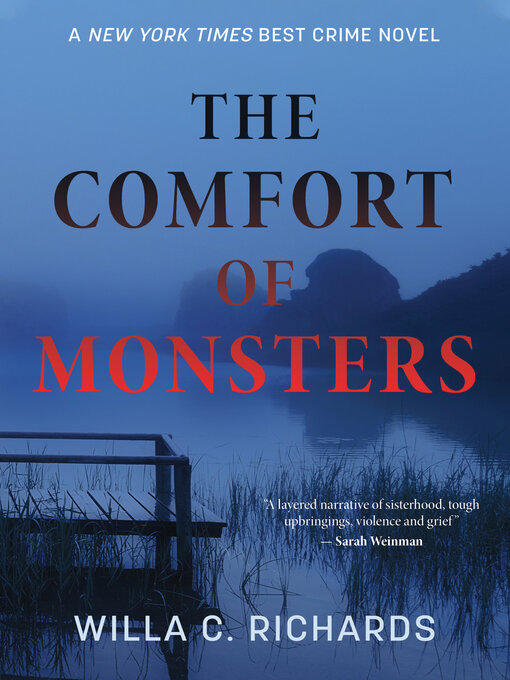 The comfort of monsters a novel
Format:

Kindle Book

2021

2021

Adobe EPUB ebook

OverDrive Read

Availability:

Available from OverDrive

1 of 2 copies
Summary
In the summer of 1991, a teenage girl named Dee McBride vanished in the city of Milwaukee. Nearly thirty years later, her sister, Peg, is still haunted by her sister's disappearance. Their mother, on her deathbed, is desperate to find out what happened to Dee so the family hires a psychic to help find Dee's body and bring them some semblance of peace. Peg's hazy recollections are far from easy for her to interpret, assess, or even keep clear in her mind. And now digging deep into her memory raises doubts and difficult - even terrifying - questions. Print run 40,000.

Published Reviews
Booklist Review:
"Personal tragedy collides with public trauma in this wrenching debut. Peg McBride's sister, Dee, disappeared in Milwaukee during the summer of 1991, just as news broke of Jeffrey Dahmer's horrifying killings. While the rest of the city, and the nation, obsessed over Dahmer's actions, Peg searched for her sister's killer--even though Dee's body was never found. Now, in 2019, Peg's dying mother has hired a psychic--in town to film a special on Dahmer--to find Dee's body. But in a city eclipsed by the serial killer who stunned them, Peg and her family may never come to terms with their seismic loss. Flipping back and forth between time periods, the novel exposes Peg's own secrets and questions whether she herself is partially culpable for the wreck her life has become. Although pierced with moments of hope, this is a melancholy and somber book, a dark examination of the toxicity of unresolved grief. Meticulously researched and atmospheric, this is a perfect pick for book clubs and true-crime aficionados."
From Booklist, Copyright (c) American Library Association. Used with permission.
Publisher's Weekly Review:
"Richards's devastating debut dovetails the story of a young Milwaukee woman's 1991 disappearance with the city's legacy of the Jeffrey Dahmer murders. Peg McBride, 48, lives in the shadow of her younger sister, Dee, who vanished at 19 the same summer Dahmer was caught. After a second stroke, the sisters' mother wants some closure about Dee before she dies, and so hires TV psychic Thomas Alexander, who is in town to promote ghost tours of the gay bars frequented by Dahmer and his victims, to find out what happened to Dee. Peg is initially dubious. The story toggles back and forth between 2019 and 1991, where Richards introduces the three main suspects in Dee's disappearance, including Dee's older boyfriend, Frank, a fireman-in-training with a coarse manner. Peg thinks Frank is responsible, but has an impossible task proving it to the detectives, who have their hands full with the Dahmer revelations. Back in the present, Thomas claims to know where to find Dee's body. The author does an excellent job of showing Peg at two different points in her life and depicting how she is perpetually trapped between guilt and hope as she acquiesces to Thomas's methods. The other characters are equally well drawn. In a glut of dead girl stories and true crime vehicles, Richards pulls of a wrenching and rewarding twist on both. (July)"
(c) Copyright PWxyz, LLC. All rights reserved
Additional Information