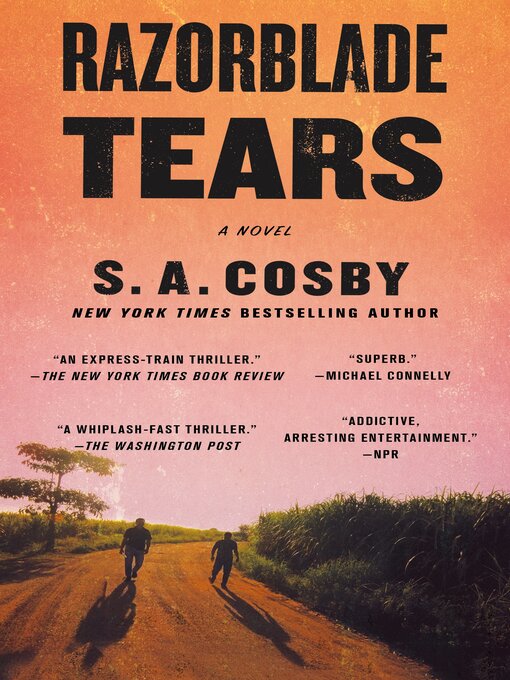 Razorblade tears a novel
Format:

Kindle Book

2021

2021

Adobe EPUB ebook

OverDrive Read

Availability:

Unavailable

0 of 19 copies
88 people on waitlist
Summary
"Superb...Cuts right to the heart of the most important questions of our times." --Michael Connelly,#1 New York Times bestselling author"A tour de force - poignant, action-packed, and profound." --Milwaukee Journal SentinelA Black father. A white father. Two murdered sons. A quest for vengeance.Ike Randolph has been out of jail for fifteen years, with not so much as a speeding ticket in all that time. But a Black man with cops at the door knows to be afraid.The last thing he expects to hear is that his son Isiah has been murdered, along with Isiah's white husband, Derek. Ike had never fully accepted his son but is devastated by his loss. Derek's father Buddy Lee was almost as ashamed of Derek for being gay as Derek was ashamed his father was a criminal. Buddy Lee still has contacts in the underworld, though, and he wants to know who killed his boy.Ike and Buddy Lee, two ex-cons with little else in common other than a criminal past and a love for their dead sons, band together in their desperate desire for revenge. In their quest to do better for their sons in death than they did in life, hardened men Ike and Buddy Lee will confront their own prejudices about their sons and each other, as they rain down vengeance upon those who hurt their boys.Provocative and fast-paced, S. A. Cosby's Razorblade Tears is a story of bloody retribution, heartfelt change - and maybe even redemption.

Published Reviews
Booklist Review:
"Cosby follows up his smash debut Blacktop Wasteland (2020) with a powerful blend of pulsing action, sensitive and subtle character interaction, and uncompromising but highly nuanced reflection on racism and homophobia. Ike Randolph and Buddy Lee Jenkins, both ex-cons, have little else in common. Ike is a Black man who has built his own landscaping business since leaving jail; Buddy Lee is an alcoholic redneck and casual racist who lives in a ramshackle trailer. What brings them together is the brutal murder of their sons, who were married to one another. Neither Ike nor Buddy Lee could overcome their ingrained homophobia while their sons were alive, but now they want revenge and come together to find the killers. As these two self-acknowledged "bad men" reacquaint themselves with their instincts for perpetrating extreme violence, they also begin to learn about their own prejudices. "Being who you are shouldn't be a goddamn death sentence," Ike says, even as he hopes to carry out that very sentence against the men who killed his son. Yes, it's a contradiction, but Cosby's tale generates its authority from confronting moral ambiguity head-on. Buddy Lee says it best: "For once I'm gonna put this devil inside me to good use." Few novels marry tough and tender, head-banging and coming-of-age, as seamlessly as this one does, but that's no surprise from a supremely talented writer who keeps getting better."
From Booklist, Copyright (c) American Library Association. Used with permission.
Publisher's Weekly Review:
"In this strong crime novel from Thriller Award finalist Cosby (Blacktop Wasteland), the double murder of married couple Isiah Randolph and Derek Jenkins, shot dead outside "a fancy wine store" in Richmond, Va., drives African American Ike Randolph and self-proclaimed redneck Buddy Lee Jenkins, both hardened ex-cons, to track down their sons' killers. For the fathers, it's not just simple vengeance but a matter of redemption for having rejected their sons because they were gay. Ike and Buddy Lee soon realize that the double killing was not merely a hate crime but tied to their sons' search for an elusive girl known only as Tangerine. Looking for Tangerine leads the pair to a Nazi biker gang, and when Ike and Buddy Lee refuse to back off after a violent encounter, things escalate: Ike's home is destroyed, his wife seriously injured, and their granddaughter abducted. The relentless pace and at times brutal action stand out, but more memorable are the richly developed characters of Ike and Buddy Lee. Along the way, the book provides a nuanced take on contemporary race and LGBTQ issues of a type not commonly found in crime fiction. Chalk up another winner to Cosby. Agent: Josh Getzler, HG Literary. (July)"
(c) Copyright PWxyz, LLC. All rights reserved
Additional Information