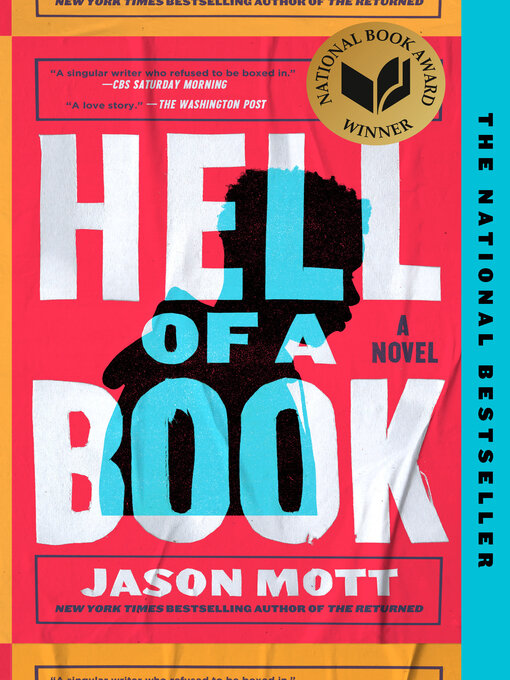 Hell of a book
Format:

Kindle Book

2021

2021

Adobe EPUB ebook

OverDrive Read

Availability:

Unavailable

0 of 13 copies
79 people on waitlist
Summary
***2021 NATIONAL BOOK AWARD WINNER******THE NATIONAL BESTSELLER***Winner of the 2021 Sir Walter Raleigh Award for FictionLonglisted for the 2022 Carnegie Medal Fiction, the 2021 Joyce Carol Oates Prize and the 2021 Aspen Words Literary Prize A Read With Jenna Today Show Book Club Pick!  One of Washington Post's 50 Notable Works of Fiction | One of Philadelphia Inquirer's Best Books of 2021 | One of Shelf Awareness's Top Ten Fiction Titles of the Year | One of TIME Magazine's 100 Must-Read Books | One of NPR.org's "Books We Love" | EW's "Guide to the Biggest and Buzziest Books of 2021" | One of the New York Public Library's Best Books for Adults | San Diego Union Tribune – My Favorite Things from 2021 | Writers Bone's Best Books of 2021 | Atlanta Journal Constitution – Top 10 Southern Books of the Year | One of Entertainment Weekly's 15 Books you Need to Read This June | On Entertainment Weekly's "Must List" | One of The NY Post's Best Summer Reading books | One of GMA's 27 Books for June | One of USA Today's 5 Books Not to Miss | One of Fortune's 21 Most Anticipated Books Coming out in the Second Half of 2021 | One of The Root's PageTurners: It's Getting Hot in Here | One of Real Simple's Best New Books to Read in 2021 |One of The Philadelphia Inquirer's Best of 2021 An astounding work of fiction from a New York Times bestselling author Jason Mott, always deeply honest, at times electrically funny, that goes to the heart of racism, police violence, and the hidden costs exacted upon Black Americans, and America as a whole In Jason Mott's Hell of a Book, a Black  author sets out on a cross-country publicity tour to promote his bestselling novel. That storyline drives Hell of a Book and is the scaffolding of something much larger and urgent: since Mott's novel also tells the story of Soot, a young Black boy living in a rural town in the recent past, and The Kid, a possibly imaginary child who appears to the author on his tour. As these characters' stories build and build and converge, they astonish. For while this heartbreaking and magical book entertains and is at once about family, love of parents and children, art and money, it's also about the nation's reckoning with a tragic police shooting playing over and over again on the news. And with what it can mean to be Black in America. Who has been killed? Who is The Kid? Will the author finish his book tour, and what kind of world will he leave behind?  Unforgettably told, with characters who burn into your mind and an electrifying plot ideal for book club discussion, Hell of a Book is the novel Mott has been writing in his head for the last ten years. And in its final twists it truly becomes its title.

Published Reviews
Booklist Review:
"A Black writer (the Writer) with a tenuous grip on reality endures a Dantean book tour. A boy named Soot (the Kid) learns that in a white world, Black safety depends on invisibility. The Writer is instructed by his publicist, "The last thing people really want to hear about is being Black. Being Black's a curse--no offense--and nobody wants to feel cursed when they read something they just finished paying $24.95 for." Soot's father laments the hard racial truths he must impart to his son, knowing that "[w]ith each word, his son would be capable of a little less love, capable of a little less imagination, capable of a little less life." As their stories collide, the Kid begins to haunt the Writer, appearing unexpectedly to share his traumatic anxieties and pose impossible questions. In his fourth novel, which veers from skewering satire to unspeakable sorrow, Mott (The Crossing, 2018) dangles his readers over a precipice of uncertainty. Is the Writer's book meant only to absolve white readers of their complicity? Maddening, disorienting, and illuminating."
From Booklist, Copyright (c) American Library Association. Used with permission.
Publisher's Weekly Review:
"Mott's stunning fourth novel (after The Crossing) delves into the complex and fraught African American experience. The protagonist, a nameless Black author on his first book tour, is reeling from his newfound fame and the success of his book, Hell of a Book. As he flies to promotional events, often in a drunken stupor, the author reveals that his vivid imagination makes it difficult for him to distinguish reality from fiction. So when he encounters "The Kid," a 10-year-old boy with impossibly ebony skin, the author doubts the boy is real. The Kid, who uncannily resembles a recent victim of police violence, first appears at a hotel and continues to pop up during the book tour, leading the author to recall his own repressed trauma as a bullied Black boy in North Carolina. The author's sobering recollections of his youth are punctuated with humorous and insightful encounters that include a discussion on national sociopolitical identity with Nicolas Cage and an improbable first date with a funeral director. Mott's poetic, cinematic novel tackles what it means to live in a country where Black people perpetually "live lives under the hanging sword of fear." Absurdist metafiction doesn't get much better. (June)"
(c) Copyright PWxyz, LLC. All rights reserved
Additional Information