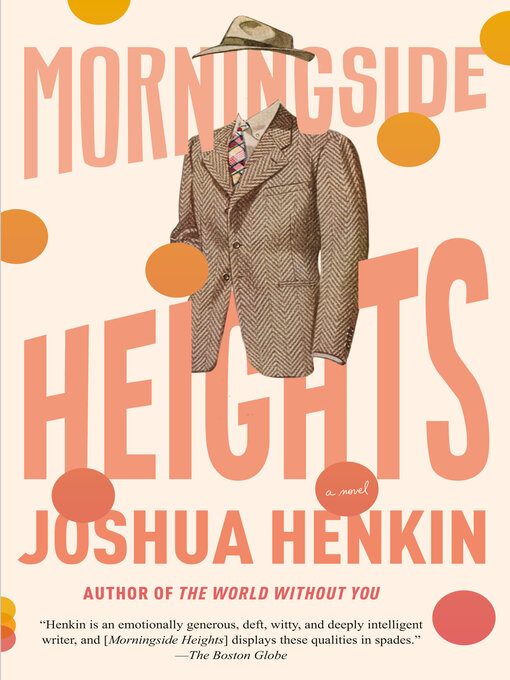 Morningside heights
Format:

Kindle Book

2021

2021

Adobe EPUB ebook

OverDrive Read

Availability:

Available from OverDrive

4 of 5 copies
2 people on waitlist
Summary
"When Pru Steiner met and married Spence Robin--her dazzling young hotshot English professor at Columbia--she thought she knew what she was signing up for. But thirty years later, when Spence develops early-onset Alzheimer's, the peaceful (if ambivalent) life Pru has built for herself begins to crumble. Spence is no longer the Great Man she fell in love with, and as his needs become more pronounced, Pru finds herself short on money, overwhelmed by responsibility and, for the first time in decades, in need of companionship. Further complicating things is Arlo, Spence's son from an earlier marriage, who feels he has never lived up to his father's expectations, and who might be Spence's best hope. Moving and deeply-felt, Morningside Heights is a warm-hearted story about love in the face of illness, about the support networks that surround us, and about what a marriage means when your partner is no longer the person you fell in love with"--

Published Reviews
Booklist Review:
"In the mid-1970s, Pru Steiner moves to New York City to be an actress. She pursues a PhD instead and meets Spence Robin, the youngest tenured member of the English faculty at Columbia. They marry and soon welcome their daughter, Sarah. Spence's son from his first marriage, Arlo, has been moving around the country with his free-spirit mother. As a teenager, Arlo moves in with Pru and Spence. Diagnosed with dyslexia, he struggles to relate to a father whose whole life is devoted to books. In his late fifties, Spence starts to appear confused and fatigued. Early-onset Alzheimer's is discovered, and the family that was built around a man known for his mind has to watch him begin to lose it. Spanning decades, Morningside Heights follows Pru's evolving relationship to Judaism and her identity as a professor's wife. Sarah studies medicine and Arlo invests in biopharma, both wishing they could save their father. Henkin (The World without You, 2012) writes a moving, heart-wrenching account of a family's connections as they face a slow-moving goodbye."
From Booklist, Copyright (c) American Library Association. Used with permission.
Publisher's Weekly Review:
"Henkin (The World Without You) brilliantly conveys the complexities of a New York City family in this humane, compulsively readable tale. In 2006, Shakespeare scholar Spence Robin, 57, is diagnosed with early-onset Alzheimer's, and his wife, Pru Steiner, is forced to return his book advance. Their daughter, Sarah, a med student, arrives from Los Angeles on a delayed flight, and Pru wryly reassures Sarah not to worry ("It'll be good practice for when you're a doctor. You'll be keeping people waiting for the rest of your life"). The focus then turns to Arlo Zackheim, Spence's son from his first marriage, whose vagabond, self-centered mother left him with an emptiness he finds hard to fill. At 15, Arlo came to live with Spence for two years, and the marked contrast between his past and living with an erudite, structured father; a kind stepmother; and a bright younger sister is drawn with humor and insight. Henkin reaches further back to describe how Pru escaped her Orthodox Jewish family in Ohio and landed in grad school at Columbia University in 1976, and shows how Spence was a wunderkind in Columbia's English department, making the tragedy of his illness particularly poignant. Equally well handled is Pru's transformation from wife and lover to caretaker--wrenching changes that Henkin conveys without dissolving into sentimentality or cliché, but rather leaving readers with a kernel of hope. This is a stunning achievement. (June)"
(c) Copyright PWxyz, LLC. All rights reserved
Additional Information