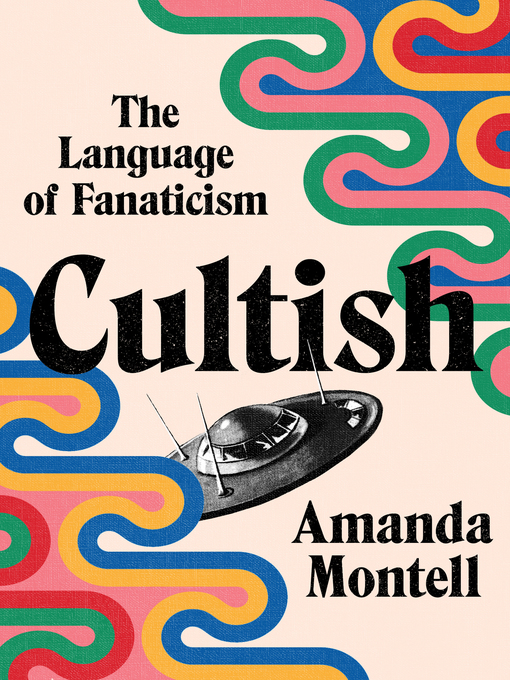 Cultish the language of fanaticism
Format:

Kindle Book

2021

2021

Adobe EPUB ebook

OverDrive Read

Availability:

Unavailable

0 of 16 copies
110 people on waitlist
Summary
"From SoulCycle to Scientology, we're all obsessed with cults. Linguist Amanda Montell examines the language cults use to draw us in"--

Contents
Repeat after me...
Congratulations-you have been chosen to join the next evolutionary level above human
Even YOU can learn to speak in tongues
Do you wanna be a #BossBabe?
This hours is going to change your life... and make you LOOK AWESOME
Follow for follow.
Published Reviews
Booklist Review:
"The author of Wordslut (2019) turns her linguistic examinations to belief and belonging. Cults use an insider lingo to draw in new recruits and make them feel like valued members of the community. And "cult" doesn't necessarily equate to, say, Jonestown. The concept is rooted in many group enterprises, from Mary Kay to SoulCycle to Amway. Montell demystifies this twisty language into something readers will recognize, whether it's being employed to manipulate or to motivate. She links the linguistic trick from Heaven's Gate and Scientology down to "woo-woo" in all its different guises: multilevel marketing, religious organizations, even exercise gurus and QAnon. Implicitly stated, it's all about the American dream: perfecting oneself spiritually, bodily, and financially, all promising a deep connection to others. Reading Montell is like a satisfying chat session with your bestie--albeit one that focuses on obsession, language tricks, and manipulation. Her personal connection to the topic is compelling, as we learn of her father's teen experience living in Synanon and her own disturbing brush with Scientology. Cultish will have huge appeal for those who have been listening to the podcasts The Dream or American Rehab, or watching The Vow. Montell's masterful translation of our need to belong will mesmerize."
From Booklist, Copyright (c) American Library Association. Used with permission.
Publisher's Weekly Review:
"Journalist Montell (Wordslut) argues in this vivid study that "language is the key means by which all degrees of cultlike influence occur." Uncovering commonalities in the use of "secret mantras and code words" to attract and retain followers, Montell surveys the indoctrination techniques and conformism of cults such as Heaven's Gate and the Peoples Temple (whose adherents committed mass suicide in South America in 1978), as well as "woo-woo wellness influencers," QAnon, and fitness groups such as Peloton and CrossFit. Combining personal anecdotes (her father was partially raised in Synanon, a San Francisco drug rehab center turned church), interviews with former cult members, and anthropological analysis, Montell documents how cult leaders including "spiritual guru" Bentinho Massaro employ "thought-terminating clichés, intended to gaslight followers into mistrusting science, as well as their own thoughts and emotions," and argues that understanding the rhetoric of cults can help to distinguish between benign and dangerous communities, and reduce the stigma that can further entrap people in cults. Though the personal digressions (including an overlong account of taking a "personality assessment" at the Church of Scientology in L.A.) occasionally distract from the bigger picture, Montell is an engaging and well-informed tour guide through the world of "cultish scenarios." This intriguing account is worth a look. (June)"
(c) Copyright PWxyz, LLC. All rights reserved
Additional Information