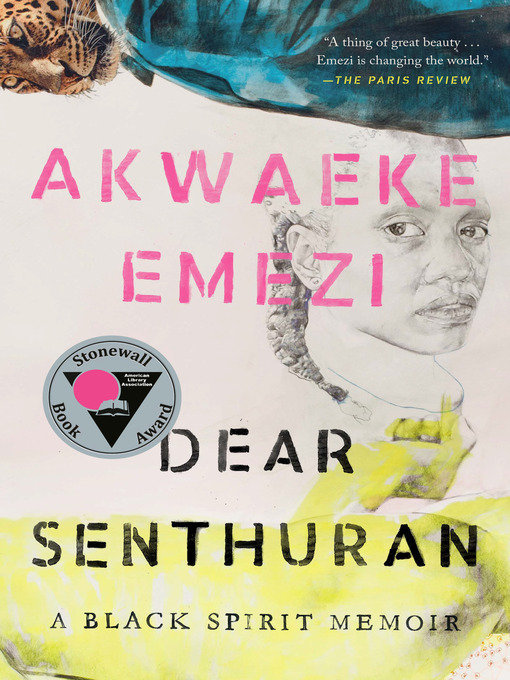 Dear Senthuran a Black spirit memoir
Format:

Kindle Book

2021

2021

Adobe EPUB ebook

OverDrive Read

Availability:

Available from OverDrive

3 of 4 copies
Summary
"A full-throated and provocative memoir in letters from the New York Times-bestselling author of The Death of Vivek Oji, "a dazzling literary talent whose works cut to the quick of the spiritual self" (Esquire). "I want to write as if I am free," Akwaeke Emezi declares in the opening of this utterly original spiritual and creative memoir. In the novels Freshwater and The Death of Vivek Oji, Emezi introduced the landscape of Nigerian childhood through the medium of fiction. Now, the award-winning author lifts the veil of invention to reveal the harrowing yet inspiring truths of their personal, spiritual, and artistic journey--from the social constraints of childhood in Aba, Nigeria, through a lifetime of discoveries involving sexuality, storytelling, and self, to their determination to carve their way through the thorny labyrinth of the publishing world. Interweaving candid, intimate letters to friends, lovers, and family, Emezi reveals the raw pain of their journey as a spirit in the human world, the perils of all-consuming love and intimacy, and the hard-earned reward of achieving both literary recognition and a peaceful, joyous home. Electrifying and radically honest, animated by the same voracious intelligence that distinguishes their fiction, Dear Senthuran is a revelatory account of what it means to embody multiple spirits, to fight for survival, and to bend the world to one's will"--

Published Reviews
Booklist Review:
"Emezi (The Death of Vivek Oji, 2020) bears the weight of a special responsibility. As an ogbanje, a malevolent Igbo spirit born into a human body, the writer feels the need to break the cycle of reincarnation. In this high-voltage epistolary memoir written as a series of letters to friends, family, acquaintances, and role models, Emezi describes how removal of their uterus along with a double mastectomy lets them come to shaky terms with their complex identities. The fiery prose describes a difficult childhood in Nigeria, a fractured relationship with their parents, and the challenges of fitting into traditional societal roles. At times the red-hot intensity of their world can be a bit difficult to take in: "Dear Senthuran, The first time I met you, we sat in the cafe on Malcolm X that doesn't exist anymore and talked about eating people, carving them up in tender moments, swallowing their meat and gristle," Emezi writes. Nevertheless, this is a remarkable memoir by a writer who doesn't shy away from sharing their ambitions or their vulnerabilities."
From Booklist, Copyright (c) American Library Association. Used with permission.
Publisher's Weekly Review:
"Emezi (The Death of Vivek Oji) reflects on their spiritual and creative evolution in this gorgeous epistolary memoir. Among the cast of recipients they address are friends, family, an ex-lover, Toni Morrison, and Senthuran Varatharajah, their German translator, who inspired the work's form. Originally from Aba, Nigeria, Emezi identifies as ogbanje, an Igbo spirit that's also a god. They are "embodied but not human," an existential tension that governed their life as they traveled the globe in their 20s in search of home and themselves. Emezi eventually settled down in New Orleans in 2019, but their search for self continues in each letter as they shed old "masks," outgrow relationships, and undergo a hysterectomy to align their human body with their "spiritself." Emezi details the loneliness that comes with being "estranged from the indigenous Black realities" and is unwavering in their demand that readers meet them on their terms, even if they might be considered "too strange, too arrogant." Yet in consistently captivating prose, Emezi demonstrates that it is precisely this unyielding belief in themself that catapulted their career, clinching literary awards and six-figure book deals. Those interested in broadening their metaphysical understanding of the world would do well to pick up this spellbinding work. Agent: Krisi Murray, The Wylie Agency. (June)"
(c) Copyright PWxyz, LLC. All rights reserved
Additional Information