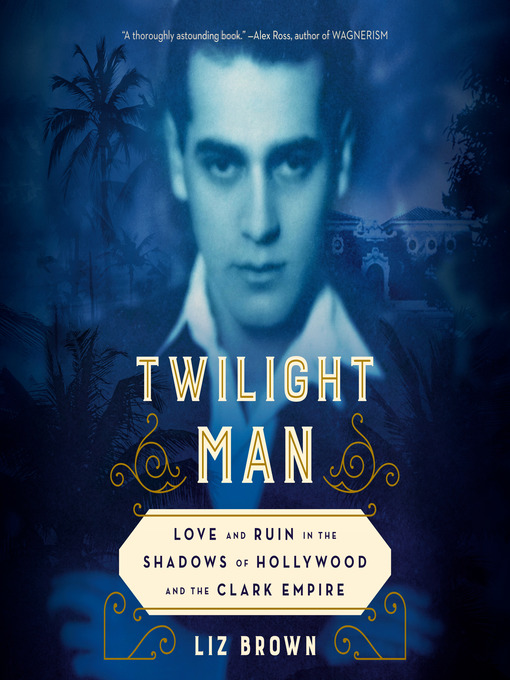 Twilight man love and ruin in the shadows of Hollywood and the Clark empire
Format:

OverDrive MP3 Audiobook

2021

2021

OverDrive Listen

Availability:

Unavailable

0 of 2 copies
Summary
"The unbelievable true story of Harrison Post--the enigmatic lover of one of the richest men in 1920s Hollywood--and the battle for a family fortune. In the booming 1920s, William Andrews Clark Jr. was one of the richest, most respected men in Los Angeles. The son of the mining tycoon known as "The Copper King of Montana," Clark launched the Los Angeles Philharmonic and helped create the Hollywood Bowl. He was also a man with secrets, including a lover named Harrison Post. A former salesclerk, Post enjoyed a lavish existence among Hollywood elites, but the men's money--and their homosexuality--made them targets, for the district attorney, their employees and, in Post's case, his own family. When Clark died suddenly, Harrison Post inherited a substantial fortune--and a wealth of trouble. From Prohibition-era Hollywood to Nazi prison camps to Mexico City nightclubs, Twilight Man tells the story of an illicit love and the battle over a family estate that would destroy one man's life. Harrison Post was forgotten for decades, but after a chance encounter with his portrait, Liz Brown, Clark's great-grandniece, set out to learn his story. Twilight Man is more than just a biography. It is an exploration of how families shape their own legacies, and the lengths they will go in order to do so"--

Contents
A train to Los Angeles
The bond
An education
Albert's choice
The wall
The mask
The copain
The library
Junior
The secretaries
The fluke
The picture of Will Clark
Buck Mangam's revenge
Snap
The guardian
Exile
Escape
Hellesylt
Mexico City
Trondheim
Grini
Laufen
The northern lights
The alien
Lake Street
The emperor's palace
"Schöner Gigolo, armer Gigolo"
Legacy
The picture of Harrison Post
Acknowledgments
Author's note
Sources
Selected bibliography
Illustration
Credits.
Published Reviews
Booklist Review:
"After author Brown stumbles upon an old photograph of a swarthy gentleman in her deceased grandmother's drawer, she begins an engrossing quest to tell the mystery man's story. He was Harrison Post, the longtime illicit lover of Brown's great-uncle William Andrews Clark, Jr. Whispers of Clark's romantic proclivity for younger men swirled around the family for years. Through exhaustive research, Brown unearths the details of their relationship and outlines the personal history of each man. Clark, son of a senator and heir to a copper dynasty, grew up with an abundance of wealth. Post, with an alcoholic father and absent mother, was the product of meager means. The unlikely pair met at an upscale boutique where Post worked as a clerk. The two quickly became enmeshed. As Clark's copain, Post lived a lavish lifestyle. Clark continued to support Post even in death, leaving him a substantial inheritance. This inheritance would ultimately lead to Post's downfall. Spanning the 1920s--1940s, Brown delivers an intimate portrait of a clandestine relationship and offers intriguing insight into queer history."
From Booklist, Copyright (c) American Library Association. Used with permission.
Publisher's Weekly Review:
"An unearthed family secret prompts an investigation into the closeted life of a 1920s Hollywood millionaire in this deeply researched yet sluggish debut biography from journalist Brown. After uncovering evidence that her grandmother's uncle, L.A. Philharmonic founder William Andrews Clark Jr., had a longtime male lover named Harrison Post, Brown set out to "recuperate a lost gay history as a way to assert my own queer lineage." She describes Clark's background as the son of a Montana senator and copper tycoon and Post's Jewish heritage and exotic good looks ("shades of Rudolph Valentino"). They met when Post waited on the older, wealthier man at a luxury boutique store in San Francisco. First taken in as "a ward," Post later became Clark's "secretary." ("You could enter a higher class, it seemed, by catering to it," Brown writes.) Post lived as a kept man surrounded by an "aura of wealth and intrigue," and inherited a small fortune after Clark's death, though he descended into alcoholism amid numerous personal and family troubles. Brown has clearly done her homework, but the romance largely happens off the page, resulting in more facts than feelings. This well-intentioned effort has flashes of inspiration but never takes off. (May)"
(c) Copyright PWxyz, LLC. All rights reserved
Additional Information