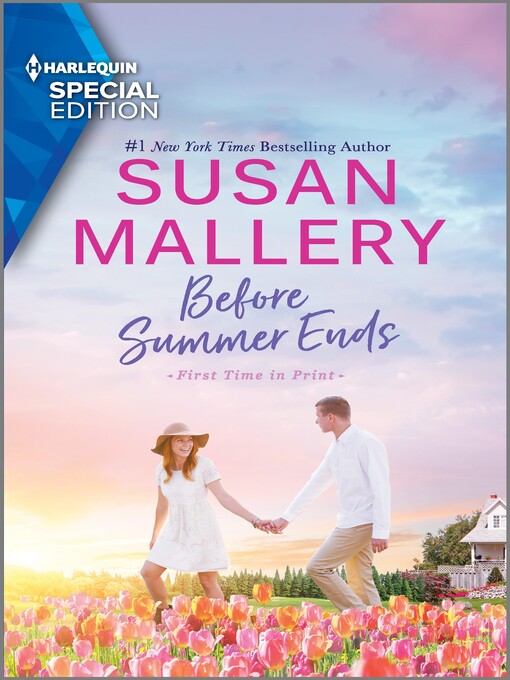 Before summer ends
Format:

Kindle Book

2021

2021

Adobe EPUB ebook

OverDrive Read

Availability:

Available from OverDrive

2 of 10 copies
Summary
Susan Mallery, #1 New York Times bestselling author, delivers a charming, uplifting story about second chances and found families. A long, hot summer with her secret crush...What could possibly go wrong? Nissa Lang knows Desmond Stilling is out of her league. He's a CEO, she's a teacher. He's gorgeous, she's...not. So when her house-sitting gig falls through and Desmond offers her a place to stay for the summer, she vows not to reveal how she's felt about him since their first--and only--kiss.Desmond should've known better than to bring temptation into his house. He decided long ago that his best friend's sister was too sweet, too good, for him. She deserves a guy who can give his heart. For her sake, he's stayed away. But as her laughter breathes life into his lonely mansion, he's not sure how long he'll be able to resist.From Harlequin Special Edition: Believe in love. Overcome obstacles. Find happiness.

Published Reviews
Booklist Review:
"Desmond Stilling is the quintessential poor little rich kid. His parents' marriage is a business merger and not a love match, and he has been raised by nannies and in boarding schools. At one of these schools, he meets Shane Lang and they become friends. Desmond spends holidays with the Langs and sees Shane's sister, Nissa, as his own little sister . . . until the day he takes Nissa to her prom. Fast-forward 10 years and Nissa needs a place to stay for the summer. Luckily, Desmond has a mansion and takes Nissa in. Sparks fly as Desmond and Nissa realize that they might be more than friends. In a story previously offered as an Audible exclusive, Mallery returns to her roots with this sweet, traditional romance. Nissa and Desmond have great chemistry in this friends-to-lovers tale. Desmond is a millionaire with a heart of gold, and readers will enjoy how he swoops in to rescue Nissa and her friend Marisol. The secondary characters really shine--so here's hoping that Marisol, after experiencing so much, gets a love story of her own soon. Highly recommended for all library collections."
From Booklist, Copyright (c) American Library Association. Used with permission.
Publisher's Weekly Review:
"Mallery (The Vineyard at Painted Moon) entices with this heartfelt romance between a schoolteacher and her brother's best friend. Fourth-grade teacher Nissa Lang's plan to spend her summer break house-sitting for a wealthy couple falls through, leaving Nissa, who'd already rented out her condo for the summer, without a place to stay. Her brother, Shane, offers to ask his friend Desmond Stilling, a wealthy Seattle CEO with space to spare, if Nissa can crash with him for the summer. Desmond agrees as he has always liked Nissa--especially after having escorted her to her senior prom years before. The attraction between Desmond and Nissa grows as they spend more time together, sparking sensual interludes. Desmond also shows Nissa his caring side when he steps in to help care for her friend Marisol after Marisol has a kidney transplant. So Nissa decides to tell Desmond how she feels--but Desmond, who's emotionally scarred from a difficult childhood, doesn't believe he's capable of loving her back. The authentic, affable characters enhance the fast-paced story. Romance fans are sure to be swept up in Nissa and Desmond's believably evolving relationship. Agent: Annelise Robey, Jane Rotrosen Agency. (May)"
(c) Copyright PWxyz, LLC. All rights reserved
Additional Information