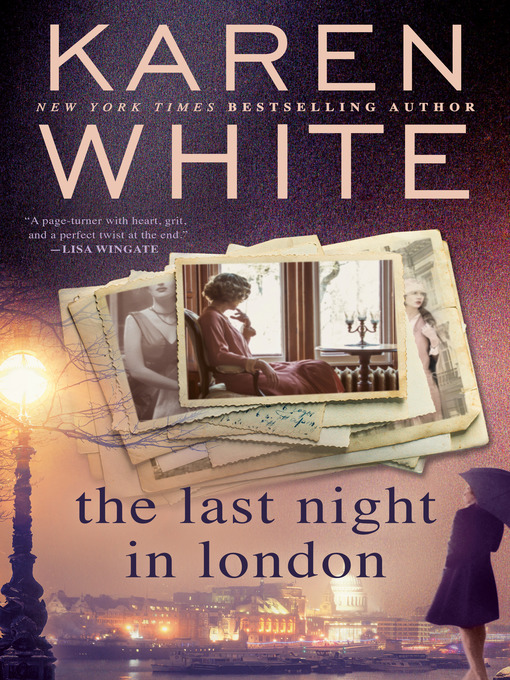 The last night in London
Format:

Kindle Book

2021

2021

Adobe EPUB ebook

OverDrive Read

Availability:

Unavailable

0 of 5 copies
12 people on waitlist
Summary
"New York Times bestselling author Karen White weaves a story of friendship past and present, love, and betrayal that moves between war-torn London during the Blitz and the present day. London, 1939. In a city on the brink of war, beautiful and ambitious Eva Harlow and her best friend, sweet Southerner Precious Dubose, are young models on the rise--and a duo as close as sisters. But when Eva falls in love with Graham St. John, an aristocrat and former pilot, she finds herself slipping into a web of intrigue, spies, and secrets. Her journey will test the limits of her friendship with Precious--and the mettle of all Britons as the Blitz devastates their world, snatching in an instant all they hold dear. Eighty years later, in 2019, journalist Maddie Warner, whose life has been marked by the tragic loss of her mother, comes to London to interview Precious. Maddie has been careful to close herself off to love, but in Precious she recognizes someone whose grief rivals her own--and whose wisdom may teach Maddie how to navigate her relationship with Colin, Precious's shy and handsome surrogate nephew. But first Maddie will have to unravel Precious's many secrets--the unremembered acts of glory, love, and betrayal that have haunted her for more than fifty years"--

Published Reviews
Booklist Review:
"In 1939, full of youth and optimism, Ethel Maltby has come to London to reinvent herself. She lives with her new friend Precious Dubose in a small flat they can barely afford, and the two young women model elegant fashion and socialize at lavish nightclubs. Hoping to fit into high society and leave her past behind, Ethel changes her name to Eva Harlow and plans to never look back. But the war soon takes everything from Eva, and she must reinvent herself once more to survive. Eighty years later, Maddie Warner travels to London to write an article about fashion icon Precious Dubose. When a past love is unexpectedly rekindled, Maddie denies her feelings and tries to focus on her writing instead. She soon discovers Precious' life story isn't what it seems, and works to unravel the truth about Precious and Eva at the start of WWII. Prolific author White (Dreams of Falling, 2018) intertwines the stories of two women, separated by generations but connected by grief, who both survive loss and reinvent themselves after tragedy."
From Booklist, Copyright (c) American Library Association. Used with permission.
Publisher's Weekly Review:
"White expands on her Walton, Ga., universe (Falling Home) to spin a dual-timeline WWII romance spiced with murky identities, intrigue, and betrayal. In 2019, freelance journalist Maddie Warner, a Walton native, travels to London to research an article about wartime fashion. She interviews 99-year-old Jeanne "Precious" Dubose, a distant relative, who modeled in London and Paris during the war, and unexpectedly encounters Colin Eliot, a friend and almost-lover from her study abroad year at Oxford, whose family has known Precious for decades. Colin loves Maddie, but she initially resists a relationship, uncertain how he'd fit into her future, since she can't have children. In 1939, Precious's flatmate and fellow model Eva Harlow falls in love with handsome and wealthy Graham St. John and hides her lower-class background, prompting a German acquaintance of Graham's to blackmail Eva for information about Graham's new duties as an RAF pilot. Eva confides to no one, but after German bombs fall on London in October 1940, the truth of Eva's actions are exposed. The romance between Maddie and Colin unfolds with comfortable predictability as Maddie races to capture Precious's story, and White drops heavy clues throughout about the links between past and present. None of this, though, will prevent her fans from inhaling this page-turning story. Agent: Amy Berkower, Writers House. (Apr.)"
(c) Copyright PWxyz, LLC. All rights reserved
Additional Information