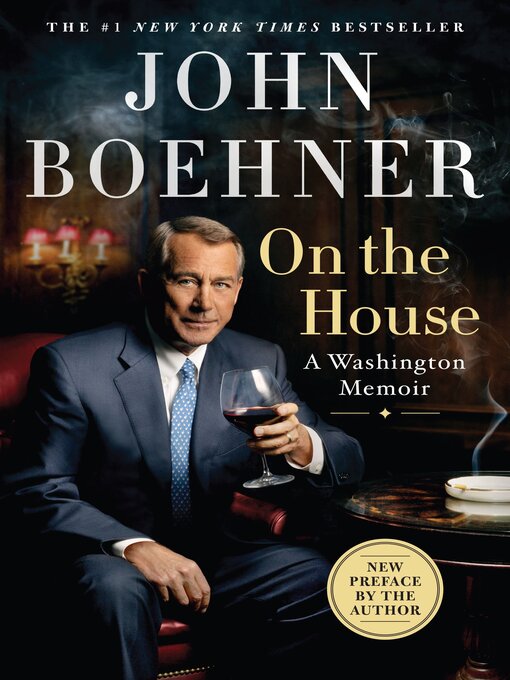 On the house a Washington memoir
Format:

Kindle Book

2021

2021

Adobe EPUB ebook

OverDrive Read

Availability:

Available from OverDrive

3 of 7 copies
Summary
"A memoir by former Speaker of the House John Boehner."--

Contents
The art of (real) power
Cheaper by the dozen
Smoke-filled rooms
Gerry, Jerry, and me
Bull balls and bailouts
Mayor of crazytown
Deep state delusions
Alligators, not enemies
America, from inside and out
Epilogue: into the sunset.
Published Reviews
Booklist Review:
"You can almost smell the smoke curling off the page. The book's cover shows former Republican Speaker of the House Boehner, a glass of Merlot in one hand, cigarette burning in an ashtray, and the whole vibe in the memoir itself suggests an old pol telling war stories--stories that spare almost no one. Boehner grew up in Ohio, one of 12 children living in a two-bedroom house, earning a few bucks working at his father's bar. When he joined Congress in 1991, he was the rabble-rouser, taking on the graft-ridden House bank, which resulted in an ethics scandal that ruined some careers but uplifted his. Two decades later, he was elected speaker by a new gang of firebrands, the Tea Party. For a while, he thought he was in charge, but it eventually became clear that if he wanted to keep his job, he had to accede to the Tea Party's wishes; as he puts it, "a leader without followers is just taking a walk in the park." There's a disheartening underside, however, to all this truth-telling. Even as he calls out the "knuckleheads" and "crazies" in his caucus, noting that Ted Cruz is Satan in the flesh, the fact remains that Boehner supported events like the government shutdown in 2013, despite believing it was a horrible idea. What produced giggles early in the memoir may turn eventually to anger as readers recognize that Boehner waited until he was safely out of government to share his opinions about his fellow Republicans, right-wing talk radio, and "political terrorism." Amusing and appalling in equal measure."
From Booklist, Copyright (c) American Library Association. Used with permission.
Additional Information