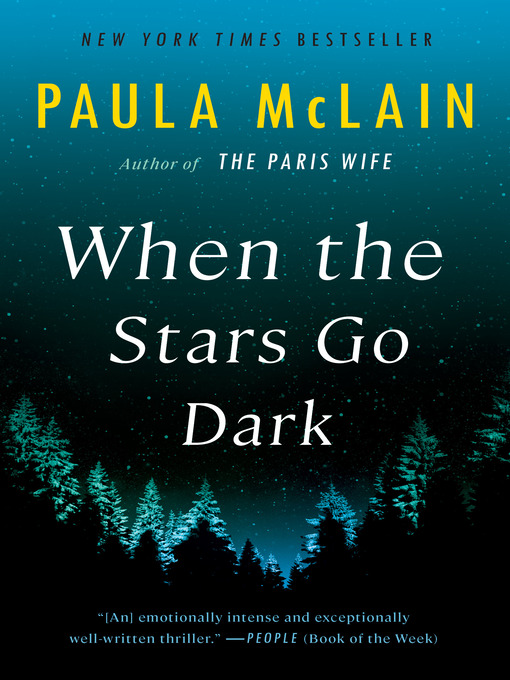 When the stars go dark a novel
Format:

Kindle Book

2021

2021

Adobe EPUB ebook

OverDrive Read

Availability:

Available from OverDrive

1 of 30 copies
11 people on waitlist
Summary
"From the New York Times bestselling author of The Paris Wife comes an atmospheric novel of intertwined fate and heart-wrenching suspense: A detective hiding away from the world. A series of disappearances that reach into her past. Can solving them help her heal? Anna Hart is a seasoned missing persons detective in San Francisco with far too much knowledge of the darkest side of human nature. When unspeakable tragedy strikes her personal life, Anna, desperate and numb, flees to the Northern California village of Mendocino. She spent summers there as a child with her beloved grandparents, and now she believes it might be the only place left for her to heal. Yet the day she arrives, she learns a local teenage girl has gone missing. Anna is in no condition to become involved with the search--until a childhood friend, now the village sheriff, pleads for her help. Then, just days later, a twelve-year-old girl is abducted from her home. The crimes feel frighteningly reminiscent of the most crucial time in Anna's childhood, when a string of unsolved murders touched Mendocino. As past and present collide, Anna realizes that she has been led to this moment. The most difficult lessons of her life have given her insight into how victims come into contact with violent predators. As Anna becomes obsessed with these missing girls, she must learn that true courage means getting out of her own way and learning to let others in. Weaving together true crime, trauma theory, and a hint of the metaphysical, this tense, affecting story is about fate, unlikely redemption, and what it takes, when the worst happens, to reclaim our lives--and our faith in one another"--

Published Reviews
Booklist Review:
"McLain's (The Paris Wife, 2011; Love and Ruin, 2018) latest starts as a mystery involving Anna Hart, who's dedicated her life to finding missing California children, but turns into historical fiction as the story follows the disappearance of real-life victim Polly Klaas. Fleeing an accident in her personal life, the harrowing details of which are only revealed at book's end, Anna can't escape her vocation and helps search for Cameron Curtis, a missing girl who could still be alive. Anna's trauma as well as that of earlier victims, and the hunt for Cameron and for Polly, entwine to immerse readers in a misty world of pain, longing, and sometimes victory and redemption. McLain offers readers flashes of insight--watch out for personal blind spots, for example, as what's too close to see might be what's most perilous--that will linger after the last, tension-packed pages of this thoughtful work. Recommend to patrons seeking a next read after Michelle McNamara's I'll Be Gone in the Dark (2019) and the TV show Criminal Minds, which, like Anna, profiles victims to find killers."
From Booklist, Copyright (c) American Library Association. Used with permission.
Publisher's Weekly Review:
"At the start of this stunning crime novel from McLain (The Paris Wife), Anna Hart, a San Francisco detective who's on indefinite leave following a tragic incident that has brought her marriage to the brink and destroyed her faith in herself, is driving to Mendocino, Calif., where she spent part of her childhood with the foster parents who offered her a first taste of stability. Soon after she arrives in town, she spots a missing person poster: 15-year-old Cameron Curtis, adopted daughter of a recently retired actor, has vanished. Cameron's fate reminds Anna of the still-unsolved murder of a childhood friend that occurred when she was in high school. "Someone has to save this girl," she resolves. "And it has to be me." Then other similar crimes start coming to light, and Anna becomes eerily aware of the disturbing connection between the victims and their predators. McLain matches poetic prose with deep characterizations as she shines a light on the kindness in her characters' souls. Fans of literary suspense won't be able to put this one down. Agent: Julie Barer, Book Group. (Apr.)"
(c) Copyright PWxyz, LLC. All rights reserved
Additional Information